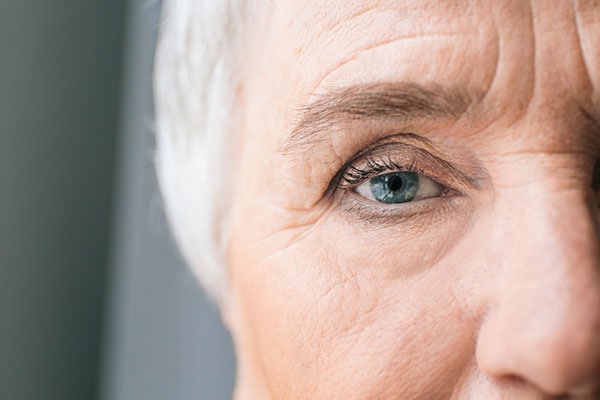 As you age, eyesight changes are normal
You may have noticed that you don't have the same physique at age 40 as you did in college. It's one of life's hard truths that our bodies change as we age. And the eyes are no exception.
It's important to distinguish between natural changes that occur with aging and vision problems that are not naturally occurring age-related changes but rather warning signs of serious eye conditions.
Naturally occurring issues often seen in aging eyes include:
Reduced contrast sensitivity
This makes it difficult to differentiate similar colors and patterns
Greater difficulty in adapting when moving between light and dark environments, and adapting to glare
The onset of floaters, namely tiny specks or threads floating in our visual field that occurs due to age-related changes in the gelatinous fluid within our eyes
Decreased depth perception
Reduced ability to see colors
Decreased tear production leading to dry eyes
When the above symptoms are mild, they're generally not indicative of serious eye problems. There are, however, other symptoms that although may seem mild, can be warning signs of serious eye problems.
Now all mild visual symptoms that shouldn't be ignored!
Distorted vision or difficulty reading in one eye is one symptom that requires prompt evaluation by an ophthalmologist because this can indicate an early presentation of age-related macular degeneration (ARMD).
It's not uncommon for us to see a patient presenting with advanced ARMD (age-related macular degeneration) in their non-dominant eye who is unaware of having this serious condition that can progress quickly and sacrifice central vision within as little as three months. With new treatment modalities available today, ARMD is highly treatable if detected in its early stage.
Common age-related eye problems in Seniors
Did you know that by the time they reach age 65, one in three Americans has some type of vision-limiting diseases such as diabetic retinopathy, glaucoma, cataracts, or age-related macular degeneration? Unfortunately, many folks assume that gradual loss of vision is a natural consequence of aging and don't seek prompt medical attention.
Fortunately, today there are excellent treatments for most serious age-related eye problems including:
Diabetic retinopathy
For diabetics, the risk of blindness can virtually be eliminated with laser photocoagulation of leaky retinal vessels early in the disease and with surgery during advanced disease.
Cataracts
Every year, over 1 million Americans undergo cataract surgery, with 95 percent experiencing vision improvement and the remaining 5 percent achieving stabilization of their vision
Glaucoma
Great advances have been made in both diagnosing and tracking this disease using laser scanners and digital photography. Controlling eye pressure has become easier due to recent advances in medications and surgical methods that have expanded ophthalmologists' tool kit for combatting glaucoma-related blindness.
Age-related macular degeneration (ARMD)
While less than one percent of the under 65 crowd have ARMD, more than 20 percent of seniors in their eighties have central and fine vision loss due to ARMD. Large research studies have demonstrated that we can slow the progression of this disease with specific vitamin supplements and by eating a balanced diet rich in fish, fruits, vegetables, and nuts.
Behavioral red flags that suggest vision loss
Experiencing changes in your body as you age can sometimes be disheartening, especially when it comes to faculties like your eyesight which have so much bearing on your day to day function. It's fairly common for some people to write vision changes off to aging and try to accommodate to their new reality.
If you are concerned that a loved one is in denial about vision loss, certain behaviors may give clues that there is indeed vision loss requiring further examination.
According to the American Foundation for the Blind, the following behaviors are indicators of vision loss that warrant a trip to the eye doctor to see if there's an underlying eye problem:
Mobility
Frequently bumping into objects or brushing into walls while walking
Having difficulty walking on irregular surfaces
Stepping hesitantly
Going up/down stairs slowly and cautiously
Foot shuffling
Missing objects by under-reaching or overreaching for them
Indicators involving daily activities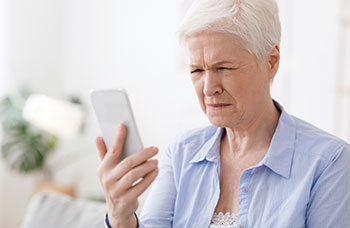 Discontinuing certain activities or doing them differently, such as reading, TV watching, driving, walking or performing hobbies
Squinting or head tilting to focus on an object
Having difficulty identifying faces or objects
Frequently having trouble finding things even in a familiar environment
Reaching for objects tentatively
Having trouble identifying colors or selecting odd color or pattern combinations when dressing
Indicators during eating or drinking
Having problems getting food onto a fork
Difficulty with cutting food or serving it from a dish
Spilling food off the plate while eating
Pouring liquids over the rim of a glass
Knocking over a glass when reaching across the table for another item
Indicators involving reading or writing
New unwillingness to read mail, newspapers or books
Holding reading material very close to the face or at an angle
Writing less clearly and having trouble writing on a line
Finding lighting that had formerly been sufficient to be inadequate for reading or other tasks
How often should seniors get their eyes checked?
The fact is that everyone age 65 or older should have a comprehensive eye examination performed by an ophthalmologist every one to two years at a minimum unless they have an existing risk factor for an eye disease that would warrant more frequent screening.
Risk factors can be based on a person's medical history, such as being diabetic, or their race (certain ethnic groups have a higher risk of certain conditions) or their family history. Newly diagnosed diabetics should have a baseline eye examination to establish a benchmark for monitoring intra-ocular blood vessel damage caused by diabetes.
After performing a comprehensive exam and taking a detailed medical and ophthalmic history, including the use of medications, your eye doctor will tell you whether any significant eye conditions were detected, their severity, and the plan for treating and monitoring your condition.
Getting older doesn't have to mean experiencing diminished vision
People often think that failing vision comes hand in hand with getting older. Nothing could be further from the truth! In fact, we often see people in their 90's who have excellent vision. As we mentioned before, minor changes in vision that don't pose a significant threat are normal and these can be easily managed with timely screening and proper eye care.
Your visual health is a key component of your overall health and regular eye exams should receive the same priority as your medical check-ups. With all of the technology available today, ophthalmology has never had a better chance to maintain and improve vision. Regular eye exams prevent blindness and timely intervention is essential for maintaining good vision. Isn't it time you made your vision care a priority?
Why Choose Assil Gaur Eye Institute for your eye care?
The eye care professional team of ophthalmologists and optometrists at Assil Gaur Eye Institute (AGEI) offer world class eye care treating dry eye conditions, cataracts, glaucoma, LASIK and laser eye correction as well as a wide variety of cornea and retinal conditions.
At AGEI, you will experience a state-of-the-art health care facility that brings together revolutionary technologies with experienced vision care professionals. Our goal is to help you achieve your personal best vision.
Please call 866-945-2745 or visit us here to make an appointment online. If you are experiencing any concerning symptoms, contact us immediately to determine the best time to schedule an exam.
At Assil Gaur Eye Institute we take our patients' safety seriously. Our facility's Covid-19 patient safety procedures exceed all CDC recommendations. Masks are required in our institutes at all times.
We are conveniently located for patients throughout Southern California and the Los Angeles area at locations in or near Beverly Hills, Santa Monica, West Los Angeles, West Hollywood, Culver City, Hollywood, Venice, Marina del Rey, Malibu, Manhattan Beach, and Downtown Los Angeles, to name a few.


Latest posts by Dr. John May
(see all)