Everyday eyelid issues problems
The most common eyelid problems involve swelling of different parts of the lids and can be due to a number of causes ranging from allergic reactions to skin conditions to viral or bacterial infections. Let's review the most common culprits: 
Blepharitis 
Blepharitis is simply an inflammation of the eyelid and usually presents as redness and puffiness along the lash line. Other symptoms can include sore eyelids, itchy eyes, a sensation of grittiness, dandruff along with the roots of the eyelashes, and also crusty eyes that stick together when you wake up in the morning.

Blepharitis can usually be treated by washing your eyelids daily with a sterile cotton pad or Q-tip dipped in a warm baby shampoo solution. You should avoid wearing contact lenses or eye makeup while you have symptoms. 
Chalazion ​
A chalazion is a small usually painless bump that appears within the eyelid away from the lash line and is caused by a blocked oil gland known as a Meibomian gland. The Meibomian glands are in charge of producing the oily component of your tears and when they get clogged with solidified oil, a chalazion can develop.
Luckily these respond well to warm compresses with a clean fresh washcloth for 10 to 15 minutes three to five times a day. Keep the cloth warm by soaking it in hot water as it cools off during your application. This will help liquefy the oil and you can help clear the blocked duct by massaging the bump gently with a clean finger to promote drainage.
Usually, a chalazion responds well to treatment, but in the event that you get a recurring chalazion, you might want to consult your eye doctor in case you require more invasive treatment. 
Stye 
A stye is simply a bacterial infection that occurs when staph bacteria that normally live on your skin get trapped along with dead skin cells at the base of the eyelashes and irritates the oil glands that have ducts along eyelid edges. This results in an unsightly, painful bump right next to your eyelash line that can ruin your social life for a couple of days!
Luckily you can speed up the healing process by cleaning your eyelids with baby shampoo or mild soapy water, apply warm compresses or warm tea bags (black tea works best) for up to 10 minutes four times a day to help with swelling, you can massage the lid to promote drainage.
Unfortunately, there's little evidence that over the counter stye ointments containing antibiotics work for external styes. 
What is oculoplastics?
When someone has an eye disease or condition that distorts their eyelids, makes vision difficult, or changes their physical appearance, there is a surgical sub-specialty known as "oculoplastics" designed to correct these conditions.

Simply put, oculoplastics is a group of surgical procedures that restore eyelid function. These procedures can be performed by ophthalmological surgeons as well as specially trained eye doctors.
The most common eyelid conditions that oculoplastics treat includes:
Baggy eyelids (dermatochalasis)
Dermatochalasis is the term describing the presence of excess eyelid skin or fat at the upper or lower lids. Also known as "Baggy Eyes", it can result in obstruction of your field of vision and eye fatigue, making daily tasks like reading or driving challenging.
Baggy eyelids surgery
A blepharoplasty commonly referred to as "eyelid surgery", involves removing excess skin, muscle, and fat from the upper lid or the lower eyelids, in order to reduce the baggy appearance of skin around the eyes. While cosmetic surgery practices and facial plastic surgeons also perform surgery of the eyelids, Oculoplastics (Eyelid) Specialists are generally considered the ¨go to¨ experts.
Blepharoplasties are typically performed through skin incisions made along the natural skin creases in the upper and lower eyelids in order to hide the surgical scars from view. Lower eyelid blepharoplasties can also be performed with the incision made on the inside surface of the lower lid so that no scar is visible from the outside. 
A blepharoplasty usually takes from one to three hours to perform. Post-op swelling and bruising will take two to three weeks for the inflammation of the eyelids to resolve and the final results will become apparent after several months.
It is important to know that insurance companies consider blepharoplasties an elective cosmetic procedure and will not cover their cost unless there is significant vision impairment resulting from the eyelid condition.
Droopy eyelids (ptosis) 
Blepharoptosis or Ptosis (pronounced TOEsis), describes drooping of the upper eyelids and also affects an individual's line of sight. This can be caused by aging, trauma, long term contact lens use, prior surgery, or damage to the nerves responsible for elevating your eyelids. It can affect kids as well as adults.
Children with ptosis can develop eye symptoms that include decreased vision in one eye (known as ¨lazy eye¨or amblyopia), strabismus (crossed eyes), refractive errors, astigmatism, or blurred vision. For this reason, it's important to correct childhood ptosis promptly to avoid these consequences that can affect their visual development.
What Causes Ptosis? 
The common cause of Ptosis is the improper functioning of the muscles or nerves involved in raising the eyelid, which makes it appear to droop. It can affect one or both eyes and is more common in the elderly. You can also be born with it, though the cause of hereditary drooping eyelids is unknown.
Ptosis in adults could be a sign of an underlying disease such as myasthenia gravis, diabetes, Horner's Syndrome, a tumor, or exposure to the toxin in some snake venoms.
Surgical treatments for Ptosis
There are various approaches to ptosis repair depending on the type and severity of the condition. Surgery involves shortening or reattaching the stretched muscle responsible for elevating the eyelid in order to restore a normal field of vision. This is done on an out-patient basis. Recovery is fairly quick. Most people can return to work in a few days.
Eyelid Malposition
Eyelids must be normally aligned in order to properly protect your eye, to ensure good tear production for eye lubrication, to facilitate adequate tear drainage, and to allow you to close your eyes properly with every blink. When your eyelid is turned abnormally out or in, this can result in constant irritation, tearing or dryness, pain, and 
Eyelids turning out (ectropion)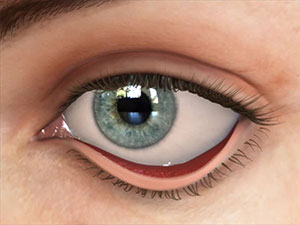 Ectropion is the term used to describe an eyelid problem that causes an outward turning of an eyelid (usually the lower lid) that exposes the inner portion of the lid to air resulting in dry eye and dependency on lubricating eye drops, tearing, a gritty feeling in the eye, crusting, and discharge, and red, tired and burning eyelids.
You can be born with ectropion or it can occur due to aging, trauma, nerve damage due to stroke, facial nerve palsy (Bell's palsy), or even from certain anti-cancer drugs. When left untreated, ectropion can result in corneal damage due to exposure.
Eyelids turning in (entropion)
Entropion describes inward turning of the eyelid (typically the lower lid) usually due to aging and weakening of certain eyelid tendons and muscles. Other causes can include trauma, neurological conditions, scarring, or prior eyelid surgery.

Inward turning of the eyelid results in the eyelashes rubbing against the surface of the eye. This causes irritation and redness, sensitivity to light, and wind. If entropion is not treated, it can eventually result in eye infections, permanent corneal scarring, and vision loss.
Surgical treatments for ectropion and entropion
Thankfully for these patients, surgical repair of ectropion or entropion is relatively simple. Ectropion repair usually involves shortening lax tendons and muscles and, in some cases, might require a small skin graft with skin taken from behind your ear.
Entropion repair involves removing excess skin on the outer eyelid that is causing the lid to turn in. Surgery is usually performed on an out-patient basis with light anesthesia.


Why have oculoplastic eyelid surgery at Assil Gaur Eye Institute?
Assil Gaur Eye Institute's dedication to providing the best eye care available is what motivates us to strive for the highest standards of excellence when it comes to performing eye surgery on our patients. Because of this, we offer some of the best-trained ophthalmologists in the nation.
There are no "one size fits all" options at AGEI. Your treatment depends upon the health of your eyes, your lifestyle, and your goals. And if we believe a surgical option is not the best approach for you, we will tell you. That's what we would want a surgeon to tell us before we undergo any procedure. And treating our patients the way we would want to be treated is one of the core tenets of our practice. Period.
Schedule a consultation to discuss your eyelid concerns and to learn what treatments may be right for you.