How common are skin tags and red moles?
Skin tags and red moles (cherry angiomas) affect a large proportion of the population, and you are more likely to get them as you age.
Both are generally harmless but are often removed for cosmetic reasons or if they cause discomfort. Skin tag removal and cherry angioma removal used to be relatively expensive and could leave behind scabs and scars. However, Assil Gaur Eye Institute has a better solution.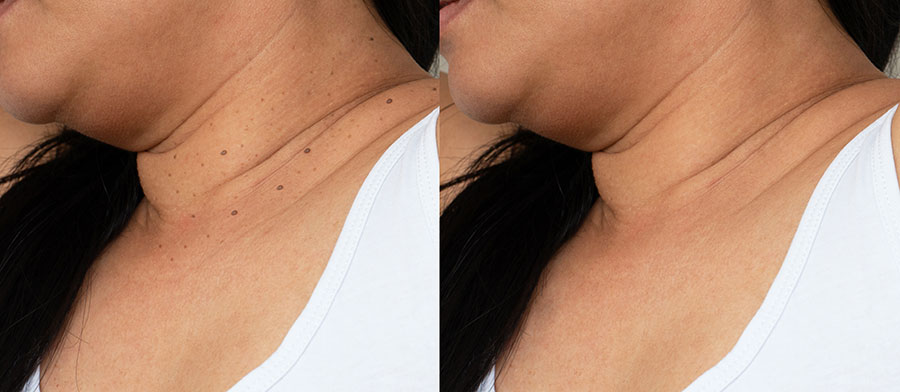 The hyfrecator treatment for skin tag and cherry angioma removal
At AEGI, we offer hyfrecator treatment and minimally invasive electrosurgery that effectively removes skin tags and cherry angiomas quickly and efficiently.
This is a safe form of electrosurgery in which electric current from the hyfrecator heats and breaks down unwanted tissue.
The benefits of using a hyfrecator include its precision and minimal tissue damage. Because the electric current is focused only on the targeted area, there's little to no harm to the surrounding tissues. This method is also typically quick, can be performed in an outpatient setting, and usually requires minimal recovery time.
This procedure has revolutionized the skincare industry, removing blemishes without leaving scars on the treated area.
What to expect during the hyfrecator procedure 
A local anesthetic will be applied to desensitize the skin and reduce discomfort during the treatment. While patients might feel slight discomfort, the procedure is largely perceived as pain-free. Once the procedure is complete, the treatment site will scab over and heal within two weeks.
Our skilled professionals guide you through the entire process, providing industry-leading advice and quick recovery tips. Even patients who are usually anxious about medical procedures will find this procedure simple and painless.
Who should get a hyfrecator treatment? 
Hyfrecator treatment is most effective in treating the following types of issues.
Pigmented skin 
Pigmented spots on the skin consist of moles, dark spots, cherry angiomas, and more.
Skin growths
Skin protrusions include milia, skin tags, sebaceous hyperplasia, warts, and other growths.
Skin discoloration
Skin discolorations can occur because of burst capillaries, hyperpigmentation, and widened blood vessels.
Schedule your consultation today
Why trust Assil Gaur Eye Institute for your skin tag and blemish removal?
The doctors at Assil Gaur Eye Institute are trained to leverage the unprecedented power of the Hyfrecator 2000 to remove unwanted skin lesions, leaving you feeling confident and looking great. We can target very small areas, including vascular imperfections, broken capillaries, warts, blood vessels, and more.
The Assil Gaur Eye Institute (AGEI) has assembled a team of top ophthalmology and facial and skin aesthetic specialists from around the country who continue AGEI's tradition of offering patients the highest quality of specialist eye care in the United States. With extensive training in all aspects of a person's eyes and face, our doctors deeply understand the workings of every facial muscle, artery, and bone. That is why they are also the choice for Botox and derma filler treatments.
In keeping with the founding principles of AGEI, our doctors have managed to keep their clinics comfortable and familiar, much like how family-run medical practices used to be.
Today, the Assil Gaur Eye Institute is nationally recognized for its compassionate patient-centric care, its commitment to pioneering advances in ophthalmology, and its dedication to supporting the health and well-being of its patients and community.
Please call (866) 945-2745 or make an appointment online.
We are conveniently located for patients throughout Southern California and the Los Angeles area in or near Beverly Hills, Santa Monica, West Los Angeles, West Hollywood, Culver City, Hollywood, Venice, Marina del Rey, Malibu, Manhattan Beach, and Downtown Los Angeles.

Skin tag and cherry angiomas FAQs 
How do skin tags form?
While the exact causes of skin tags are not entirely understood, they are thought to develop due to friction between adjacent areas of skin or between clothing and skin. This is why they commonly occur on the neck, armpit, underarms, and groin area.
Can you cut off a skin tag?
A skin tag can be safely removed by a healthcare or medical professional. It is generally advised not to attempt to remove skin tags yourself because doing so could lead to complications such as infection, excessive bleeding, or scarring.
Can skin tags be cancerous? 
Skin tags are generally benign, which means they are not cancerous and do not become cancerous if left untreated.
Do skin tags grow back? 
Once a skin tag has been completely and effectively removed, that particular skin tag won't grow back. However, it doesn't prevent new skin tags from forming.
What are skin tags composed of? 
Skin tags are pieces of skin composed of collagen and blood vessels trapped inside the skin.
Can the hyfrecator be used for wart removal? 
Yes, in addition to skin tag treatment, the hyfrecator can be used to remove warts successfully.
What is the wound care protocol following hyfrecator skin tag removal? 
Following hyfrecator skin tag removal, wound care typically involves gently cleaning the treated area with a mild cleanser or water and then patting it dry. You may need to apply a thin layer of an over-the-counter antibiotic ointment as your healthcare provider recommends to prevent infection. It's crucial to avoid scratching, rubbing, or picking at the area to facilitate healing and prevent scarring.
Do skin tags go away on their own? 
On rare occasions, the blood supply to a skin tag can be cut off, causing the skin tag to harden and fall off. However, this isn't common, and you should not try to remove skin tags at home. Generally, a skin tag will not go away on its own.
Are cherry angiomas dangerous?
Cherry angiomas, also known as Campbell de Morgan spots or senile angiomas, are harmless. They are not a form of skin cancer and are not considered dangerous.
Do cherry angiomas go away on their own?
Cherry angiomas do not go away on their own.
The hyfecator also treats milia; what is milia? 
Milia is a skin condition in which tiny, white, hard bumps often appear on the face, particularly around the eyes and cheeks. These bumps are filled with keratin, a protein component of skin, hair, and nails.
How is hyfecator different from cryotherapy? 
Hyfrecators allow for a high level of precision in targeting the lesion. This makes it an excellent choice for treating small or complex lesions or areas where preserving surrounding healthy tissue is crucial. In contrast, cryotherapy (which uses liquid nitrogen) can sometimes affect a larger area of skin than intended.
How is the hyfrecator treatment better than scalpel removal? 
The hyfrecator allows for a very precise, targeted treatment that can be more controlled than a scalpel.
Because a hyfrecator uses electrical current to treat the targeted area, it has the added benefit of immediate hemostasis or stopping of blood flow. This means that it can control bleeding during the procedure, which can be particularly beneficial when treating vascular lesions or those with a significant blood supply.
Hyfrecator treatments usually result in less damage to the surrounding tissue compared to scalpel excision. They often lead to minimal scarring, making them a preferred choice for lesions in cosmetically sensitive areas. Recovery time is usually shorter as well.
Sources
https://www.pennmedicine.org/updates/blogs/health-and-wellness/2018/december/skin-tags.