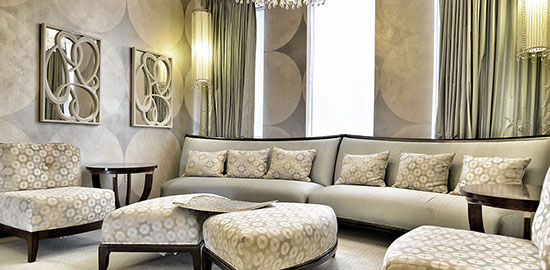 We understand that going to any doctor can be stressful for most patients. With this in mind, we have designed our centers to have the look and feel of a relaxing spa rather than a doctor's office. 
All of us at the Assil Gaur Eye Institute pride ourselves in providing our patients with the highest level of customer service, world-class eye doctors, and ophthalmology services for a wide variety of patients.
Our Beverly Hills location has a warm inviting and modern experience, that mixes high style with high tech. Designed meticulously to house our state of the art surgical suites plus twin LASIK suites in our Beverly Hills LASIK center may be best described as a contemporary elegant medical center. Hand-painted artistic walls and custom furnishings to help make our patients feel less stressed about being at a "doctor's office". 
Our nationally recognized Beverly Hills Eye Doctors provide the most comprehensive ophthalmology care for all eye conditions including:
LASIK Vision Correction (laser eye surgery)
Cornea conditions: keratoconus, pterygium (surfer's eye)
Retina conditions: eye flashers and floaters, macular degeneration, macular holes, proliferative diabetic retinopathy, retinal tears and detachment, epiretinal membrane (ERM)
Glaucoma
Astigmatism
Dry Eye
Eyelid conditions
Iris Conditions
Hyperopia (farsightedness)
Myopia (nearsightedness)
Presbyopia (age-related vision loss)
Advanced technologies available at our Beverly Hills Eye Institute include:
Dr. Assil discusses the advantages of our state-of-the-art LASIK suites.
iDesign Refractive Studio
This software is used in EagleVision™ LASIK treatment that maps the entire optical pathway inside the eye with wavefront analysis.
Visix star S4 iR Excimer Laser
This laser used for ablation in LASIK treatments that allows for 100% personalization.
iFS Femtosecond Laser
This Laser used to create corneal flaps for Lasik treatments that can be customized for every individual cornea
Heidelberg Spectralis
The Heidelberg Spectralis is used in the management of glaucoma, retinal and corneal conditions, the SPECTRALIS is a diagnostic imaging platform which combines scanning laser fundus imaging with high-resolution OCT (Optical coherence tomography).
Specular microscopy
Specular microscopy is used in the management of corneal disease, the Specular microscopy is a noninvasive photographic technique that allows your doctor to visualize and analyze the corneal endothelium (a single layer of cells on the inner surface of the cornea). 
IOL Master
IOL Master is the gold standard for optical biometry (highly accurate non-invasive automated method for measuring the anatomical characteristics of the eye) and is used in intraocular lens power calculations for refractive lens exchange and cataract surgery. 
DELIT (Dry Eye Light Impulse Therapy)
This revolutionary treatment that dramatically improves the symptoms of dry eye using IPL (intense pulse light).
NGENUITY™ (True Vision) 3D Visualization System
This  3D stereoscopic, high-definition digital video camera provides magnified stereoscopic images of objects during Ophthalmic micro-surgery and allows your surgeon to view in greater magnification and increased depth of focus.
Ora Aberrometer-Intraoperative aberrometry
The Ora allows the surgeon to confirm or revise the IOL (Intraocular lenses )power choice reached via preoperative biometry, optimize the lens location, and tailor accurate corneal incisions to the eye's astigmatic needs. 
LensAr Femtosecond Laser
Also known as laser-assisted cataract surgery. This system takes 10 images at different angles providing the surgeon with 3-D images of the cataract demonstrating thickness and density of the cataract. The femtosecond laser softens the cataract by fragmenting the lens. The benefit of laser-softening the cataract is to provide more gentle emulsification of the cataract resulting in faster vision recovery.
AGEI offers patients the most effective state-of-the-art eye treatments in the Beverly Hills and Los Angeles including: