What causes floaters?
Floaters are considered normal as we age and experience vision changes. Tiny strands of vitreous (the gel-like fluid that fills the eye) stick together, casting shadows on the retina (the light-sensitive layer of tissue at the back of the eye).
Most commonly, they are quite harmless natural particles inside the eye. In fact, 70% of people experience floaters at some time.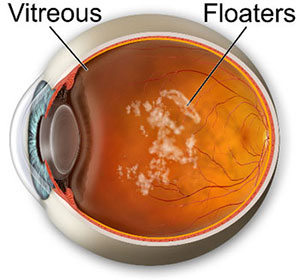 What are eye flashes?
Like eye floaters, flashes develop in the vitreous humor. As we age, the collagen in the body breaks down more quickly, causing the gel of the vitreous humor to shrink and pull away from the retina, creating momentary flashes of light. They can appear as bright spots, lightning-like streaks, or sudden sparkles.
They may occur infrequently or intermittently over a period of time. However, it's important to note that if you experience persistent or recurrent flashes of light or if they become more frequent or intense, it may be a sign of a more serious condition, and you should contact us immediately or seek immediate medical attention.
Some people experience visual disturbances, including flashes of light, as part of a migraine aura, and these flashes could accompany a migraine.
What causes flashes? 
Flashes occur when the vitreous (the gel-like fluid inside the eye) fails to separate cleanly from the retina and then tugs, creating friction from portions of the retina. 
Eye floater risk factors
Eye floaters can occur in people of all ages, certain factors can increase the risk.
These include:
55+ years of age
Severe nearsightedness
Migraine sufferers
Eye injuries
Type 2 diabetes
Torn retina and those diagnosed with diabetic retinopathy.
Schedule your consultation today with the internationally recognized doctors at Assil Gaur Eye Institute
How do you get rid of eye floaters?  
While eye floaters may be frustrating for individuals who frequently observe them, time is generally considered the safest course of action in most cases. Floaters tend to move away from your direct line of sight over time, making them less noticeable.
In some cases, Vitreolysis, a non-invasive, pain-free procedure, might be recommended to eliminate floaters and their visual disturbances. This treatment involves the application of nanosecond pulses of retinal laser light to severe vitreous strands and evaporates/vaporizes the opacities.
When a sudden increase of floaters significantly affects your field of vision, it could indicate a retinal detachment and retinal tears. A procedure known as vitrectomy may be considered. This eye surgery involves creating incisions to remove the gel-like vitreous inside the eye, which is then replaced with a synthetic solution resembling the vitreous. 
Learn more about vitrectomy treatments.
When should you see a doctor for floaters or flashes?
When floaters and flashes first appear, it is important to have an eye exam to ensure a serious eye illness does not cause them. You should contact an eye specialist immediately if you notice:
Sudden onset of new floaters or an increase in floaters
Flashes of light suddenly occur in the same eye as the floaters
Darkness suddenly appears on the sides of your vision (a sensation of fixed shadow, or "closing curtain")
These painless symptoms could be signs of a detachment or torn retina — a sight-threatening condition that requires immediate attention. In the case of a detached retina (when the retina pulls away from the back of the eye), prompt evaluation from an eye doctor within the first 24-48 hours is crucial to maintaining or recovering your full visual potential.
Experience Assil Gaur Eye Institute's nationally recognized expertise in treating floaters and flashes 
The AGEI staff includes a highly skilled retina specialist Dr. Svetlana Pilyugina, or "Dr. P," as she is known to her patients. Dr. P is an ophthalmologist with Stanford fellowship training and board certification in diseases and surgery of the vitreous and retina.
Dr. Pilyugina has extensive experience treating floaters, flashes, and all retinal conditions. To schedule an appointment, either call 866-945-2745 or make an appointment online.
We are conveniently located for patients throughout Southern California and the Los Angeles area in or near Beverly Hills, Santa Monica, West Los Angeles, West Hollywood, Culver City, Hollywood, Venice, Marina del Rey, Malibu, Manhattan Beach, and Downtown Los Angeles.
Assil Gaur Eye Institute's nationally recognized ophthalmologists and optometrists are expertly trained in state-of-the-art treatments for all eye diseases, including glaucoma, macular disease, cataracts, dry eye, and diabetic eye conditions, to name just a few. 

Flashers and floaters FAQs 
C
an high blood pressure cause flashing lights in your eyes?
Yes, high blood pressure (hypertension) can potentially cause flashing lights in the eyes. When blood pressure is elevated, it can affect the blood vessels throughout the body, including in the eyes. The increased pressure can cause changes in blood flow to the retina, leading to various visual symptoms, including flashing lights or flickering sensations. 
Are eye floaters normal? 
Floaters are quite common and are considered a normal part of the aging process for many people. Floaters begin most commonly in our 20s and can gradually increase over time. Those who are nearsighted or have certain medical conditions that affect the eye can experience more floaters.
Can stress cause eye floaters? 
While stress is not typically considered a direct cause of eye floaters, some evidence suggests that stress may exacerbate existing floaters or make them more noticeable. 
Can eye strain cause eye floaters? 
While eye strain can lead to dry eyes, tiredness, or headaches, it does not directly cause floaters or squiggly lines. 
Can dehydration cause eye floaters?
While dehydration can cause various symptoms, such as dry mouth, dizziness, and fatigue, it is not a direct cause of floaters. However, dehydration can lead to dry eyes, which can cause eye discomfort and irritation. 
Are eye flashes hereditary? 
There is no clear evidence to suggest that eye flashes are hereditary. However, certain eye conditions, such as retinal degeneration or certain genetic disorders, can increase the risk of developing eye flashes.
How do you diagnose light flashes and floaters?
Our eye care specialist conducts a complete eye exam to determine the cause of your eye floaters. Your exam usually includes eye dilation. Eye drops widen (dilate) the pupil. In some cases, this allows our specialist a clearer view of the back of your eyes and the vitreous and identify eye problems. 
Can uveitis cause floaters?
Yes, uveitis is inflammation of the uvea, the middle layer of the eyeball that includes the iris, ciliary body, and choroid.
The release of inflammatory cells or debris into the vitreous humor leads to the perception of flashing lights (photopsia) and the presence of floaters in the visual field.
Can eye flashes be a sign of an ocular migraine?
Yes, eye flashes can indicate an ocular migraine, also known as a migraine with aura. Ocular migraines are characterized by visual disturbances, including flashing lights, zigzag patterns, shimmering or scintillating lights, blind spots, or other visual changes. 
Sources:
 American Academy of Ophthalmology. https://www.aao.org/eye-health/diseases/what-are-floaters-flashes. Accessed May 26, 2022.
https://www.asrs.org/patients/retinal-diseases/9/posterior-vitreous-detachment
Floaters. National Eye Institute. https://www.nei.nih.gov/learn-about-eye-health/eye-conditions-and-diseases/floaters. Accessed May 26, 2022.
Shah CP, Heier JS. YAG laser vitreolysis vs sham YAG vitreolysis for symptomatic vitreous floaters: a randomized clinical trial. JAMA Ophthalmol. 2017;135(9): 918-923. PMID..
Floaters and spots. (n.d.). aoa.org/patients-and-public/eye-and-vision-problems/glossary-of-eye-and-vision-conditions/spots-and-floaters