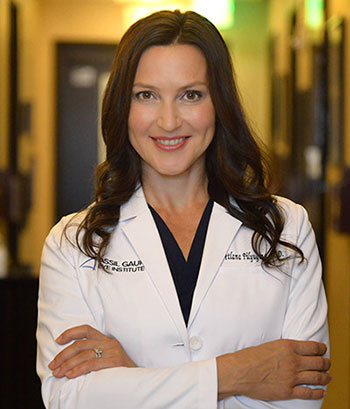 Dr. P.'s vast experience and unique background are a great example of achieving the American dream. At the age of 16, Dr. P. moved on her own from Ukraine to the United States. Here, she taught herself English, completed her undergraduate degree with the highest Summa Cum Laude honors, and went on to earn her Medical Degree from Stanford University. 
She continued her training at Stanford Medical Center for Ophthalmology residency, followed by a specialized two-year retina-vitreous surgical fellowship at the University of California at San Diego.
As a member of an elite group of only 3,000 retina-vitreous specialists in the United States, Dr. Pilyugina brings to AGEI over a decade of clinical experience and a unique skill set in the medical and surgical treatment of retinal diseases. Dr. P. has an interest in research, participates in multiple clinical studies, and presents at national and international scientific meetings.
She is an active member of the American Society of Retinal Specialists, and currently serves as Chief Editor of New Retinal Physician. In 2019, she was featured in Angeleno Magazine's "Los Angeles Power Players" section.
Perhaps Dr. P's most notable achievement, however, is her warm and caring relationship with her patients. She makes an effort to get to know her patients as an individual.
Dr. P prides herself on personalized care, patient education, and devoting extra time during the visit to explain to her patients their eye condition and how she proposes to treat it.
On a personal note, when Dr.P isn't treating patients, she treasures her time with her husband, her toddler son, and their two Rhodesian Ridgebacks. She is also an athlete and an avid salsa dancer who has performed in dance musicals and competed in multiple dance championships.
Dr. Pilyugina sees patients in both office locations: Beverly Hills and Santa Monica and specializes in the treatment of:
Schedule your consultation with Dr. P.
WORK EXPERIENCE

Director of Retina Division

Assil Gaur Eye Institute, Beverly Hills, and Santa Monica, CA.

July 2013-present

 

Retina Service, EYE-Q Vision Center

Fresno, CA.

September 2014 - September 2015

 

Retinal Consultants of Southern California Medical Group

Santa Monica, Encino, Westlake Village, CA.

January 2009 - September 2014

 

Chief Editor, New Retinal Physician

Supplement to Retinal Physician Journal, PentaVision LLC.

2013 - 2017

EDUCATION

Surgical Vitreo-Retinal Fellowship

University of California San Diego, La Jolla, CA.

2007 - 2009

 

Ophthalmology Residency

Stanford University Medical Center, Stanford, CA.

2004 - 2007

 

Transitional Internship

Santa Clara Valley Medical Center, Santa Clara, CA

2003 - 2004

 

Doctor of Medicine

Stanford University School of Medicine, Stanford, CA

1998 - 2003

 

Bachelor of Science (Biology/Chemistry), Summa Cum Laude

Southwestern University, Georgetown, TX

1995 - 1998

 

Great Books Program 

Interdisciplinary liberal arts curriculum

St. John's College, Santa Fe, NM

1993 - 1995

LICENSURE / CERTIFICATION

American Board of Ophthalmology

October 2008

 

California State Medical License

October 2004

PROFESSIONAL ASSOCIATIONS

American Society of Retina Specialists (ASRS)
Vit-Buckle Society American
Academy of Ophthalmology (AAO) 
 California Association of Eye Physicians and Surgeons (CAEPS)
 Los Angeles Society of Ophthalmology (LASO)
 Association for Research in Vision and Ophthalmology (ARVO)
 Stanford Professional Women Association
 ACADEMIC HONORS / AWARDS

Medical Scientist Scholar Fellowship
Stanford School of Medicine, 2002
Stanford Medical Scholar
Stanford School of Medicine, 2000
Traveling Scholar Research Fellowship
Stanford School of Medicine, 1999
Phi Beta Kappa Honor Society
Alpha Chi National College Honor Society (top 10% junior/senior class nationally)
USA Today All-USA College Academic Team Nomination
World of Knowledge Foundation Scholarship
Undergraduate Research Scholarship, Southwestern University
Premedical Studies Scholarship, Southwestern University

PRESENTATIONS

Pilyugina SA, Granet D, Goldbaum M. Long-Chain 3-Hydroxyacyl-CoA Dehydrogenase April, 2009

 

(LCHAD) Deficiency, Retinal Manifestations. Case report.
Pilyugina SA, Ferreyra H., Goldbaum M. Giant Macular Hole in Juvenile X-Linked March 2009

 

Retinoschisis. Western Retina Study Club Meeting, San Diego, CA
Pilyugina SA, Goldbaum M. "OCT Features of Idiopathic Juxtafoveal Retinal Telangiectasis." December 2008
San Diego Fluorescein Angiography Conference, La Jolla, CA
Pilyugina SA, Ferreyra H, Goldbaum M. "Coats-Like Retinitis Pigmentosa." Case Presentation. September 2008
San Diego Fluorescein Angiography Conference. La Jolla, CA
Pilyugina SA, Freeman WR, Nigam N, Goldbaum M. "Verteporphin Photodynamic Therapy April 2008
ARMD- Associated Choroidal Neovascularization after Initial Treatment Course with Bevacizumab." Poster Session. ARVO Annual Meeting. Ft. Lauderdale, FL
Pilyugina SA, Goldbaum M. "Autofluorescence in Macular Dystrophy." Case presentation. January 2008
San Diego Fluorescein Angiography Conference. La Jolla, CA
Pilyugina SA, Freedlander M. "Atypical Choroidal Nevus." Case presentation. San Diego August 2007
Fluorescein Angiography Conference. La Jolla, CA
Pilyugina SA, Gariano R. "Retinal Vasculopathy, Unknown." Case presentation. May 2006
Bay Area Fluorescein Angiography Conference. Palo Alto, CA
Pilyugina SA, Fischbein NR, Liao YJ, McCulley TJ. "Cranial Nerve Visualization with May 2006
"FIESTA Sequence." Poster Session. ARVO Annual Meeting. Ft. Lauderdale, FL
Pilyugina SA, Manche EE. "Prospective Evaluation of the Efficacy, Safety and Stability" March, 2006
"Of the Artisan Phakic IOL for Extreme Myopia: Five-Year Follow Up." Paper session. ASCRS Annual Symposium. San Francisco, CA
Pilyugina SA, Chien F, Blumenkranz MS. "Retinal Pigment Epithelium Tear After March 2006
Intravitreal Avastin Injection." Case presentation. Western Retina Study Club Meeting. San Francisco, CA
Pilyugina SA, Manche EE. "Prospective evaluation of the Efficacy, Safety and Stability of April 2005
The Artisan Phakic Intraocular Lens for Extreme Myopia." Paper session. ASCRS Annual Symposium. Washington, D.C.
Pilyugina SA, Lavoie A, Huie P, Derr K, Smith AJ, Noolandi J, Waymouth RM, Ta CN. "In Vitro May 2003
Epithelialization of a Synthetic Polymer for Generation of Corneal Onlay/Keratoprosthesis."
Poster session. ARVO Annual Meeting. Fort Lauderdale, FL
Pilyugina SA, Katzenstein D, Schapiro J. "HIV-related Knowledge, Attitudes and Practices of April 2001
Health Care Workers in Odessa, Ukraine." Paper session. International Medicine Conference,
Stanford University School of Medicine, Stanford, CA
PUBLICATIONS
Pilyugina SA. Ocular Dietary Supplementation-Food for Thought. New Retinal Physician. May 2014
Pilyugina SA, Fischbein N, Liao YJ, McCulley TJ. Abducens Nerve Aplasia Visualization with Fast Imaging Employing Steady-State Acquisition (FIESTA) Sequence. J Neuroophthalmol 2007; 27: 127-8
Pilyugina SA, Moshfeghi DM, Goldsmith J, Kaiser PK. Macular Hole with Retinal Pigment Epithelium Hyperplasia Simulating Neoplasm. Ophthalmic Surgery, Lasers and Imaging 2006; 37(6):484-5
Pilyugina SA. Phakic Lens Concerns, Challenges and Successes. Eye World. March 2003.
Pilyugina SA. Artisan Phakic IOL Update. Ophthalmology Times. Article #3239. Pilyugina SA, Katzenstein D, Bergen M, Usichenko N, Schapiro J. HIV-Related Knowledge, Attitudes and Practices of Health Care Workers in Odessa, Ukraine. Int Conf AIDS. 2000 Jul 9-14; 13: abstract no. ThPeB5215
CLINICAL TRIALS
ORBIT Study: Ocriplasmin Research to Better Inform Treatment Study by ThromboGenics, Inc. Multicenter, prospective, observational study to assess clinical outcomes and safety of JETREA administered for the treatment of symptomatic vitreomacular adhesion
HARBOR Study: Phase III, multicenter, randomized study of safety and efficacy of 0.5mg and 2.0mg of Ranibizumab administered monthly or on an as-needed basis for subfoveal neovascular ARMD
Age-Related Eye Disease Study 2 (AREDS 2): a multicenter, randomized trial of Lutein, Zeaxanthin, and Omega-3 fatty acids in Age-Related Macular DegenerationDiabetic Retinopathy Clinical Research Network (DRCRnet)
Epidemiology of Diabetes Interventions and Complications Study (EDIC)
RESEARCH EXPERIENCE
Clinical Research, Stanford Department of Ophthalmology 2007
PI: M.S. Blumenkranz, M.D., Professor and Chairman
Subject: Primary Rhegmatogenous Detachment: Scleral Buckle vs. Pneumatic Retinopexy
Clinical Research, Stanford Department of Ophthalmology 2006
PI: M.S. Blumenkranz, M.D., Professor and Chairman
Subject: Modified Scleral Buckle: Extraconjunctival Approach
Medical Scientist Scholars Fellowship
Stanford Department of Ophthalmology 2002 - 2003
PI: C.N. Ta, M.D., Assistant Professor, Program Director
Subject: Epithelialization of a Synthetic Polymer for the Development of Corneal Onlay and Keratoprosthesis
Clinical Research Assistant
Stanford School of Medicine/National Retina Institute
MD 2002PI: S. Mansour, M.D., Clinical Professor, Department of Ophthalmology
Subject: A Randomized Study Comparing the Safety and Efficacy of Two Doses of Intravitreal Triamcinolone Acetonide for Diabetic Macular Edema
Clinical Research Assistant
Santa Clara Valley Medical Center, Santa Clara, CA 2002-2004
PI: R. Jariwalla, Ph.D., California Institute for Medical Research
S. Mansour, M.D., Clinical Professor, Department of Ophthalmology
Subject: Immune Restoration by Lipoic Acid in AIDS Patients clinicaltrials.gov/show/NCT00033176
Traveling Scholars Fellowship
Stanford University School of Medicine 1999 - 2000
PI: J. Schapiro, M.D., Assistant Professor, Department of Infectious Diseases
D. Katzenstein, M.D., Professor, Department of Infectious Diseases
Subject: HIV-Related Knowledge, Attitudes and Practices of Health Care Workers in Odessa, Ukraine
TEACHING EXPERIENCE
Neuroanatomy Teaching Assistant, Stanford University School of Medicine 2000
Histology Teaching Assistant, Southwestern University 1998
VOLUNTEER EXPERIENCE
Jornada de Ojo, Ophthalmology Mission Trip, Santo Tomas, Guatemala September 2006
Fluorescein Conference, Stanford Department of Ophthalmology, Stanford, CA 2005 - 2007
Organized and coordinated monthly resident angiography conference
Mentor, Quest Scholar Summer Program, Stanford University Summer, 2002
Counseled and provided career guidance for gifted low-income high school students
Volunteer, Arbor Free Clinic, Menlo Park, CA 1999-2003
Provided free healthcare to a medically underserved population in a student-run clinic
Admissions Committee Member, Stanford Medical School 1999-2000
Conducted applicant interviews and reviewed applications
Physician Coordinator/Steering Committee Member, Arbor Free Clinic, Stanford, CA 1999-2000
Russian/Ukrainian Medical Interpreter, Stanford Medical Center 1999-2003
International Counselor/Interpreter for U.S. Human Rights and Rural Justice Center Summer, 1997
LANGUAGES
English (fluent)
Russian (native speaker)
Ukrainian (native speaker)
Spanish (fluent)