What causes eye freckles?
TV host and fitness/travel influencer Emile Ennis chronicle his journey through conjunctival nevus removal surgery.
Large-scale studies have found a link between chronic sun exposure and the incidence of nevi. The American Academy of Ophthalmology (AAO) suggests that exposure to ultraviolet (UV) light may contribute to the formation of choroidal nevi.
A family history of nevi does not play a role in determining your likelihood of developing conjunctival pigmentation.
What are the symptoms of conjunctival nevus? 
As with freckles anywhere on your body, conjunctival nevi aren't associated with pain or discomfort. Although nevi tend to remain stable, they can grow due to inflammation or hormonal changes.
Honestly, the most common symptom of an eye freckle for our patients is emotional discomfort or insecurity. Since people often look us in the eye when we speak with them, it is much more noticeable than a freckle on your hand or a mole on the back of your neck.
How worried should I be about an eye freckle?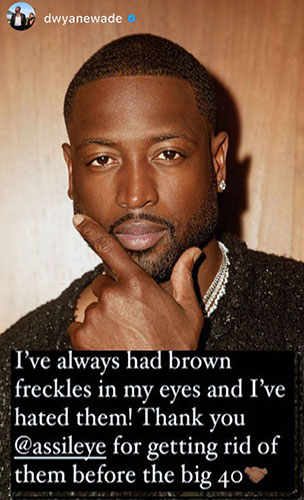 A nevus is rarely cancerous (conjunctival melanoma), and people are often born with harmless eye nevi (benign melanocytic tumor or lesion). A nevus that develops later in life is typically also harmless, but, like a skin mole, it could develop into eye cancer (called ocular melanoma). Again, though rare, it should be monitored with periodic eye exams.
When to see your eye doctor about an eye freckle (nevus)? 
If you notice something that looks like a freckle in your eye that wasn't there before, you should get it checked by an ophthalmologist. Although it's likely harmless, your eye care provider will want to examine it closely and continue regular checkups to ensure it doesn't change.
There could be other issues if you have a nevi and are experiencing:
Blurry vision or other vision changes.

Eye floaters

or flashing lights
Eye pain or discomfort
Changes in the size or color of the freckle.
These can be symptoms of retinal detachment. Choroidal nevi can sometimes leak fluid resulting in abnormal blood vessels, leading to retinal detachment and vision loss.
What are treatments for conjunctival nevus? 
Because nevi are painless and don't affect your vision, they don't necessarily require any treatment other than periodic observation to monitor for changes in your nevus over time. 
Our doctors will thoroughly examine your eye's front and inside structures, including the retina, the macula, and the optic nerve. 
Just as with skin cancer, during your eye examination, your doctor will look for the ABCDE clinical features of moles that warrant close monitoring:
Asymmetrical shape
Borders that are irregular
Color changes or several colors present
Diameter that has advanced
Evolution of the nevi's appearance over time
During your examination, our doctors will direct our highly trained staff to take pictures of the nevus and compare them over time to see any changes in its size or shape. You may be asked to return to have the nevus re-checked in six months.
If the nevus does not change over a year or two, it is not likely to be choroidal melanoma. But it should be checked regularly, as our ophthalmologist recommends, since there is a slight chance of it becoming something serious.
Schedule your consultation today with the internationally recognized conjunctival nevus specialists at AGEI
Eye freckle removal surgery
Assil Gaur Eye Institute removes conjunctival nevi for two common reasons: 
If melanoma is suspected: If there are any cancer concerns, our eye doctor will recommend an excisional biopsy, where the pigmented lesion is removed surgically. The removed tissue is sent to a pathology lab to assess the presence of any cancer cells.
Cosmetic reasons:

Thanks to techniques developed by renowned ophthalmologist Dr. Kerry Assil, removing a cosmetic nevus is now a much simpler and gentler procedure than it used to be. 
The procedure involves using a very mild thermal brushing technique to extract the pigment from the surface of the conjunctiva. Recovery is typically quick and painless, with no trace of the prior nevus. Unfortunately, because this treatment is considered cosmetic, insurance does not typically cover it.
Why choose Assil Gaur Eye Institute for your eye freckle removal
The team of ophthalmologists at AGEI have performed thousands of eye freckle removal surgery and are nationally recognized leaders in the field thanks to their proprietary removal techniques.
Our nationally recognized ophthalmologists and eye institutes are leaders in a wide range of ophthalmological conditions, including state-of-the-art LASIK vision correction, retinal treatments, cataract surgery, glaucoma care, macular disease, and, of course, diabetic eye conditions, to name just a few.
This is one of the reasons that Los Angeles Magazine named Assil Gaur Eye Institute as one of the Top ophthalmology doctors in Los Angeles, year after year. 
At AGEI, you will experience a state-of-the-art healthcare facility that combines revolutionary technologies with experienced vision care professionals. Our goal is to help you achieve your best vision and optimal eye health.
Schedule your consultation today 
We are conveniently located for patients throughout Southern California and the Los Angeles area in or near Beverly Hills, Santa Monica, West Los Angeles, West Hollywood, Culver City, Hollywood, Venice, Marina del Rey, Malibu, Manhattan Beach, and Downtown Los Angeles.

Eye Freckle FAQs
Are there different types of nevi?  
There are different types of nevi based on where the nevus is located.
Conjunctival nevus
This type of eye freckle is the conjunctiva, the transparent film covering the front of your eyes. It usually shows up because it appears on the sclera or the white part of your eye. Conjunctival nevi are the common type of nevi.
Iris nevus and iris freckle
An iris nevus and iris freckles appear in the iris. An iris freckle is smaller than an iris nevus. However, an iris nevus goes deeper into the iris and sometimes can pull the pupil to the side.
Choroidal nevus
A choroidal nevus occurs in the choroid, the layer of tissue beneath the retina in the back of the eye. The choroid is part of the uvea, the pigmented part of your eye, and includes the iris. Both choroidal nevi and iris nevi are forms of uveal nevi.
Sources
Conjunctival Nevi: Clinical Features and Natural Course in 410 Consecutive Patients | Dermatology | JAMA Ophthalmology | JAMA Network: https://doi.org/10.1001/ARCHOPHT.122.2.167
Surgical Outcome of Chemical Peeling of Conjunctival Nevus with Alcohol: https://doi.org/10.3341/jkos.2016.57.5.705
Conjunctival naevi in Denmark 1960-1980. A 21-year follow-up study: https://www.ncbi.nlm.nih.gov/pubmed/8883545
Conjunctival lesions in adults. A clinical and histopathologic review: https://www.ncbi.nlm.nih.gov/pubmed/3301209 
Subepithelial conjunctival nevus with atypia: Expanding our understanding of a challenging diagnosis
https://www.sciencedirect.com/science/article/pii/S2214330018300300