Urgent emergency eye care near me
Eye problems requiring immediate medical attention don't always come at convenient times. That's why emergency eye doctors at the Assil Gaur Eye Institute are always available to assist you.
The Assil Gaur Eye Institute boasts a team of optometry specialists from around the country and provides patients with the highest quality of care in Los Angeles. 
Types of eye injuries
Unfortunately, about 2.7 million eye injuries occur in the country each year, with a quarter of those coming from blunt trauma, according to the National Research Council.
Patients at our medical center depend on our doctors' expert skills for emergency eye care. This is especially true of professional athletes where perfect sight is critical. Two of our satisfied patients include Los Angeles Lakers Lebron James and Anthony Davis.
The majority of eye injuries happening to laypeople occur at home, work, or when participating in sports. 
 Corneal abrasion. This is a scratch or defect on the surface of the cornea from something like a poke in the eye with a tree branch.
Traumatic iritis. This type of injury is caused by a blow to the eye from something like a club or fist. When this injury occurs, the iris becomes inflamed.
Orbital fractures. This serious injury occurs when an object such as a racquetball or fist breaks the facial bones that surround the eye.
Cuts to the cornea or sclera. This injury, typically caused by sharp things such as metal and glass, requires immediate medical attention from one of our eye doctors.
Retinal tear. This injury may be caused by age, prior eye surgery, or nearsightedness. This happens when the gel inside the eyeball pulls on the retina and tears it. This is a medical emergency.
Sudden appearance of floaters accompanied by flashes. This can indicate a serious eye problem, especially in older adul
What are the symptoms requiring an emergency eye doctor in Los Angeles?
Below is a partial list of eye problem symptoms that may require you to contact our office for emergency eye care. 
Loss of vision in one eye
A foreign body lodged in the eye
A toxic chemical spills in the eye
Double vision
Pupils that are not the same size
Eye pain
Vision loss
Our leading emergency care optometrists treat eye injuries in Los Angeles
Our eye doctors have been treating all types of emergency eye injuries for more than half a century.
Patients from all parts of the Greater Los Angeles Area turn to us when they are experiencing an eye injury. What emergency patients find is that the Assil Gaur Eye Institute offers a new class of ophthalmologists. Instead of going to the emergency room to treat your eye injury, you can rely on our eye doctors who are well-versed and comfortable treating any eye condition in a focused caring manner.
All of our optometrists are experts in more commonplace problems such as glaucoma, contact lenses, cataract surgery, eye infections, eyewear, eye exams, floaters, Lasik surgery, pink eye, and dry eye.
Our eye care center represents a world-known ophthalmology practice recognized for its standard-setting level of care and continuous efforts to advance the fields of emergency eye medicine.
Meet our ophthalmologists providing emergency services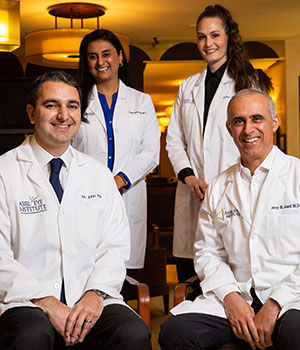 Dr. Kerry Assil has performed more than 70,000 eye surgeries and is a renowned expert in treating emergency eye injuries.
Dr. Avneet K. Sodhi Gaur is a board-certified ophthalmologist, has extensive experience in conventional and emergency surgical procedures.
Dr. Svetlana Pilyugina belongs to an elite group of only 3000 retina-vitreous specialists in the United States. She brings a unique skill set to emergency treatment and surgery of retinal disease.
Dr. John May is considered an expert in emergency refractive surgery. He also serves as a consultant for the Accreditation Council on Optometric Education.
Dr. Lindsay Harris provides emergency eye care treatment for ocular diseases. She prepares pre-surgical plans for all intraocular lens procedures.
Assil Gaur Eye Institute emergency eye care locations in Los Angeles
450 N. Roxbury Dr. 3rd Floor
Beverly Hills, CA
Emergency Phone: 866-945-2745
2222 Santa Monica Blvd Ste. 107
Santa Monica, CA
Emergency Phone: 866-945-2745