What is LASIK surgery?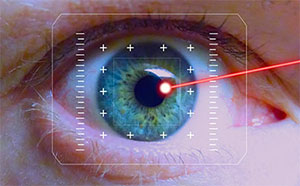 Put simply, Laser-assisted in situ keratomileuses (LASIK) precisely reshapes the cornea for vision correction. It is an alternative to wearing glasses or contact lenses.
The procedure has gained a reputation for patients achieving 20/20 vision or better. About 700,000 LASIK procedures are performed in the United States each year.
Unlike cataract surgery, LASIK is known as refractive surgery. In people with healthy vision, the cornea bends (refracts) light rays as they enter the eye. However, in people with nearsightedness (myopia), farsightedness (hyperopia), or astigmatism, the light is bent imperfectly, and vision becomes blurry.
Though glasses and contact lenses may correct vision, reshaping the cornea provides the correct refraction for clear vision. This will be further explained to you during your LASIK consultation.
Why Assil Gaur Eye Institute offers the best LASIK in Los Angeles
The primary reason AGEI is noted for its LASIK excellence falls under the category of ground-breaking laser technology. DR. Assil has spent over 20 years experimenting with and developing LASIK laser vision correction technology.
His experience includes being involved in countless clinical trials, as well as serving as an ophthalmologist medical advisor for laser technology manufacturers.
Scientific medical advancements have allowed expanding techniques to be used in laser vision correction procedures such as LASIK and PRK. Each technique employs specific equipment used in LASIK to correct vision with the utmost precision.
After working with many lasers, Dr. Assil has selected the VISX Star S4 Excimer Laser System to be his tool of choice for corneal sculpting. AGEI is the only Los Angeles area ophthalmology practice with two LASIK surgical suites outfitted with a VISX™ Star S4 to offer the most advanced technology coupled with the greatest reliability to our patients.
In addition to both of our on-site surgical suites housing a VISX STAR Excimer Laser System for sculpting the cornea, they are also equipped with an iFS™ Intralase™ laser for blade-free LASIK and the iDesign WaveScan, combined Wavefront Technology™ and Topographic guidance technology for optimal treatment accuracy.
 Dr. Assil explains the advantages of AGEI's state-of-the-art LASIK surgery suites.
Why EagleVision® LASIK eye surgery is the Gold Standard
Developed by Dr. Kerry Assil at the Assil Gaur Eye Institute, EagleVision laser eye surgery (Elliptical-flap Aberrometry Guided Laser Enhanced Vision) represents the latest iteration of LASIK eye surgery. 
After years of development by LASIK expert Dr. Kerry Assil, the procedure is widely believed to offer the best outcome of other LASIK technology.
This fifth-generation LASIK technique was initially developed for AGEI patients that participate in high-contact professional athletes (which include Lebron James, Dwayne Wade, Anthony Davis, and Paul George.
However, AGEI laser surgeons quickly understood that EagleVision LASIK is the optimal procedure for people from all walks of life.
How EagleVision laser surgery works
The EagleVision approach sub-divides the eye's ¨seeing surface" into 1240 adjacent zones. Each is individually measured for focusing deficiency (known as refractive error) using iDesign technology. It is the only FDA-approved technology capable of performing such highly customized measurements for each eye.
The measurement of the refractive error in 1240 separate zones is in stark contrast to measurements taken for producing eyeglasses and contact lenses. They only use one (monofocal), two (bifocal), or, at most three (progressive) measurements to represent the entire eye's focusing deficiency.
Then the cornea's surface is then scanned to precisely measure the elevations and dips (called "topography" of each of its 1240 unique zones
These detailed 3-D Aberration and Elevation maps of each eye are then programmed into the excimer laser for eye surgery.
What happens during laser surgery in Los Angeles? 
The first and most critical step in laser surgery is the creation of a corneal flap because it directly affects the visual outcome., Dr. Assil provides a larger vision co
The surgeon first applies a Femtosecond laser — an ultrafast laser — to create a flap. By creating a customized elliptical flap (an elongated circle stretched into an oval), Dr. Assil generates a larger vision correction area.
The EagleVision corneal flap affords safe access to the treatment area. Also, this approach reduces the risk of flap complications such as dry eye syndrome.
The innovative approach to corneal flap creation creates superior stability — much more so than other LASIK surgeries.
After the flap is folded back, Dr. Assil reshapes the cornea using a laser with customized algorithms (developed by AEI's own Dr. Assil) that had been pre-programmed with exact measurements.
After reshaping the cornea (about 30 seconds per eye), our surgeon folds the flap back down where it stays in place within minutes.
LASIK eye surgery costs
How much LASIK cost is always a major factor when considering LASIK surgery. Assil Gaur Eye Institute offers a reliable range of costs for patients.
When seeking the best LASIK surgeon Los Angeles, the most important thing is to ensure you find an expert in refractive surgery. Always have a consultation with him or her and make sure you feel comfortable with them and the practice they work with before having your procedure.
The cost of LASIK surgery depends on numerous factors, including which LASIK technology you choose, the surgical center, and most importantly, the experience of the surgeon Read more about how much LASIK cost.
How much does LASIK cost with insurance? Unfortunately, virtually all insurance plans consider LASIK surgery an elective procedure and are typically not covered by any insurance.
What patients say about the best LASIK eye surgery in Los Angeles at Assil Gaur Eye Institute
"It was so easy and fast. It was over before I knew it, in, like, 10 minutes. My vision was better immediately… I was shocked!"
 "It's not just a little bit better, it's beyond perfect at 20/15. I've got the same vision that fighter pilots have! I cannot believe they over-delivered on their promises, plus the entire staff at AGEI was incredibly kind to me."
—Toby Miller, USA Olympic team snowboarder
"I have fewer things to think about when I wake up in the morning. I now have Superhero eyes. It's incredibly nice to get out of bed and be able to see things."
"The surgery was great and super-fast. I only had time to listen to two and a half Harry Styles songs."
—Tiffany Smith, award-winning Hollywood actress
Want to see more reviews? Review nearly 2,000 patient reviews here.
The importance of choosing the best LASIK surgeon Los Angeles
At AGEI, you will experience state-of-the-art LASIK surgery that brings revolutionary technologies together with experienced, board-certified vision care professionals. Our goal is to help you achieve your be­st possible vision with our eye care, and laser LASIK is just one of many options available today. Contact us for a complimentary LASIK consultation to see if you are a good candidate.
About our LASIK eye surgeons
Dr. Kerry Assil 
Kerry Assil is one of the world's foremost expert providers in laser eye surgery. Dr. Assil has trained more than 14,000 physicians and performed over 70,000 eye surgeries. He has authored over one hundred textbooks, textbook chapters, and articles and served as a Distinguished Professor lecturer at Harvard, Johns Hopkins, Duke, Baylor, Tokyo, UCLA, and a host of other leading Universities.
Dr. Assil continues to make significant advances in his field with numerous inventions and introductions of state-of-the-art technology, including EagleVision®️ laser eye surgery.
Internationally recognized as one of the best LASIK doctors, people from around the world, including other eye surgeons, industry leaders, athletes, medical professionals, and celebrities, seek out Dr. Assil. His focus, as always, is on providing the highest quality eye care, to all his patients, in a professional and compassionate manner.
Dr. Avneet K. Sodhi Gaur
Dr. Avneet K. Sodhi Gaur is a Board Certified, Fellowship trained Cataract, LASIK, and Glaucoma Specialist, with training and experience developed at nationally renowned ophthalmic institutions, including Tufts Medical Center/New England Eye Center and Ophthalmic Consultants of Boston-Mass Eye and Ear Infirmary.
Dr. Sodhi Gaur is a recognized expert in vision correction surgeries with numerous research & case report publications, lectured nationally, and has served as a media expert on ophthalmic conditions. She's performed thousands of eye surgeries and is an active member of numerous ophthalmic societies, and has been featured in Angeleno Magazine 2019 Los Angeles Power Players section as one of the top extraordinary, inspiring individuals. 
Why trust Assil Gaur Eye Institute with your vision
Assil Gaur Eye Institute's LASIK Center of Los Angeles serves Beverly Hills, Santa Monica, Culver City, Westwood, Brentwood, Ble Air, West Hollywood, and surrounding communities.
Please call 866-945-2745 or visit us he­­­re to make a free consultation LASIK evaluation with our LASIK eye doctors. If you are experiencing any concerning symptoms or require immediate eye care, contact us immediately to determine the best time to schedule an eye exam.
Assil Gaur Eye Institute takes our patients' safety seriously. Our facility's Covid-19 patient safety procedures exceed all the CDC's coronavirus pandemic recommendations. Masks are always required in our institutes.
Want perfect vision? We are conveniently located for patients throughout the Los Angeles area near LA neighborhoods, including Santa Monica,  Westwood, Beverly Hills, West Los Angeles, Encino, UCLA, Hollywood, Venice, Play del Rey, Mid-City, Downtown Los Angeles, and more.