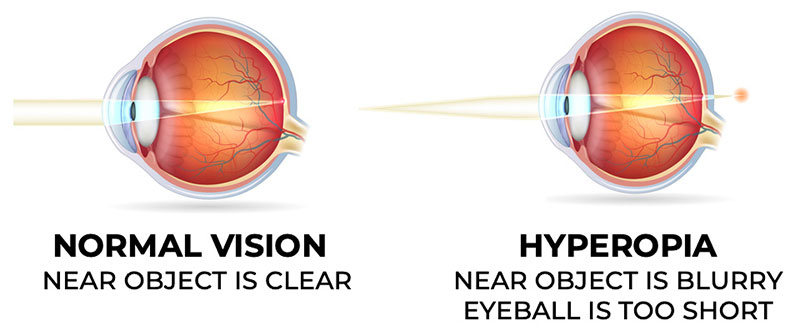 Non-Surgical Solutions for Farsightedness
Of course, you can get glasses or contact lenses with your particular prescription to correct your hyperopia and provide clear vision when you're wearing them.
While these options are suitable for many folks, there are many others who have grown frustrated with eyeglasses and contact lenses.
Surgical Solutions for Hyperopia or Farsightedness
For those people who find glasses or contact use burdensome or incompatible with their lifestyle, there are more permanent options to correct hyperopia through surgery.
LASIK for Farsightedness (hyperopia)
With LASIK (which stands for Laser-Assisted in Situ Keratomileusis) a very experienced surgeon using a highly specialized laser can correct the focusing power of your eyes in a near pain-free 15-minute procedure, liberating you once and for all from wearing glasses or contacts.
During LASIK your surgeon reshapes your cornea so that it can do a better job of focusing light more precisely onto the retina, which allows you to see more clearly. With the best LASIK surgeons, a patient's vision often becomes even better than 20/20 and far better than they could previously see with their glasses or contact lenses.
At AGEI, we have been performing LASIK surgery for over 2 decades and have led the industry in developing surgical techniques and laser protocols, as well as performing product testing on several generations of lasers. This experience allows us to combine leading-edge technology with advanced surgical techniques developed by Dr. Assil to provide highly tailored vision correction unique to each patient.
In fact, AGEI is the only Los Angeles area ophthalmology practice with two LASIK surgical suites outfitted with the VISX Star S4 excimer laser that offers the most advanced technology coupled with the greatest reliability to our patients.
A safety feature called Iris Registration ensures that the laser remains properly aligned to your eye as it sculpts. This feature also ensures that there's no possibility of treating the wrong eye or the wrong patient. A second safety feature tracks eye movement during surgery so that the laser's accuracy is not affected if you move or blink during your vision correction procedure.
Of course, your doctor will perform a comprehensive eye examination to determine if LASIK is right for you. If you are not considered a good LASIK candidate, the good news is that at AGEI, our eye surgeons also perform a variety of other hyperopia correction procedures, including:
PRK for Farsightedness (hyperopia)
PRK or Photorefractive keratotomy is the old name for a procedure known today as LASEK. It is a safe, effective procedure for vision correction that's ideal for those who aren't good candidates for LASIK vision correction or for persons wanting sharper vision following cataract surgery. LASEK involves using laser energy to gently sculpt the outer layer of the cornea in order to correct the focusing error.
The key difference between PRK (also called LASEK) and LASIK surgery has to do with where the laser sculpting takes place. With LASEK, the laser energy is applied directly to the surface of the cornea, whereas with LASIK, the outer corneal layer is spared and the laser energy is applied to the middle corneal layer.
It's important to know that at AGEI, our surgeons use the same cool ultraviolet iFS Intralase excimer laser in both LASEK and LASIK procedures, so the final vision correction results are quite similar for both procedures.
Refractive Lens Exchange for Farsightedness (hyperopia)
Refractive Lens Exchange (or RLE), is a surgical procedure that involves replacing your eye's natural lens with an artificial lens that improves the way that light is focused on your retina. RLE is a good option for people who are not good candidates for LASIK or LASEK but who wish to eliminate or reduce their dependency on glasses or contacts. It has also become a popular choice for those undergoing cataract surgery who wish to correct their vision at the same time.
RLE surgery and cataract surgery are exactly the same operations. Both remove your eye's natural lens through a small incision and exchange it for a new lens that is intended to be permanent. The difference between these two surgeries is that RLE is a refractive procedure. In other words, it corrects your vision prescription instead of inserting a clear non-prescription lens in your eye, as is the case during traditional cataract surgery.
Unlike LASIK or PRK, refractive lens exchange can correct almost any degree of hyperopia. This means that RLE is a better option than LASIK and PRK for achieving better results in patients with moderate to high hyperopia.
Schedule your consultation today with our internationally recognized ophthalmologists 
IOL implantation during Cataract Surgery
Today, there's a wide variety of premium intraocular lenses (Premium IOLs for short) that allow you to improve your vision at the time that you replace your natural lens during cataract surgery.
IOL options for hyperopia include:


Monofocal IOL Lenses for hyperopia
Monofocal lenses correct vision for a fixed distance (either near or far vision)
Multi-focal lenses for hyperopia
Multi-focal lenses have varying magnifications at different sections of the lens allowing you to see clearly at various distances.
At AGEI, we offer a wide variety of lenses designed to provide patients with a sharp focus for near vision, far vision, or both. It's important to know, however, that Medicare and private health insurance plans typically cover only the cost of cataract surgery, including the cost of a monofocal IOL (although you might have to pay a deductible or have a limited choice of brands, depending on your policy).
Because of this, if you choose a premium IOL, you will have to pay the difference in cost between a monofocal IOL and the premium lens, which could be $1500 or more per eye, depending on your choice of lens.
Nonetheless, many patients are happy to invest in premium intraocular lenses in order to achieve a crisp focus without the inconvenience of glasses or contacts. To fully understand your cataract surgery costs and coverage, we invite you to consult with one of our patient coordinators to verify what your insurance will cover. 
Why Trust AGEI for your Hyperopia or Farsightedness Vision Correction
At AGEI we know that each patient has a unique medical profile and lifestyle that must be taken into consideration when considering treatment options for their eye care.
We don't practice "one size fits all" medicine, but rather make an effort to get to know you because at AGEI our patients are more than just a diagnosis.
We feel strongly that by getting to know you, we can not only provide you with treatment options that best suit your lifestyle, but we can also suggest some lifestyle modifications that may optimize your eye health.
Schedule a consultation to learn if any Farsightedness solutions are right for you.