What is ectropion?

Ectropion is the condition in which the eyelid turns outward (called an everted eyelid). This exposes the eyelid's inner ocular surface to irritating particles like dust or dirt and makes the cornea vulnerable due to the rapid evaporation of lubricating tears. 
Over time, dry eyes can result in corneal abrasions and ulcers.
What is entropion? 
On the other hand, Entropion is a condition in which your eyelid (usually the lower lid) turns inward so that your eyelashes and skin rub against the cornea. The rubbing can be continuous or occur only during blinking or squeezing the eye shut. 
Continual rubbing is dangerous because it can lead to corneal ulcers, scarring, and even vision loss. Not to mention that it's very uncomfortable and, in extreme cases, downright painful.
Symptoms of ectropion and entropion can include:
The formation of crusts along the eyelid margin
Mucus discharge from the eyes
Watery eyes, excess tearing, or inadequate tear drainage
Corneal dryness, redness, and irritation
Vision changes
Sensitivity to light and sensitivity
Eye Infections (conjunctivitis)
Previous surgeries on the eyelids (blepharoplasty)
Some additional symptoms of entropion include sensitivity to wind and a foreign body sensation in the eye.
What causes ectropion and ectropion?  
 Not surprisingly, the causes of entropion and ectropion are similar: 
Age-related laxity of the soft tissues and muscles (including the orbicularis oculi muscle) of the eyelids (this is the most common type of ectropion)
Scar tissue within the inner surface of the upper or lower eyelid
Infection, tumor, or injury involving the eyelid
What are the treatment options for ectropion and entropion?
There are several treatments available for entropion and ectropion, and your doctor's recommendations will be based on the degree and severity of your condition. 
Treatments can include eye drop lubricants (artificial tears) and lubricating ointments to temporarily relieve eye irritation or applying skin tape to support the eyelid in the normal position temporarily. Botox might be injected in certain instances to relax a tight eyelid muscle temporarily. 
Sometimes surgical treatment is required to repair stretched muscles or tendons, insert a skin graft or flap (rarely), or address tearing problems. Ectropion and entropion repair surgery is typically performed as an outpatient procedure using local anesthesia and intravenous sedation.
Recovering from ectropion and entropion surgical correction 
Post-op bruising typically occurs, but it generally subsides completely within two to three weeks. Swelling can take up to 4 weeks, although this time varies depending on the skills of your surgeon and the individual patients. 
If dissolving stitches are not used, stitches will usually be removed in the clinic at your two-week follow-up visit. Contact lenses are not permitted for several weeks following surgery.
The results are visible in about four months.
Schedule your consultation with the internationally recognized oculoplastic surgeons at Assil Gaur Eye Institute
Why Choose AGEI for your eyelid surgery?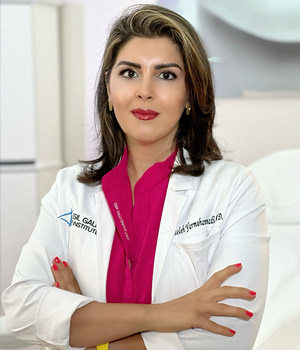 Your eyes are one of the most delicate structures in your body. That's why, when you're looking for a Los Angeles area surgeon to correct the appearance or function of your eyelids and the structures surrounding your eyes, you want to seek an oculoplastic surgeon.
As trained ophthalmologists with a sub-specialty in oculoplastic surgery, Dr. Adeleh Yarmohammadi (known as "Dr. Adele") and Dr. Rafi Israel can thoroughly examine your eyes, understand any underlying eye disease, and identify potential problems that might impact the surgical plan -- things that even a board-certified facial plastic surgeon is not trained to do.
We have decades of experience treating functional eye problems affecting patients' vision and eye health. He has performed thousands of cosmetic procedures, including revisions of surgeries performed elsewhere with unsatisfactory outcomes. 
Among the conditions we treat are excess eyelid skin or fat, drooping eyelids, wrinkles around the eyes, eyelid reconstruction after tumor removal or eye injuries, excessive tearing, revising prior unsatisfactory eyelid surgeries, and abnormally turned in (entropion) or turned out (ectropion) lid margins. 
If you would like to schedule a consultation with us in our Beverly Hills office to discuss your concerns about the appearance or function of your eyelids and to learn what treatments might be right for you, please call 866-945-2745 or click here to request an appointment online.
Assil Gaur Eye Institute is conveniently located for patients throughout Southern California and the Los Angeles area in or near Beverly Hills, Santa Monica, West Los Angeles, West Hollywood, Culver City, Hollywood, Venice, Marina del Rey, Malibu, Manhattan Beach, and Downtown Los Angeles.

Ectropion and Entropion FAQs 
What are post-op instructions? 
Following your surgical procedure, you will leave the surgery suite with antibiotic ointment over your eyes and pressure dressings. 
Your healthcare provider will give you specific instructions on maintaining your head elevated while in bed, applying cool packs, gentle eyelid cleaning using cotton swabs, and applying topical antibiotic ointment. 
Your post-op care is key to obtaining the best outcomes. 
What is spastic entropion?
Spastic entropion is a condition where the eyelid, typically the lower one, involuntarily turns inward due to muscle spasms or excessive blinking.
Can you have an upper lid entropion? 
Yes, while less common than lower eyelid entropion, the upper eyelid can also suffer from entropion. This condition typically causes the eyelashes and skin of the upper lid to rub against the eye, which can result in discomfort, redness, irritation, and potentially more serious complications like corneal abrasion or ulceration.
Can Bell's palsy be a cause of ectropion? 
Yes, Bell's palsy can paralyze facial nerves and muscles. This type of Facial paralysis can affect eyelid muscles and lead to ectropion. This is sometimes referred to as paralytic ectropion or facial nerve palsy.
Can you be born with eyelid ectropion? 
Yes, it's possible to be born with eyelid ectropion, although it's quite rare. This condition is called congenital ectropion, typically affecting the lower eyelids. It may be linked to another health problem, such as Down syndrome.
What is mechanical ectropion?
In mechanical ectropion, this outward turning is caused by external forces or masses, such as tumors, scarring from skin diseases, or even excessive weight of the lower eyelid due to severe edema (swelling).
Sources 
Ho SF, Pherwani A, Elsherbiny SM, Reuser T. Lateral tarsal strip and quickert sutures for lower eyelid entropion. Ophthal Plast Reconstr Surg. 2005 Sep. 21(5):345-8
Turbert D, Ninel Z Gregori. Eyelashes. American Academy of Ophthalmology. EyeSmart/Eye health. https://www.aao.org/eye-health/anatomy/eyelashes-list. 
Dortzbach RK, McGetrick JJ. Involutional entropion of the lower eyelid. Ophthalmic Plast Reconstr Surg. 1983. 2:257-267.
Yorston D, Mabey D, Hatt S, Burton M. Interventions for trachoma trichiasis. Cochrance Database Syst Rev. 2006 Jul 19;(3):CD004008.
Awan MA, Chadha V, Gonzalez P, Diaper CJ, Cauchi P, Kemp EG. Small tarsal plates causing recurrent lower lid entropion in a young adult. Eye. 2009 Feb 6. [QxMD MEDLINE Link].
Fezza JP. Nonsurgical treatment of cicatricial ectropion with hyaluronic acid filler. Plast Reconstr Surg. 2008 Mar. 121(3):1009-14. [QxMD MEDLINE Link].
Bashour M, Harvey J. Causes of involutional ectropion and entropion--age-related tarsal changes are the key. Ophthal Plast Reconstr Surg. 2000 Mar. 16(2):131-41
Borrelli M, Geerling G ; Current concepts of ocular adnexal surgery. GMS Interdiscip Plast Reconstr Surg DGPW. 2013 Feb 272:Doc06. doi: 10.3205/iprs000026