How does microneedling work?
Microneedling is a dermatologic procedure that uses a ‌micro-needle device that looks like a pen covered in tiny needles to create micro punctures in your skin.
These tiny facial injuries trigger your body's natural wound-healing process, including the production of elastin and collagen. 
Elastin and collagen are naturally produced proteins that keep your skin smooth and youthful. As we age, our collagen production naturally slows, and our skin loses elasticity. The micro-injuries caused by micro needling alert your body to produce new collagen and elastin to heal — and enhance the appearance of — your skin.
This skin rejuvenation treatment is most popular on the face but can be used on other areas of the body, such as the legs and back.
What are exosomes?
Exosomes are tiny particles created and released by cells in our bodies that contain various lipids, proteins, amino acids, peptides, growth factors, and genetic material. They work by communicating and transmitting signals between cells, so you can think of them as little messengers sending signals to unhealthy cells and triggering them to regenerate.
Schedule your consultation today
What are the benefits of microneedling with exosomes? 
Exosome therapy allows us to introduce new exosomes to swoop in to help wake up inactive skin cells and the older exosomes so they can get back to work to repair, strengthen, and ultimately rejuvenate skin. 
The benefit of combining microneedling with exosomes is that the micro needling creates those micro-channels that allow for deeper skin penetration of the exosomes and enhance absorption. This supercharges their impact and leads to even more noticeable improvements in skin texture, tone, and overall skin health. And the great part is that exosomes are continuously active for 6 to 8 months post-treatment. 
At AGEI we use the Exosome Regenerative Complex+ by Benev, which is a very exciting new development in skin renewal and rejuvenation. Think of it like a super-powered skin food with tiny particles that can help our cells communicate better. It also contains growth factors that can stimulate your skin cells to renew themselves more effectively. On top of that, it's enriched with coenzymes, peptides, and amino acids, which are the building blocks of proteins that your skin needs to stay healthy and strong. The Complex also comes with an array of essential minerals and vitamins, providing your skin with all-around nourishment. 
What conditions does microneedling with exosomes treat? 
The benefits of microneedling are best suited for correcting the following medical and skin conditions:
Acne scarring
Burns
Large pores
Hyperpigmentation (unwanted pigmentation)
Scars
Sun damage and sunspots
Stretch marks
Wrinkles and fine lines
Uneven skin tone and skin texture
Does microneedling hurt? 
Some patients report mild discomfort during the procedure. To make you as comfortable as possible, our doctor will apply a numbing cream before your treatment.
With the numbing cream, our patients experience no pain and almost no discomfort.
What's the recovery for microneedling? 
While recovery can vary from person to person, here's a general overview of what to expect during the recovery process:
Immediately after the procedure, your skin may appear slightly red or have a mild sunburn-like sensation. This typically subsides within a few hours to a few days.
During the first few days, you might experience some mild swelling, particularly around the treatment areas. This swelling usually resolves within a few days.
Your skin may feel tighter and slightly dry. It's important to keep the skin well-moisturized during this time.
Within the first week, your skin may start to peel or flake as a natural part of the healing process. Avoid picking or forcefully removing any peeling skin to prevent potential complications.
It's crucial to protect your skin from direct sunlight and avoid prolonged sun exposure — this is extra important after microneedling. Apply broad-spectrum sunscreen with SPF 30 or higher whenever you go outside. It is important to avoid applying any harsh topicals and maintain a minimalistic skincare routine during the recovery period.
Using sun protection regularly will also help prolong your results.
Most individuals experience complete healing within one to two weeks after the procedure.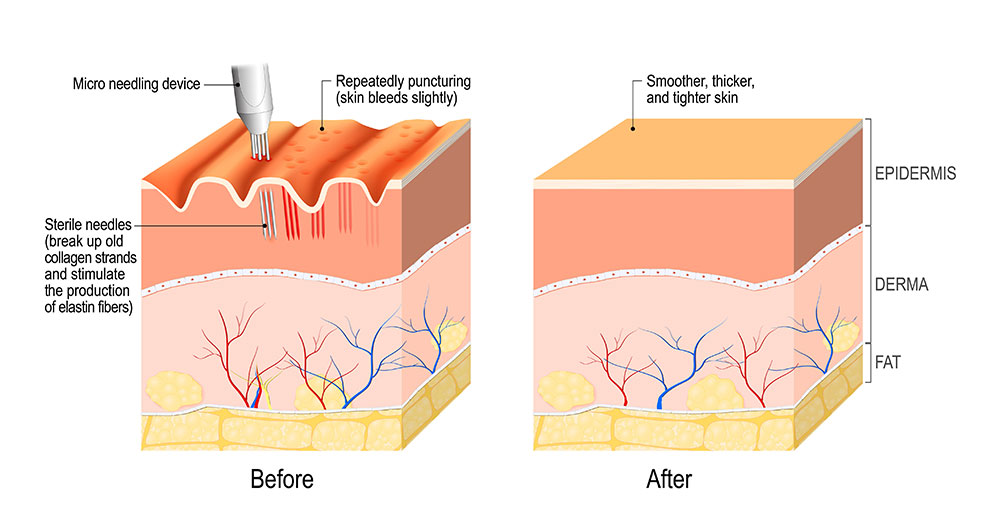 Who is not a good candidate for microneedling treatments? 
Here are a few factors that may make you an unsuitable candidate: 
Anyone with blood or clotting disorders or conditions that weaken the immune system.
Diabetic patients.
Patients with eczema.
Why choose a dedicated medical practice for micro-needling?
The Assil Gaur Eye Institute of Los Angeles offers the highest-quality aesthetic cosmetic services — including microneedling, EMFACE, Botox, skin tag removal, and more — at its state-of-the-art facility. When you get aesthetic services from a trained ophthalmologist (rather than a med spa), you benefit from the doctor's intimate knowledge of the delicate structures surrounding the eyes and face.
You shouldn't trust just anyone to apply needles to your face; that's why AGEI is proud to offer the highest-quality, professional, medically aesthetic procedures performed by board-certified physicians.
To learn more, book an appointment online or call (866) 945-2745.
We are conveniently located for patients throughout Southern California and the Los Angeles area in or near Beverly Hills, Santa Monica, West Los Angeles, West Hollywood, Culver City, Hollywood, Venice, Marina del Rey, Malibu, Manhattan Beach, and Downtown Los Angeles.

Microneedling with exosomes FAQs 
Microneedling with exosomes vs. microneedling with PRP (platelet-rich plasma), what's the difference? 
Exosome therapy is like PRP therapy, a treatment you might have heard about, which uses substances called growth factors to encourage your skin to produce collagen, making it look healthier and younger. 
But there's a big difference: in PRP therapy, we get these growth factors from your own blood, while in exosome therapy, we use growth factors made in a lab. This method lets us have a very clean product without any extra bits that we usually find in PRP serums.
Additional benefits of exosome treatment are that exosomes are continuously active for 6 to 8 months post-treatment, and there is no need for your blood to be drawn.
Microneedling with exosomes vs. Microneelding with stem cells?
Exosomes (tiny vesicles that play a crucial role in cell-to-cell communication) possess nearly a tenfold increase in growth factors compared to adult stem cells. This higher concentration of growth factors allows for more effective rejuvenation and restoration of the target cells. 
Since exosomes are also smaller than cells, they can penetrate the skin more easily and deeply, potentially providing more targeted treatment.
How is microneedling different from Botox and fillers?
Botox and hyaluronic acid fillers are cosmetic procedures that create a more youthful appearance by injecting a product under the skin. Microneedling with exosomes doesn't introduce foreign substances and works by triggering your body's natural healing process.
How is miconeedling different from a chemical peel?  
Unlike a chemical peel or exfoliating — procedures that remove the top layer of the skin — microneedling works in the middle layers of the skin. While new, visible skin can improve your face's appearance, increased collagen production in the dermis can improve the smoothness and fullness of the face from the inside out.
Can you get microneedling skin treatment with an acne breakout? 
Patients experiencing a current acne outbreak on their face should not receive microneedling until the condition has naturally healed. Undergoing the medical procedure without healing from an active outbreak can worsen your current condition. 
What are the side effects of microneedling? 
Common side effects of microneedling include temporary redness, mild swelling, and skin sensitivity. In some cases, individuals may experience temporary dryness, peeling, or bruising. While rare, there is a small risk of infection or allergic reaction.