What to expect during pterygium removal surgery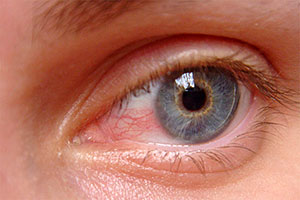 After the eye is numbed with eye drops, the mass and underlying scar tissue from your conjunctiva (the transparent cellophane-like outer covering the white of your eye) is carefully and painlessly removed. The resulting gap is then filled in with an amniotic membrane graft (more about amniotic membrane grafts below).

In order to further reduce the chance of pterygium recurrence, two medications (prednisolone and Mitomycin-C) designed to suppress inflammation and scarring are placed into the tissue defect before the graft is inserted. The graft is then secured in place using a special tissue adhesive (called fibrin glue) which offers the advantage of avoiding the post-op discomfort, swelling and irritation caused by sutures.

By minimizing post-op inflammation at the graft site, fibrin glue also helps reduce the chance of the pterygium growing back. Fibrin glue dissolves in one week, leaving no residue.

Next, a contact lens bandage is placed over your eye. Your eye is then patched and covered with a protective shield to keep you from scratching or poking your eye during sleep.
What's amniotic membrane and why is it used for grafting?
Amniotic membrane comes from human placental tissue that has been flash-frozen (cryopreserved) following childbirth. It has a similar composition to conjunctival tissue which makes it a highly compatible tissue graft material for eye surgery.

Amniotic membrane has properties that inhibit inflammation, scarring, and the formation of new blood vessels, which makes it useful to reduce the risk of pterygium recurrence. That is why AGEI's doctors prefer using amniotic membrane graft instead of harvesting the patients' own conjunctiva tissue (a conjunctival autograft).

There are no published reports of human disease transmission ever resulting from an amniotic membrane graft to the eye.
How AGEI cuts pterygium recurrence from 80% to below 1%
In the past, pterygium removal involved cutting out the lesion from the conjunctiva and sewing the edges of the resulting gap closed with sutures. This approach was associated with an 80 percent chance of the pterygium growing back within one year.

Surgeons then tried harvesting a piece of the patients' own conjunctiva to fill in the gap, but this only succeeded in decreasing the pterygium recurrence rate to 33 percent. Better, but still unacceptably high.

Over the past 12 years, AGEI's surgeons have adopted many advancements in the field which have led to a pterygium recurrence rate at our practice below 1 percent. These include:
Carefully removing the pterygium and underlying scar tissue to achieve clean borders
Minimizing the surgical manipulation of the tissue surrounding the gap
Using amniotic membrane graft for its ability to suppress post-op inflammation, scarring and new blood vessel formation
Bathing the gap created by the pterygium removal with two powerful medications to minimize post-op inflammation and scarring that lead to pterygium recurrence
Affixing the graft with fibrin glue to decrease inflammation and irritation at the graft site caused by stitches and to act as a physical barrier along the perimeter of the graft site to thwart pterygium re-growth
Following a meticulous post-op medication regimen designed to suppress swelling and infection
What to expect after eye whitening surgery
After surgery, your doctor will prescribe steroid eye drops that must be applied to the surface of the eye daily for two months in order to minimize the chances of recurrence. You will also be prescribed antibiotic eye drops that must be applied for one week after surgery to prevent infection. Compliance with the dosing schedule is key to helping prevent recurrent pterygium.

You will be checked by your doctor on the day following surgery, then you will follow-up at one week, one month, three months, six months, and one-year post-op. After that, you will be seen annually to check for recurrence of your pterygium.

You may feel irritation and a foreign body sensation in your eye once your anesthesia wears off. These symptoms will resolve in a week. There will also be redness at the surgical site that can last up to six weeks.
Typically, patients will take from six to eight weeks to heal fully. Naturally, smaller pterygia will heal faster than larger ones.
What are the risks of pterygium surgery?
Pterygium surgery generally has good outcomes, particularly with patients who comply with their post-op prescription eye drop schedule. There are some rare risks associated with pterygium surgery. These include:
Eye swelling
Double vision
Prolonged redness
Infection
Is pterygium removal surgery right for you?
The decision to undergo pterygium removal surgery should be done after careful consideration and discussion with your eye doctor and primary health care provider to ensure that you understand the risks and benefits of the procedure and are willing to perform the post-operative eye care regimen necessary for successful results.
The doctors at AGEI have extensive surgical experience with pterygium removal using amniotic membrane graft. As such, the recurrence rate at this practice is less than 1 percent.
Schedule your consultation today with a pterygium treatment and surgical specialist at Assil Gaur Eye Institute