What are eye flashes?
Flashes occur when the gel-like fluid (vitreous) inside the eye begins to pull away from the retina and, in doing so, causes the brain to perceive small bursts or flashes of light as it tugs on the retina.
They are momentary and last only a few seconds, and are most noticeable in dim light or on eye movement. Most commonly, this is a transient symptom of a natural process called Posterior Vitreous Detachment (PVD) – or the gradual separation of the vitreous gel away from the retina.
This process occurs in every eye and is a normal part of the life cycle of each eye. Flashes associated with a PVD gradually decrease and disappear over several weeks.
What causes eye floaters?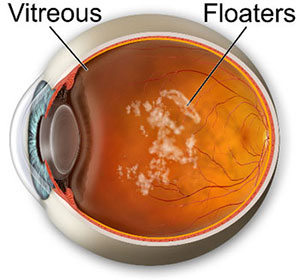 The inside of the eye is filled with a gel-like substance called "vitreous." It looks a lot like egg white. In a newborn baby, it is quite thick and viscous. As we go through life, this gel-like substance begins to thin and gradually turns into water.
The natural proteins and particles that are contained in it begin to form clumps and start moving more freely inside the eye. These particles cast a shadow on our retina, the inner lining of the back of the eye, where visual stimuli are sent to the brain for interpretation.
These shadows are interpreted as floating specks or lines. These tend to become quite noticeable in our 20s and gradually increase over time.
You are more likely to have floaters if you are:
Nearsighted (cannot see far)
After cataract surgery
if you had a trauma of the eye
Have diabetes
How to get rid of eye floaters
Sometimes, floaters can become so numerous and bothersome that they affect your ability to perform tasks requiring fine focus and concentration, such as reading or driving.
Until recently, the treatment of debilitating floaters has been to perform a procedure known as a Vitrectomy. This involves carefully draining the intraocular fluid from your eye and taking the floater debris with it prior to refilling your eye with saline in order to allow the eye to retain its round shape.
Unfortunately, there's a small risk of infection, early cataract formation, and retinal detachment following vitrectomies.
Learn more about Vitrectomy treatments
When to see a doctor for floaters or flashes
When floaters and flashes first appear, it is important to have an eye exam to ensure they are not caused by a serious eye illness. You should contact an eye specialist immediately if you notice:
Many more floaters than usual
Sudden onset of new floaters
Flashes of light suddenly occurring in the same eye as the floaters
Darkness suddenly appearing on the sides of your vision (a sensation of fixed shadow, or "closing curtain")
These painless symptoms could be signs of a retinal detachment or tear — a sight-threatening condition that requires immediate attention. Prompt evaluation within the first 24-48 hours is crucial to maintaining or recovering your full visual potential if a serious problem is, indeed, present.
Flashers and floaters FAQs
What do eye floaters look like?
Floaters are small, dark spots or lines that appear to float in your field of vision. They can be of different shapes and sizes and look like specks, cobwebs, or even small insects. They are most noticeable when looking at a plain, light-colored background, such as a blue sky or a white wall. 
Do eye floaters go away?
Floaters may not necessarily go away on their own, but they usually don't cause any harm to your vision. While some may find floaters bothersome or distracting, others may hardly notice them.
Are eye floaters normal?
Floaters are quite common and are considered a normal part of the aging process for many people. Floaters begin most commonly in our 20s and can gradually increase over time. Those who are nearsighted or have certain medical conditions that affect the eye can experience more floaters.
When should I worry about eye floaters?
In certain situations, floaters may indicate a more serious underlying problem and warrant prompt medical attention. Here are some signs to watch for:
A sudden increase in the number or size of floaters.
The appearance of new floaters, particularly in combination with light flashes or other visual disturbances.
A sudden onset of blurry or distorted vision.
A feeling of a curtain or veil being drawn over part of your visual field.
These symptoms could signify a retinal tear or detachment, which requires immediate attention to help prevent vision loss. If you experience any of these symptoms, it's essential to schedule an appointment with your eye doctor as soon as possible.
Can stress cause eye floaters?
While stress is not typically considered a direct cause of eye floaters, some evidence suggests that stress may exacerbate existing floaters or make them more noticeable. 
It's also worth noting that certain medical conditions associated with stress, such as high blood pressure or diabetes, can also cause floaters. However, the symptoms can be more pronounced, and these floaters are typically an indication of a serious eye condition. For this reason, new onset of floaters should always be evaluated in a dilated eye examination.
Can eye strain cause eye floaters?
While eye strain can lead to dry eyes, tiredness, or headaches, it does not directly cause floaters. 
Can dehydration cause eye floaters?
While dehydration can cause various symptoms, such as dry mouth, dizziness, and fatigue, it is not a direct cause of floaters. However, dehydration can lead to dry eyes, which can cause eye discomfort and irritation. 
Do eye flashes go away?
Eye flashes can go away independently, depending on the underlying cause. 
In most cases, eye flashes caused by changes in the vitreous are harmless and may eventually go away on their own. However, the sudden onset of new flashes or an increase in the frequency or intensity of flashes could be a sign of a more severe condition, such as a retinal tear or detachment, which requires prompt evaluation by an eye care professional.
Are eye flashes hereditary?
There is no clear evidence to suggest that eye flashes are hereditary. However, certain eye conditions, such as retinal degeneration or certain genetic disorders, can increase the risk of developing eye flashes. If you have a family history of such conditions, it is crucial to inform your eye doctor so they can perform appropriate screening tests and monitor your eye health. If you are experiencing persistent eye flashes, it is important to have a dilated eye exam to rule out retinal injuries such as a tear or a detachment.
Experience Assil Gaur Eye Institute's nationally recognized expertise in treating floaters and flashes
The AGEI staff includes a highly-skilled retina specialist Dr. Svetlana Pilyugina, or "Dr. P," as she is known to her patients. Dr. P is an ophthalmologist with Stanford fellowship training and board certification in diseases and surgery of the vitreous and retina.
Dr. Pilyugina has extensive experience in the treatment of floaters, flashes, and all retinal conditions. To schedule an appointment, either call 866-945-2745 or make an appointment online.