How common is dry eye?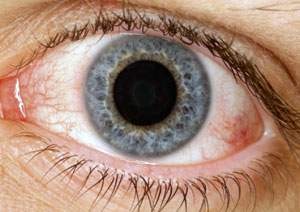 Dry eye complications are a fairly common problem among Americans, even for those with otherwise healthy eyes. According to the National Eye Institute, dry eye is one of the two most common reasons people visit the eye doctor. Dry eye can occur at any age and affects women more often than men.
Dry Eye has become a growing problem in the past 20 years due to the increased use of computers and contact lenses, increased air travel, poor air quality, and an increase in environmental allergies.
Chronic dry eye can lead to very serious long-term consequences if it is not diagnosed and properly treated. If left untreated, chronic dry eye can not only cause discomfort affecting your quality of life but can also lead to scarring and increased infections that may result in vision loss. This can damage the cornea and other parts of the eye, preventing them from functioning correctly.
What causes dry eye? 
The most common causes and risk factors of dry eye include:
Age: tear production normally decreases with age; 75% of persons over 65 have dry eye
Contact lens wear
Environmental Factors: wind, dust, smoke, hot dry weather
Decreased blinking: reading or watching screens (cell phone, computer, etc.), reduces the quantity and quality of our tear film
Allergies: hay fever, pollen, dust, and animals
Medications: antihistamines, antidepressants, hormones, blood pressure medications, diuretics, and even some over-the-counter medications
Medical conditions: rosacea

, diabetes,

Sjogren's

syndrome, rheumatoid arthritis

Hormonal changes: due to pregnancy, contraceptive use or menopause
Vitamin A or beta-carotene

deficiency: can cause night blindness, dry eye, and can progress to irreversible vision loss

History of Accutane

use, chemotherapy or radiation

Laser vision correction has been linked with temporary dry eye symptoms
Meibomitis

: when oil glands (

Meibomian

) along the eyelid rim become clogged, they stop adding sufficient oil to the tear supply, accelerating tear evaporation. These glands can be clogged by eye makeup, by natural skin oils, or even by flaky dry skin.

Blepharitis

: inflammation along the base of the eyelashes and lid margin adds debris to the tear film.

Incomplete eyelid closure: following eyelid surgery, or occurring naturally with larger eyes, can cause eye dryness. This is usually most bothersome in the morning, after having slept all night with the eyes partly open.
What are dry eye symptoms?
There are some common dry eye symptoms but not everybody suffers from the same ones. These can include:
Burning, pain or soreness inside or around the eyes
Sandy or a gritty feeling of a foreign substance in your eye
Red eyes
Discharge/Caking of eyelashes
Itchy eyes
Light sensitivity
Occasional or constant tearing (watery eyes)
Eye fatigue after reading or at the end of the day
Decreased contact lens tolerance or increased contact lens discomfort
Episodes of blurred vision, usually worse at the end of the day
How is dry eye diagnosed? 
There are several tests that can be performed by your eye doctor to diagnose dry eye and to assess its effect on your eye health. They are:
Schirmer's Test
In this test, your eye doctor numbs your eye and then dips the tip of a special filter paper strip inside your lower lids. He or she reads the paper strip after a few minutes. The amount of moisture on the strip indicates the quantity of your tear production and lets your doctor determine if you have dry eye.
Epithelial Staining Test
This is the most accurate way to diagnose dry eye syndrome. A colored droplet is placed into each eye to stain abnormal or dead surface cells on the cornea and the conjunctiva (the protective membrane lining your eyelids and part of the whites of your eye). Your doctor then examines the cells through a microscope looking for signs of damage. Your doctor will also look for signs of allergies which can be another culprit in dry eye.
Detailed Physical Examination of Eye
As part of your eye exam, your doctor will inspect your eyelids to look for signs of blocked oil glands (called Meibomian glands). These glands create the oily component of your tears. If they're blocked, then the tear composition doesn't have enough oil and is more likely to evaporate quicker, causing dry eyes. Your doctor will also examine your eyelids for signs of inflammation, your tear ducts to look for blockage, and your corneas to look for signs of wear due to long-term dryness.
What is the treatment for dry eye?
Dry eye treatments fall into three different categories that can be prescribed based on the severity of your symptoms and your response to treatment. These are lifestyle modifications, medications (which include lubricants, anti-inflammatories, and homeopathic options), and procedures.
Lifestyle Modifications
Lifestyle modifications are the first line of treatment and can include:
limiting your computer screen time
wearing sunglasses to protect your eyes from the wind while outside
taking a break from contact lens wear
being meticulous about makeup removal
placing warm compresses on your eyes to stimulate oil gland function
scrubbing the eyelid margins to thoroughly remove debris at the eyelash root
adding Omega-3 fatty acids from fish oil or flaxseed helps fight inflammation and provides essential fatty acids that aid the function of your eyelid oil glands.
If your doctor finds that you have clogged Meibomian glands, you might be prescribed an eye care regimen that involves applying warm compresses to your eyes, and then carefully washing your eyelids with baby shampoo, followed by gently massaging to stimulate oil flow.
Dry eye medication
The types of medications we recommend fall into 3 broad categories:
The lubricators: artificial tears, gels, and ointments
Preservative Free Artificial Tears
These drops can vary in consistency and can usually be used by contact lens wearers.
Preservative Free Gels
These products are thicker than eye drops so they remain on the surface of your eye longer. The only drawback is that they can blur your vision for one to two minutes after applying. Gels are also great to use at bedtime and in airplanes which tend to have extremely dry air.
Bedtime Ointments
Prescribed for more severe dry eyes and for people whose eyelids don't close at night.
The inflammation fighters
The underlying problem with dry eye is a persistent inflammation of the cornea and the inner lining of your eyelids. This causes long term damage to the surface of your eyes and to your tear-producing lacrimal glands. This results in reduced tear production over time if not properly treated. Anti-inflammatory treatments include:
Corticosteroids
Can be used in the form of eye drops that are available in varying strengths. Steroids also come in ointment form which is usually used at bedtime. Throughout any treatment with steroids, your eye doctor will monitor you closely to watch for side effects or complications.
Topical Cyclosporine-A (Restasis)
Restasis treats dry eye by suppressing inflammation and increasing tear production.
Xiidra (lifitegrast ophthalmic solution 5%)
This eye drop improves both the signs and symptoms of dry eye. Contact lens wearers must wait 15 minutes before inserting their lenses after applying their Xiidra drops.
Tacrolimus (drops or ointment)
Has been shown to improve tear stability and the health of the ocular surface. It also treats allergies which can affect your eyes.
Oral Doxycycline
Is an antibiotic that, when used over time in low doses, can greatly improve the function of the Meibomian oil glands. It is contraindicated with pregnancy and breastfeeding. It can also predispose people to sunburns and yeast infections (in women).
Naturopathic Anti-inflammatory and Bactericidal Medications
Oculocin
This advanced organic eye drop was developed in Europe and contains familiar natural ingredients like Aloe Vera, Chamomile and Propolis, which have been used for centuries to treat inflammation and infection.
Oculocin has been used to treat dry eye, blepharitis, certain skin disorders, and burns because all of these conditions have components of inflammation and bacterial infection.
We're pleased to have been asked to serve as Los Angeles County's exclusive provider of Oculocin.  Here's how some of its key ingredients work:
Aloe Vera has long been used in traditional medicine to soothe inflamed skin and also as a natural humectant (it draws moisture to the applied area). Many patients have reported notable relief of irritated eyes and lid margins.
Chamomile, the daisy-like plant used for herbal teas, contains anti-bacterial as well as anti-inflammatory compounds. One such compound, apigenin

, has been shown to help calm irritated nerves.

Propolis

is a resin found in plants that bees use to coat their hives. Its antibacterial and anti-fungal properties help fight eyelid infection plus provide a protective coating to the surface of your eye and inner eyelids.
Advanced Minimally Invasive Procedures 
If lifestyle changes and medications are unable to relieve your dry eye symptoms, your doctor may recommend minimally invasive procedures to help manage the condition.
At AGEI, we are proud to offer the latest, most promising treatment for dry eye caused by blocked oil glands (called Meibomian glands).
Meibomian glands secrete oil that is one of the components of your tears. When these glands get plugged up with hardened oil, this creates an imbalance in the composition of your tears. When tears don't have enough oil content, they evaporate 20 times faster, thus causing dry eye.
Dr. Assil discusses the DELIT treatment for dry eyes.
DELIT for Dry Eye
The term DELIT (Dry Eye Light Intense Therapy) was coined at our Eye Institute and was developed by modifying an FDA approved platform called Intense Pulsed Light (IPL) therapy, originally developed for cosmetic use. By super-heating the area around your eyes, IPL kills germs, suppresses inflammation, and shrinks blood vessels that could be pressing on and blocking oil ducts.
After the light therapy is administered, we massage your eyelids to help break up the oil blockage and encourage oil flow. Four treatments are administered one month apart. Over this time, your oil becomes less thick and flows more easily, correcting the imbalance in your tear composition.
Because DELIT is an IPL treatment using the same light wavelength used for photo facials, you get the added benefit of improved skin texture and complexion in the facial areas treated.
BLEPHEX
BLEPHEX is a new in-office procedure for treating eyelid inflammation (known as blepharitis). Blepharitis is responsible for many dry eye symptoms such as itching, perceiving a film over your visual field, eye redness, and fluctuating blurred vision.
BlephEx eliminates the biofilm and bacterial toxins that cause eyelid inflammation and dry eye, thus improving the overall health of your eyelid.
TearCare
TearCare is a wearable eyelid technology device that administers gentle heat directly to the meibomian glands to liquefy the meibum, express clogged oil glands and stimulate tear production. The TearCare device allows for your eyes to be open and blinking during the procedure which typically takes less than 3 minutes.
Schedule your consultation now!
Dry eyes FAQs
Can dry eyes cause blurry vision?
Yes. When the eyes do not produce enough tears or the quality of tears is poor, the eye's surface can become dry and irritated, leading to a range of symptoms, including blurry vision. 
What does dry eye feel like?
Dry eye can cause a range of uncomfortable sensations. Some people with dry eyes may feel like they have sand or grit in their eyes. They may also experience stinging or burning sensations, itching, redness, and sensitivity to light. 
Can dry eyes cause headaches?
Dry eyes can sometimes cause headaches, although it is not a common condition symptom. When the eyes are dry, they may not be able to focus correctly, leading to eyestrain and fatigue. This can cause tension headaches.
Can dry eyes cause blindness?
Dry eyes do not typically cause blindness, but they can lead to complications that can affect vision in severe cases.
How long does dry eye last?
Sometimes, dry eye may be temporary and resolved independently or with simple treatments such as artificial tears, taking breaks from digital screens, and avoiding dry or dusty environments.
In other cases, dry eye may be chronic and require ongoing treatment and management to relieve symptoms and prevent complications. Aging, hormonal changes, medication side effects, and certain medical conditions may cause chronic dry eye.
Can allergies cause dry eyes?
Allergies and dry eyes can go hand in hand. When the eyes are exposed to allergens, they can become red, itchy, and inflamed, and the tear film can become disrupted, leading to dryness and other symptoms similar to dry eyes. To determine the best treatment for your symptoms, an evaluation by an eye doctor is recommended.
Can dry eyes cause floaters?
Dry eyes typically do not cause floaters. Floaters are generally caused by changes in the vitreous, the clear, jelly-like substance that fills the center of the eye.
Can dehydration cause dry eyes?
Yes, dehydration can be a common cause of dry eyes. The body's dehydration may not produce enough tears to keep the eyes moist and comfortable. This can lead to dry eye symptoms, such as redness, irritation, and blurred vision.
Can dry eyes cause double vision?
Yes, dry eyes can cause double vision. When the eyes are dry, the eye's surface may become irregular or rough, which can cause light to scatter and create visual disturbances. This can include seeing double or experiencing blurred vision.
Can dry eyes cause vitreous detachment?
There is currently no evidence to suggest that dry eyes can cause vitreous detachment, which is a condition that occurs when the gel-like substance inside the eye (known as the vitreous) separates from the retina.
The importance of monitoring dry eyes 
Sometimes, even despite lifestyle modifications, people may notice that their eyes become drier over time, and techniques that used to provide relief are no longer effective. That's why it's important to have regular follow-up appointments with your eye doctor to monitor any changes in your symptoms and explore new treatment options that can address your situation.
You should know that there may be no single treatment that completely addresses your condition. Your doctor can work with you to find the underlying causes of your dry eye to provide the correct combination of therapies that best suits your specific dry eye symptoms.