Have you noticed an improvement in your dry eye symptoms lately?
If you're like me, you've probably been wearing little, if any, makeup during the pandemic. Whether it's because you're spending more time at home or because you're reluctant to stain your face mask when you do step out of the house, your daily life is, for the most part, makeup-free. Okay, except for your Zoom happy hours (we have our standards, after all!)
During this makeup hiatus, perhaps some of you have noticed that you have been experiencing less discomfort from dry eyes. If this has been the case for you, you might want to know that there's a very good reason for that. That's because makeup and tears don't mix well. But I'm getting ahead of myself.
What is Dry Eye?
Dry eye occurs when your eyes are unable to produce the appropriate quantity and quality of tears to keep your eyes moist. So, your tears might be evaporating from your ocular surface too quickly, making your eyes feel dry and scratchy. This is due to the fact that your tears might not have the correct ratio of its three component layers (oil, water and mucus) to function properly.
It turns out that dry eye is a common problem. It's estimated that one in every eight adults in the United States, or 33 million people, suffer from dry eyes. If you find yourself reaching for the artificial tears on a regular basis, you might be a dry eye sufferer.
Dr. Assil discusses Dry Eye Syndrome: causes, symptoms and treatment options.
Is there a link between makeup and dry eye symptoms?
While there are many possible causes of dry eyes, no matter what the cause, wearing makeup can make dry eye symptoms worse. Even hypoallergenic makeup. This is because many eye makeup products come into contact with the tear film covering your eyeball where they can cause harm.
When makeup products mix with your tear film, they can irritate your eyes and actually thin out the outermost oily layer of your tear film, leading to much quicker evaporation of your natural tears.
Don't worry, I'm not promoting the naked eye look!
While wearing no eye makeup whatsoever is the best way to keep your eyes happy, as you may have just proven to yourself this past month, it's not an option for many women and some guys (I'm looking at you, Adam Lambert). Have no fear, there is a way to minimize dry eye problems related to makeup use if you follow a few preventive measures.
How to change your makeup routine to minimize dry eyes
There are a number of ways to decrease the potentially harmful effects of makeup, spanning from its application and removal to good practices for keeping your makeup products clean and, perhaps most importantly, selecting the right products to minimize irritant exposure. Let's break these down.
Makeup Application
Always apply makeup outside of your eyelash line on your upper and lower lids to avoid contact with the oil glands along the lash line of your upper and lower lids, known as the water line. The reason for avoiding the waterline is because this is the site where glands within your eyelids have tiny ducts that secrete oil into your tear film that's key to keeping your eyes lubricated.
Never apply eyeliner along the waterline. Keep mascara to a minimum, apply it only at the tips of your lashes, avoiding the lash roots, and preferably only to your top lashes. If you're lucky enough to have naturally long lashes, consider using just an eyelash curler and skip the mascara altogether.
Practice good hygiene
Use separate applicators for each type of makeup. Wash your makeup sponges and brushes on a regular basis (aim for once a week). You can do this easily using a baby shampoo solution and letting them air dry. Decrease bacteria growing on your eye pencils by sharpening them before each use. The last thing anyone needs is an eye infection from makeup.
It's especially important during the coronavirus pandemic to make sure that you wash your hands with soap and scrub for 20 seconds before you touch your face.
Makeup Removal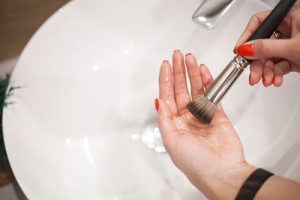 Always remove makeup before bed. I can't emphasize it enough. Sleeping with eye makeup can result in clogged oil glands and eye infections. Just don't do it!
Related to this is your selection of eye makeup remover. I recommend gel-based cleansers that are oil and paraben-free. And avoid mineral oil, sodium lauryl sulfate and diazolidinyl, all of which can be irritating.
Choose the right makeup products
While I won't endorse any specific brands, here are some general guidelines to follow. Avoid lash lengthening mascaras that are more likely to flake and cause eye irritation. Replace your mascara once it starts crumbling. Avoid powder-based eye shadows and foundations that can flake easily into your eyes. Opt instead for cream and gel type products. And, for heaven's sake, avoid glitter!
Bottom line: you don't need to sacrifice eye health for beauty
The fact is that, except for those with severe chronic dry eye disease, most dry eye sufferers should be able to tolerate eye makeup fairly well if they follow the above advice. With the right hygiene, application and removal regimen and selection of appropriate products, you too should be able to keep wearing makeup without aggravating your dry eye symptoms. By incorporating a few simple changes in your makeup routine, you can avoid irritated eyes.
Dr. Assil discusses DELIT, a revolutionary treatment for Dry Eye Syndrome.
Why Choose Assil Gaur Eye Institute for your dry eye care?
The doctors at Assil Gaur Eye Institute are experts at treating and preventing dry eye, but also offer truly world-class eye care and vision correction specializing in LASIK, cataract, cornea, retina and glaucoma treatments. At AGEI, you will experience state-of-the-art medical facilities that bring together revolutionary technologies with the most experienced hands in ophthalmology. Our goal is to help you achieve your personal best vision.
Please call 866-945-2745 or visit us here to make an appointment online if you are experiencing any concerning symptoms to schedule a consultation.


Latest posts by Dr. Avneet Sodhi Gaur
(see all)