What causes retinal tears?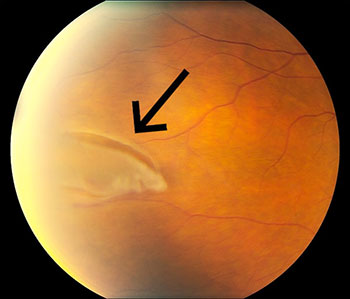 Most tears in the retina are associated with traction from the vitreous gel tugging upon the retina. The vitreous is a clear jelly-like substance that fills the inside of your eye. It looks like egg white.
As you (and your eye) age, the vitreous gel separates entirely from the back of the eye. This occurrence is known as a posterior vitreous detachment or PVD. This is a normal process that occurs in every eye.
In some people, the gel is more "sticky" than in others, and as it pulls away from the retina, it can tug too hard on the underlying retinal tissue, causing the retina to tear.
What are the symptoms of a torn retina?
Retinal tears are painless and sometimes can be silent (meaning they are asymptomatic) and only discovered during a routine eye exam. But more typically, they present with visual symptoms such as:
Sudden onset of floaters- these can look like small moving specks or clouds, small dots, or cobwebs
Flashes of light (photopsia) that persist throughout the day
If the torn retina is associated with some bleeding, your vision may become hazy
If the tear has led to a retinal detachment, there may be a fixed shadow or dark spot in your visual field.
How is a retinal tear diagnosed?
The diagnosis of a retinal tear requires examination of the retina through a dilated pupil. If you are having symptoms of a retinal tear, it is important to see an eye doctor, preferably a retinal specialist, without delay.
Retinal tear risk factors
While the majority of tears occur spontaneously due to movement and pulling of the gel inside the eye, some conditions can predispose you to a retinal tear:
Conservative treatment for retinal tears
Depending on their size and location, some retinal tears may be considered "low risk" with little chance of progressing to retinal detachment and so no treatment may be required.
Occasionally, the eye spontaneously begins to form a stabilizing scar around the tear. Nonetheless, once a tear has been identified, it needs to be followed by a trained specialist to make sure that it does not get worse.
It is very important for retinal tears to be monitored by a retinal specialist who can take timely action if needed.
Retinal tear surgery
More often than not, when a retinal tear is identified, it will need to be surgically repaired with the help of a laser. Luckily, the majority of tears are located in the peripheral (versus central) retina and so the laser treatments do not have a negative impact on vision.
The goal of the treatment is to seal the edges of the retinal tear and prevent the liquid inside the eye from seeping under the retina through the tear, as this can lead to retinal detachment.
The laser is used to surround a tear with several rows of laser spots which turn into a scar within a week. This scar tissue seals the tear by welding its edges to the eyewall.
The laser does not damage the parts of the eye because the beam of light does not scatter. This allows us to choose the power and wavelength of the laser beam so that we can target the precise location and depth where it will be applied without having any effect on neighboring tissues.
Does retinal laser treatment hurt?
Most patients report mild discomfort when asked to describe how they feel during photocoagulation (as retinal laser treatment is also called). This is because only laser light is used during this procedure, and there is no cutting involved, as there is with surgery. Throughout the procedure, you will be awake and comfortably seated in front of the laser machine.
After your eye is dilated with eye drops, a numbing drop is placed in the eye. Next, a special small contact lens is used to help focus the laser precisely on the area of treatment. The actual laser treatment is typically painless and very fast, usually just five to ten minutes to complete.
The most uncomfortable part is tolerating the brightness of the light illuminating the location of the retinal tear.
What to expect after laser surgery for a retinal tear
Of all the eye treatments, this has one of the easiest recoveries! There are virtually no restrictions following retinal laser treatment. In fact, you can resume your normal activities and work schedule immediately.
Because retinal tears are not usually located in the area used for vision, laser treatments have little impact on your vision (apart from having your eye dilated).
What's more, because the treatment areas are microscopic and very precisely focused, there is virtually no chance of injuring nearby eye structures and almost zero risks of infection.
How many retinal laser treatments are usually needed?
Laser treatments form a scar within one to two weeks that acts to seal the retinal tear. After this, it is important to monitor the eye over time to make sure that the tear remains properly sealed and that no additional tears are forming.
Occasionally, patients will need more than one treatment to stabilize the retina.
Choose Assil Gaur Eye Institute for retinal treatment
AGEI has one of the most advanced retinal lasers, known as PASCAL. It provides not only superior patient comfort but also efficacy of treatment by delivering multiple spots per second in a customized pattern, which reduces the total treatment time.
The AGEI staff includes a highly-skilled retina specialist, Dr. Svetlana Pilyugina, or "Dr. P", as she is known to her patients. Dr. Pilyugina is an ophthalmologist with fellowship training and board certification in diseases and surgery of the vitreous and retina.
Dr. P has extensive experience treating macular degeneration, diabetic eye disease, retinal tears and detachment, flashes, floaters, and complex retinal conditions.
Apart from her eye care experience, Dr. P is known for her dedication to her patients and focus on personal service. That is why she limits the number of patients she sees daily in the clinic to allow her to dedicate sufficient time for evaluation and consultation with each patient to meet her high standard of care.
To schedule an appointment, either call 866-945-2745 or click here to make an appointment online.
We are conveniently located for patients throughout Southern California and the Los Angeles area at locations in or near Los Angeles, Beverly Hills, Santa Monica, and Culver City.