Are there cataract corrective lens options?
Absolutely! There are several options, each with its own strengths. They are:
Monofocal IOLS
Monofocal lenses correct for only one focusing distance. Typically, people will have these lenses fitted for distance vision and will need glasses for reading. Alternatively, these lenses will sometimes be used to correct for far vision in one eye and for near or middle vision in the other eye.
After your brain learns to shift from one eye to the other for seeing at varying distances, this Monovision approach allows you to see clearly at various distances. This same Monovision approach is commonly used by contact lens wearers.
At AGEI, we offer two types of monofocal lenses:
Tecnis Monofocal IOL

Tecnis Monofocal offers excellent contrast sensitivity and color perception that's important for activities like nighttime driving or, say, climbing stairs or reading a menu with dim lighting.
AcrySof Toric IOL

AcrySof Toric lenses correct for astigmatism (an uneven curve in your cornea) allowing you to see more sharply for either distance or near vision. The AcrySof Toric lens offers enhanced distance vision and color perception.


PREMIUM IOLs 
These are various types of specialized lenses designed to eliminate or significantly reduce your need for glasses or contacts:
Premium Monofocal Lens

RxSight™️, Post Surgical Adjustable IOL Lens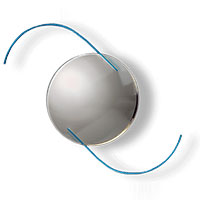 The RxSightTM Light Adjustable Lens is the first and only adjustable intraocular lens for cataract patients that can have its prescription power changed after it's implanted in your eye.
These state-of-the-art monofocal lenses allow you to "test drive" your new eyesight and experience how the vision correction feels before deciding whether that prescription setting meets your vision goals and lifestyle needs. Once you're happy with your prescription setting, the final adjustment is "locked" in place. Learn more about the RxSight™️.

Premium Multifocal IOL Lenses
These lenses have varying magnifications at different sections of the lens so that you can see clearly at various distances. After a brief adjustment period, your brain learns which part of the lens to look through in order to focus on objects that are near, far, or in between.
Our selection of multi-focal IOL brands include: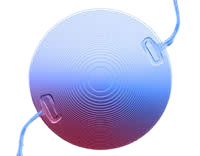 Tecnis Multifocal IOL

This lens offers high-quality crisp vision at near, far, and intermediate distances and in dim lighting situations. During clinical trials, 90% of patients reported being eyeglass-free full time.
A disadvantage of this lens is the presence of halos around lights at night for a short time following implantation, however, the halos eventually resolve.
Tecnis Symfony IOL
The latest IOL to be introduced (2016), the Symfony is the only lens on the market with Extended Depth of Focus, meaning that it offers extremely high-quality vision at every distance.
The Symfony also offers enhanced day to night vision and far fewer nighttime halos and glare than other IOLs. Dr. Assil was involved in the Stage 4 FDA clinical trials of the Symfony and thus has extensive experience with this lens.

Tecnis Eyhance IOL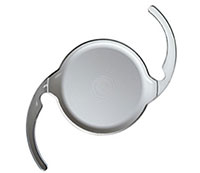 TECNIS Eyhance IOL is a next-generation IOL that provides the highest-quality day and night vision at both intermediate and far distances.  This lens can also correct astigmatism. Its benefits include:
Significantly improved intermediate vision, along with 20/20 distance vision.
A breakthrough refractive design that increased the depth of focus.
A low incidence of halo, glare, or starbursts (i.e., bright circles of light that surround headlights and other light sources).


PanOptix IOL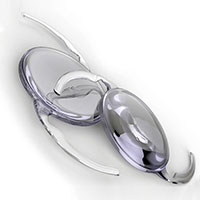 Already available in over 70 countries, PanOptix clinical trials in the U.S. found that over 99% of patients said that they would choose the lens again if given a choice.  Like all other Premium lenses offered at our center, PanOptix lenses filter UV light to protect your eyes from sunlight and from overly luminous computer screens.
We select the PanOptix lens for those patients for whom it may provide the greatest service. We start by measuring your eye's focusing power during surgery once the cataract has been removed. We do this using laser technology known as the ORA Aberrometer (in fact, AGEI was the world's first center to utilize ORA).
We measure eye power after your cataract has been removed to eliminate the effect that the cloudy cataract lens has on your prescription. By getting the most accurate measurement of your true eye power without the haze, we can determine the very best lens design to suit your particular vision needs.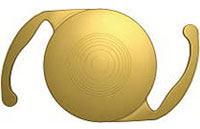 AcrySof ReSTOR IOL
This lens offers excellent near and far vision in all light conditions and has a long safety record since its introduction in 2005.

During clinical trials, 80% of patients reported being eyeglass-free full time.
Accommodative Lens 
Accommodative Lenses move and change shape within your eye to allow you to focus at different distances. While they do not provide as sharp a focus at a broad range of distances as do the multi-focal lenses, accommodative lenses offer an adequate vision for near and far distances. In fact, many accommodative lens patients have sufficient near vision to allow them to use their computers with ease.
There is only one FDA approved accommodative lens available in the U.S.:
Crystalens IOL

Crystalens lens uses the eye's natural focusing mechanism. It is attached to the muscles responsible for focusing your vision, so the lens actually shifts back and forth within your eye to focus on objects near and far. The Crystalens is easily implanted and has a short recovery time. It also has the advantage of producing minimal glare or nighttime halos.
The cost of premium IOLS versus Standard IOLs 
Premium IOLs have additional features not found in standard IOLs. Unfortunately, health insurance companies do not consider these additional features to be medical necessities. Because of this, you will incur additional out-of-pocket expenses for your cataract surgery if you choose a premium IOL.
Medicare and private health insurance plans typically cover the cost of cataract surgery, including the cost of a monofocal IOL (although you might have to pay a deductible or have a limited choice of brands, depending on your policy).
If you choose a premium IOL like the ones described above, typically you will have to pay the difference in cost between a monofocal IOL and the premium lens. This out-of-pocket expense could range from $1,500 to $3,000 per eye or more, depending on the type of IOL and whether you opt for advanced laser cataract surgery as well.
To fully understand your cataract surgery costs and coverage, we invite you to consult with one of our patient coordinators to verify what your insurance will cover before you have surgery. 
Schedule your consultation now!
Cataract Len Option FAQs
What type of lens does Medicare cover for cataract surgery?
Medicare only covers the standard monofocal IOLs, which provide clear vision at a single distance. This results in the patient needing some form of glasses correction after the surgery.
Can a cataract lens be replaced?
Although it is rare, there are times when an IOL may need to be replaced with another one. This usually happens when the original lens doesn't correct vision adequately or causes problems, such as double vision. However, patients should be aware that the need for revision surgery is uncommon.
Can you have cataract surgery without lens replacement?
Sometimes, a cataract may be removed without implanting an artificial lens, but your vision would be significantly impaired without using thick glasses.
Can you damage a cataract lens?
Your IOL (or artificial intraocular lens) is placed inside of your eye during surgery, and once it is in place, it is very unlikely that any damage will occur to it.
How long do cataract lenses last?
A cataract lens is designed to last a lifetime, and most patients don't experience any complications with their lenses after surgery.
The Assil Gaur Eye Institute cataract care advantage
When you select Assil Gaur Eye Institute for your cataract removal, you will benefit not only from our state-of-the-art laser technology and our physicians' experience but also from our commitment to:
Employing the most comprehensive pre-operative testing available today in order to ensure the greatest surgical accuracy, by using multiple measuring systems to measure eye power and replacement lens size.
Utilizing micro incisional technology to facilitate faster corneal healing and recovery time. This technology permits cataract removal through a 2mm opening (most other centers are using entry sites that are approximately 50% larger).
Operating using leading-edge "cold" and "ellipse" ultrasound technology, which Dr. Assil's research has demonstrated results in less post-op intraocular swelling, providing greater safety, efficacy, and faster visual recovery for our patients.
Offering the most comprehensive inventory of Intraocular lenses available today, to ensure the best product type and shape match for your eye.
Dedicating ourselves to your care. Your surgeon will remain personally involved in your post-operative examinations throughout your healing. While full visual recovery may take several weeks to stabilize, most people see better and resume all normal activities the day after surgery.