What causes Macular Degeneration?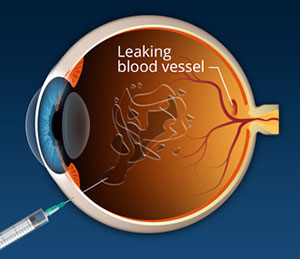 Researchers at Duke University have discovered a strong association between AMD and a deficiency of complement factor H (CFH). This is because this genetic deficiency was found in half of all potentially blinding cases of macular degeneration.
Researchers at Columbia University found that variants of another gene, complement factor B, might play a role in developing AMD. The bottom line, a family history of AMD is one of the main risk factors for developing this condition.
Macular degeneration risk factors
The main risk factors for developing macular degeneration include:
Age (most cases are diagnosed after age 55)
Having a family history of AMD
Smoking (Studies show that smoking is associated with 25% of severe AMD cases and living with a smoker doubled test subjects' risk of developing AMD)
Obesity
Being Caucasian
Being female
If you take certain medications like chloroquine or phenothiazine type drugs.
The American Academy of Ophthalmology reports that there has been some disagreement by experts as to the risk factors associated with developing AMD and that the only risk factors found consistently to be associated with eye disease are aging and smoking. 


Is there a cure for macular degeneration?
Unfortunately, there is currently no cure for AMD. However, in the last decade, significant breakthroughs in treatment have been made. Today, there are medications that help control and slow down the progression of AMD and, in many cases, may even improve vision. 


How macular degeneration affects vision
Researchers have shown that eyes with AMD have an over-production of a protein called Vascular Endothelial Growth Factor (VEGF). This protein triggers the growth of new blood vessels in the retina.
Too much VEGF in the eye leads to the creation of fragile mal-formed blood vessels. These vessels leak, causing damage to the macula and surrounding retina that eventually leads to central vision loss.


The two types of macular degeneration
There are two types of Macular Degeneration and their differences basically lie in the speed of the onset of the disease and its severity.   If it has gradually worsened over years it is called "Dry Macular Degeneration"  (or ¨dry AMD¨). If the condition has quickly appeared over weeks to months, it is called "¨Wet Macular Degeneration (or "Wet AMD¨"). 
Dry macular degeneration
"Dry" AMD is the less severe early stage and is more common. In fact, 80 percent of AMD patients have the dry form.
In the dry stage, small yellow deposits of metabolic waste known as ¨drusen¨ form in the macula. At first, they have little effect on vision. However, as the disease progresses, and drusen accumulate, they obstruct the flow of nutrients and oxygen to the macula.
Dry macular degeneration symptoms
Eventually, the macula is unable to function properly. Luckily, most patients with dry macular degeneration are able to maintain their reading vision.
Unfortunately, a small group of patients with dry macular degeneration may develop contiguous areas of degenerating retina. Known as "geographic atrophy", this is a more aggressive form of dry macular degeneration leading to a severe loss of central vision.
Wet macular degeneration
Up to 20 % of patients with Dry AMD will progress to the more advanced "Wet" form. In Wet AMD, new abnormal blood vessels grow under the retina and leak blood or fluid. These leaky vessels cause swelling in the retina which, in turn, leads to decreased central vision.
The Wet stage of AMD is aggressive and so requires urgent treatment by a retinal specialist to prevent progressive vision loss. If Wet AMD is left untreated, blood or liquid build-up in the retina leads to scarring which can cause irreversible vision loss.
It's important to note that if you get Wet AMD in one eye, your second eye has a 20% chance of developing it within the next 5 years.
The two forms of wet macular degeneration:
Occult
Occult wet macular degeneration is when there is less growth of new blood vessels and their leakage is less evident. This category is associated with less severe vision loss.
Classic
Classic wet macular degeneration is when blood vessels and scars are clearly visible on the retina. This category usually results in more severe vision loss. 
Wet macular degeneration symptoms
Wet macular degeneration symptoms typically come on suddenly and worsen quickly. They can include:
Decreased central vision in one or both eyes 
A well-defined blind spot in your field of vision
Distorted vision, with straight lines appearing wavy, for example
Decreased brightness of colors and overall haziness in your vision
Difficulty adjusting to changes in lighting
Needing more light to perform tasks
Loss of depth perception
How macular degeneration is diagnosed?
Age-related macular degeneration is often detected during a routine annual eye examination. Early detection of AMD is important because there are treatments that can delay or reduce the severity of the disease.
Tests to detect macular degeneration:
Amsler grid
The Amsler grid is a picture of a grid with a reference dot in the center. A person with macular degeneration looking at this grid might see some of the lines as being wavy, blurred, or missing. 
Fundoscopy
This is the test in which your doctor puts dilating eye drops into your eye to closely examine the back of your eye where the retina, macula, optic disc, treatable and other structures are located. Your doctor may use a specially adapted camera to photograph the back of your eye to monitor your eye health.
OCT (Ocular Coherence Tomography)
An OCT is a special non-contact retinal scan that visualizes all retinal layers. It shows the fluid content and anatomic changes in each layer, allowing the retina specialist to monitor disease progression. 
Fluorescein angiography
This test allows the doctor to visualize the retinal blood vessels. After a small amount of vegetable-based fluorescent dye is injected into the arm, a special camera photographs the dye flowing through the retinal vessels. This reveals any new vessels that have formed under the retina and to what extent they're leaking. 
Macular degeneration treatment
Macular degeneration is treatable but options vary depending upon whether the disease is in its early (dry) form or has progressed to the more advanced (wet) form. 
Dry AMD treatment
The only treatment available for dry AMD is a pill. called AREDS2 formula, it was developed based on the 14 years long Age-Related Eye Disease Study (AREDS) conducted by the National Eye Institute (NEI). AREDS2 is a mixture of antioxidant supplements including vitamin C, vitamin E, zinc, and two visual pigments (lutein and zeaxanthin) that are essential for retinal function.
Because lutein and zeaxanthin are not produced by our body and can only de derived from food, they must be taken as a nutritional supplement. AREDS2 has been shown to reduce the risk of dry AMD progressing to the advanced Wet form by 25% per year
Wet AMD treatment
Wet AMD is usually treated with medications. That said, we also have laser treatments that are occasionally appropriate and effective in certain situations.
Laser treatments include Photodynamic therapy, a cold laser that treats select areas of the retina, and a Focal laser that employs a hot laser to cauterize leaking blood vessels. Your doctor will recommend those options that are best suited for your particular situation. 
Medications to treat wet macular degeneration
Once AMD progresses to the wet form, pills are no longer adequate., medications must be placed directly within the eye to help control the disease at its source. Luckily, the development of injectable medications has revolutionized the treatment for Wet AMD.
Although the thought of having a needle stick to the eye sounds scary, intraocular injections are a painless and quick procedure.
These medications all work by inhibiting a signal in the eye that triggers the growth of new blood vessels in the retina. This signal is known as Vascular Endothelial Growth Factor (VEGF). That's why this class of drugs is known as anti-VEGF medications.
All anti-VEGF medications are administered via injection directly into the eye. 
Injectable medications via intraocular injection have been used to treat AMD for over a decade and have been shown to be safe and effective in slowing down disease progression and, in some cases, even regaining some of the vision loss in Wet AMD. These medications include:
Lucentis
Lucentis is a different formulation of colorectal cancer medicine called Avastin. Lucentis is administered by your eye doctor through monthly injections into your eye. 
Unfortunately, Lucentis is extremely costly, even for patients with good medical insurance. This has led to some AMD patients buying the much cheaper Avastin which is the same drug, but which is re-formatted into injectable form to administer within your eye. Clinical trials have demonstrated that reformulated Avastin is just as effective as Lucentis, although this is an off-label use of Avastin.
Eyelea
Eyelea has been approved since 2011, this is the first VEGF medications. After three monthly doses, Eyelea patients´ dosing schedule decreases to one injection every 8 weeks. In two separate 2013 studies, Eyelea patients demonstrated stable visual acuity and reduced severity of AMD as compared to patients on Lucentis. Because of its efficacy and reduced dosing frequency, Eyelea has become an attractive treatment option.
How to prevent macular degeneration 
The best way to decrease your risk of developing early (dry) macular degeneration is to undertake simple lifestyle changes. These should include eating plenty of dark green leafy vegetables, salmon, and other cold-water fish (for their omega 3 fatty acids).
It's also important to exercise, avoid high blood pressure, and wear sunglasses that provide 100 percent UV protection and also protect your eyes from visible radiation and blue light. Lastly, if you smoke, stop!
Lastly, we can't overstate the importance of getting an annual eye exam to screen for AMD as well as other eye conditions that can threaten your vision.
Experience Assil Gaur Eye Institute's nationally recognized expertise in treating macular degeneration
The AGEI staff includes a highly-skilled retina specialist Dr. Svetlana Pilyugina or "Dr. P", as she is known to her patients. Dr. P is an ophthalmologist with fellowship training and board certification in diseases and surgery of the vitreous and retina.
Dr. Pilyugina has extensive experience in the treatment of macular degeneration, having treated hundreds of patients with this condition for more than a decade.
To schedule an appointment, either call 866-945-2745 or click here to make an appointment online.