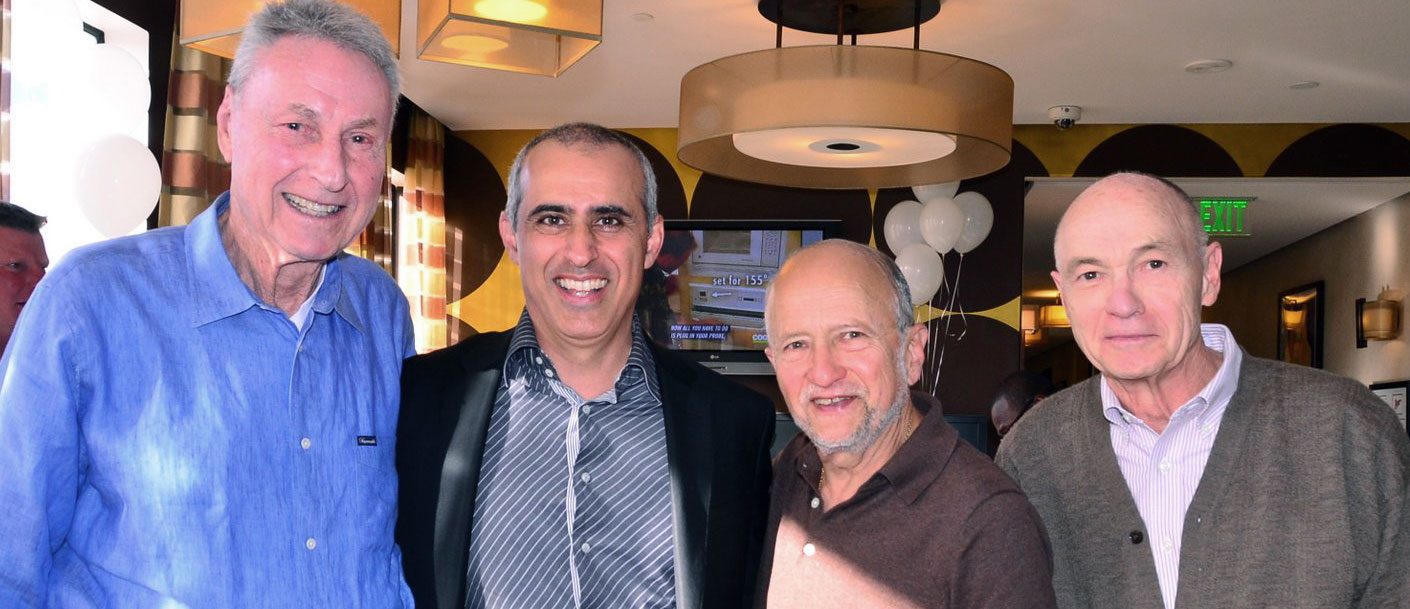 Note:  The following was the original announcement that we posted in 2015 regarding the loss of Dr. Robert Sinskey.  We are keeping it as-is as part of our commemoration.
Dr. Robert Sinskey, the Founding Father of both our Eye Institute and our Surgery Centers passed away Sunday, June 21st. We at Assil Gaur Eye Institute and 90210 SMC want to celebrate the life well lived by this brilliant man.
In 1947, Dr. Robert Sinskey finishing his Ophthalmology Training at Duke University and headed to Japan, as a member of the Army Atomic Nuclear Commission, with the purpose of studying the effects of nuclear radiation damage to the human eye. On his way to Japan, he met a lady in Los Angeles.
When Dr. Sinskey returned to the U.S., he came back to Los Angeles, becoming the first full-time ophthalmology faculty member at UCLA and then establishing the Sinskey Ophthalmic Center in Santa Monica in 1949. Dr. Sinskey's practice thrived and grew.
In 1971, Dr. Sinskey founded what was perhaps the first Ambulatory Surgery Center in California — performing eye surgical cases in an out-patient setting. It was the predecessor of 90210 Surgery Medical Center, our current surgery center. I was honored to join Dr. Sinskey and the Center (in the capacity of Medical Director and CEO) in 1995.
Internationally, Dr. Sinskey will be remembered by those in my field, as a pioneer of modern cataract surgery and great international educator. For the last 45 years, each day tens of thousands of surgeons throughout the world utilize the Sinskey Hook, one of the fundamental instruments of cataract surgery.
It is one of a number of innovations Dr. Sinskey brought to eye surgery. He also developed some of the first popular implantable Intraocular Lenses in cataract surgery, thus freeing people from having to wear coke bottle glasses, following their surgery. Dr. Sinskey was always seen as generous with his time, providing many hours for training and mentoring to eye surgeons. A tradition which we have sustained in our practice.
Bob had an unquenchable thirst for considering new ideas and a determination to see them through. After his retirement in 2000, Dr. Sinskey continued his entrepreneurial spirit in many activities both inside and outside of eye care. He developed an eye muscle surgery to help people who have a visually disabling eye movement disorder known as Nystagmus.
He is most notably known for founding Robert Sinskey Vineyards, which his son now owns and operates. It is a well-regarded fixture in the Napa winery community. He further founded the Sinskey Eye Institute in Ethiopia, which delivers state-of-the-art care to thousands of people throughout that region.
I will remember Dr. Robert Sinskey as a greater-than-life figure who provided me with many practical life lessons, as well as the fertile soil needed to launch our various projects. He delivered simple truisms with an austere conviction fitting of a magnificent survivor of the Great Depression. Any agreement is only as good as the handshake behind it, or if you sleep with dogs you get fleas. These statements were transformed from cliche to dogma, when shared by Bob.
We continue today with Benita Tapia, Stacey Gordon, Diana Peterson, and Aaron Redman, who were staples in Dr. Sinskey's practice and now key leaders in our organizations.
Dr. Sinskey's passing on Father's Day is symbolic, as he helped to transform innumerable lives. Our thoughts are with his wife, Lorain, and his family.
May his Soul continue upon its brilliant journey.


Latest posts by Dr. Kerry Assil
(see all)