Los Angeles Magazine recently recognized Dr. Kerry Assil as one of Los Angeles Magazine's Top Docs for 2019 for his innovative work in LASIK surgery, cataract surgery, and his dedication to his patients.

Dr. Kerry Assil is a world-renowned leader and pioneer in the fields of LASIK and cataract surgery.  He was a member of the first surgical team to perform laser cataract surgery in 1991 and the first surgeon to perform intra-operative sight and anatomical measurements, allowing precise selection and fit of replacement lenses in cataract patients.  He's also been the principal investigator in FDA clinical trials of numerous premium cataract lens implants.
Assil revolutionized the field of LASIK surgery by developing the corneal surgical technique and creating algorithms that guide LASIK lasers in corneal sculpting for vision correction.  He has instructed over 14,000 physicians in surgical skills transfer labs, lectured internationally, published over 100 articles, and served on several scientific advisory boards.
Dr. Assil's latest contribution to the LASIK field, known as EAGLE Vision, enhances the patient's experience by further improving vision correction while decreasing known LASIK post-op side effects, such as dry eye.
While Dr. Assil and his colleagues pride themselves in the innovative role they play in providing state-of-the-art vision care, their work goes beyond that.  Giving back to the community is one of Assil Gaur Eye Institute's founding principles.  They've been involved in charitable partnerships with the Southern California Lions, performed considerable pro bono services through the Assil Sight Fund, and travel internationally on many medical missions.
The philanthropic approach, along with Dr. Assil's continuous efforts to train physicians in the latest LASIK and cataract surgical developments, reflects their commitment to helping those less fortunate and advancing the field of ophthalmology.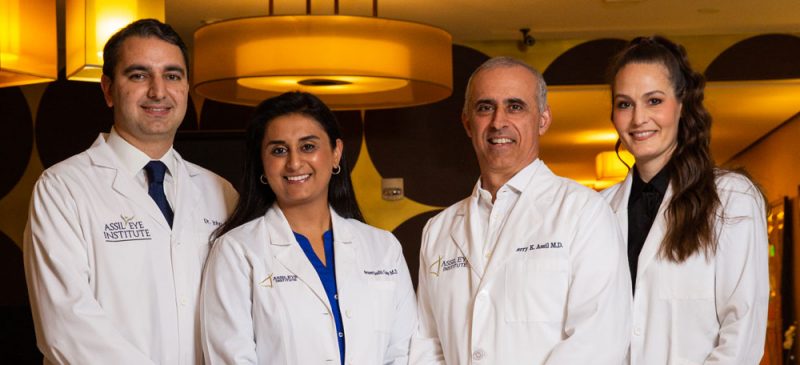 Assil Gaur Eye Institute is a national leader in providing state-of-the-art LASIK, cataract, and retinal surgery as well as in treating advanced glaucoma, macular disease, dry eye, and diabetic eye conditions.  They are committed to providing patients with a truly exceptional health care experience in a compassionate and caring environment.
Why Choose Assil Gaur Eye Institute for your eye care?
The doctors at Assil Gaur Eye Institute offer world-class eye care and vision correction specializing in LASIK, cataract, cornea, retina, and glaucoma treatments.  At AGEI, you will experience state-of-the-art medical facilities that bring together revolutionary technologies with the most experienced hands in ophthalmology. Our goal is to help you achieve your personal best vision.
For more information or to schedule a consultant, please call 866-945-2745 or visit us here to make an appointment.


Latest posts by AGEI Educational Team
(see all)