Is THC good for glaucoma? Jokes about "smoking grandma's glaucoma medicine" have been around for decades, and the first major study linking weed with glaucoma relief came out in 1971 (and was published in the prestigious JAMA, of all places!).
And yet, despite the growing acceptance of medical marijuana, most of the current attention focuses on pain relief, anxiety disorders, and epilepsy.
So, did researchers forget about eye health? Does THC lower eye pressure? And perhaps more importantly, is marijuana a feasible way to treat glaucoma? If you ever wanted to discuss THC glaucoma treatment with a real ophthalmologist without fear of judgment, here's your chance!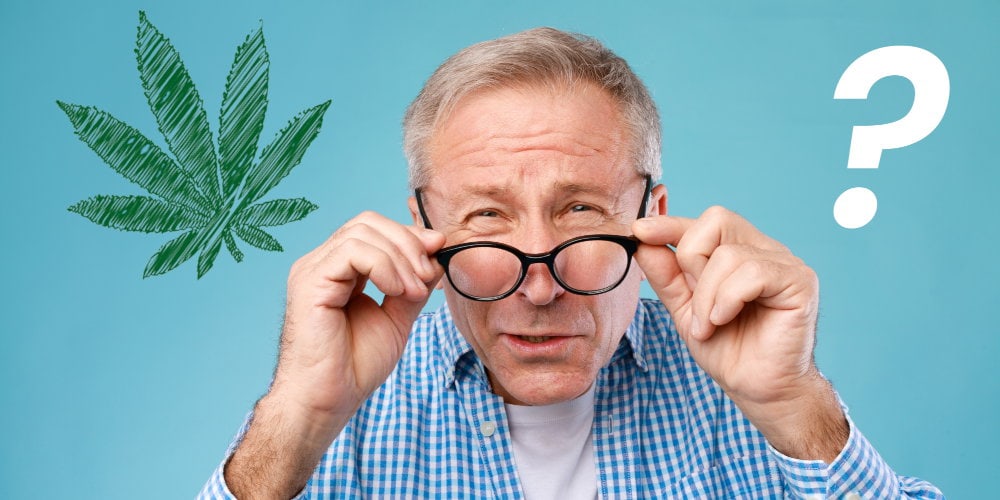 First, a quick review on glaucoma
Glaucoma is a common eye condition, as well as the leading cause of blindness among older adults. Glaucoma progressively damages the optic nerve (which connects your eyes and your brains). This first causes your field of vision to shrink, darkening your peripheral vision. If untreated, the nerve can go completely kaput, which will result in blindness.
What causes glaucoma?
The most common cause of optic nerve damage is increased intraocular pressure (IOP).
Your main eye cavity, or sclera, is filled with fluid. If this fluid doesn't drain properly or is being pushed by high blood pressure (hypertension) in the vessels around your eyes, then the pressure inside your eyes will begin to increase — raising your IOP. In turn, this will push against the retina, cutting its blood flow and damaging the optic nerve just behind it.
Types of glaucoma
There are three main types of glaucoma to watch out for, and they all require a slightly different treatment.

Chronic glaucoma
Also known as primary open-angle glaucoma, chronic glaucoma is by far the most common one. This type is slow and progressive. It starts when the trabecular meshwork (your eye's drainage system) stops working as well, so fluid can't exit the eye cavity efficiently. This will slowly raise intraocular pressure.
Since this usually happens slowly, it's easy to miss the symptoms. You may start noticing patchy blind spots in your eyes or lose the edges of your peripheral vision. Often, people don't notice it until they've developed tunnel vision or advanced peripheral vision loss.
Acute or angle-closure glaucoma
Caused by an abrupt increase in eye pressure, acute glaucoma is often linked to a hypertensive crisis (extremely high blood pressure) that immediately damages the trabecular meshwork. Angle-closure glaucoma can cause blindness very rapidly and is considered a medical emergency. Symptoms to watch out for include:
Severe headaches, especially in the forehead or behind the eyes
Eye pain
Nausea and vomiting
Rainbows or halos around lights
Photophobia, or intolerance to light
Normal-tension glaucoma
This final type of glaucoma occurs when the optic nerve is damaged, but the IOP remains normal. So what causes it? We don't know. Some optometrists speculate that a small blood clot can interrupt blood flow around the optic nerve, but the jury is still out on that one.
We have written extensively about glaucoma symptoms, risk factors, and treatments. If you're interested, check out our Glaucoma Guide.
Does weed help glaucoma patients?
Understanding how glaucoma works will help us see how weed affects glaucoma. Back in the 1970s, a team of researchers led by Robert Hepler found that marijuana could rapidly lower intraocular eye pressure. This offered temporary relief for people with open-angle glaucoma, and could even buy some time for those experiencing acute glaucoma. However, the effects were short-lived, and eye pressure levels would usually jump back after three hours – even before the munchies wore off.
Back then, restrictions on the medical use of cannabis meant we didn't know much about the different cannabinoids (the organic compounds naturally present in the herb). It was also difficult to research which form of administration worked best. Would marijuana cigarettes be necessary? Would edibles or drops work just as well (while protecting your lungs)?
How does weed affect glaucoma?
Nowadays, we know that marijuana is a complex plant, made up of nearly 400 different compounds. We don't know the full effects of all of them, but we know that at least some of these effects are contradictory.
Most medical uses of marijuana are linked to two main active ingredients: THC (or delta-9-tetrahydrocannabinol) and cannabidiol (or CBD). There are dozens of cannabinoid receptors around your eye, which can "feel" the presence of these compounds and be affected by them.

Both compounds seem to have neuroprotective effects and can lessen anxiety, pain, and vomiting. However, most of the effects of marijuana that we associate with "being high" (think memory loss, hallucination, distorted time perception, or the munchies) come from THC. Meanwhile, CBD seems better against seizures and anxiety, and it doesn't increase your appetite.
This is why CBD oil, gummies, candy drops, and even syrups are becoming increasingly popular wherever they're legalized. Unfortunately, this doesn't extend to intraocular eye pressure, the key effect that helps combat glaucoma. In fact, using CBD seems to increase pressure in the eyes, rather than lower it.
Why is cannabis not a good glaucoma treatment?
Between 2006 and now, several studies have compared the effects of THC and CBD on eye pressure. At low doses, CBD consistently proved to have no effects on the eyes. At high doses (40 mcg), it increased retinal pressure.
Results were better with THC. When smoked, inhaled, or ingested, THC can lower IOP by up to 40%. This is technically almost as good as commercial anti-glaucoma meds – but it also made patients high. Unfortunately, any IOP-lowering effect faded away relatively quickly. Meanwhile, THC drops for glaucoma were ineffective and often caused an itchy or burning sensation in the eyes.
Does THC lower eye pressure?
The short answer is yes. But can you truly make this a permanent treatment? Here, we need to think realistically.
The main barrier is THC's short duration of action. Primary open-angle glaucoma is a chronic condition that causes slow damage. To keep it from worsening, you would need to take THC at regular intervals – on average, every hour or two.
This would require you to be constantly under the effects of THC. Everyday tasks such as driving, making decisions, or focusing at work would be impossible. While these may sound fun recreationally, if experienced 24/7, they become highly disruptive side effects.
Meanwhile, there is no safe CBD dosage for glaucoma. As promising as it may be for other conditions, it may do more harm than good in the long run. As a result, neither the National Eye Institute (NEI), the American Glaucoma Society, nor the American Academy of Ophthalmology (AAO) recommend the use of marijuana as a treatment for glaucoma.
Looking for better glaucoma solutions near you? Visit Assil Gaur Eye Institute's glaucoma specialist
Disappointed at the lack of glaucoma treatment options? You shouldn't be! Glaucoma is a common and well-researched eye condition, so medical treatment options are abundant. With early detection and the help of state-of-the-art ophthalmologic tech, we can achieve a reliable and steady IOP reduction indefinitely.
Currently, there are three main types of glaucoma therapy available:
Glaucoma medication
Most of them come in the form of simple eye drops, which you will need to apply at regular intervals. They're not perfect, as you may need to interrupt your day or carry the bottle everywhere. Some of them can cause stinging, dry mouth, or leave a bitter taste in the mouth, but not all glaucoma patients get them.
Laser surgery
A longer-lived solution, laser surgery will work for both chronic (open-angle) and acute (closed-angle) glaucoma. Using a carefully calibrated laser, we can repair the membranes responsible for eye drainage, or target the ciliary body (the part of the retina responsible for creating more intraocular fluid) to decrease fluid production.
Microsurgery and minimally-invasive surgeries
The latest technologies now allow us to make minuscule incisions and repair even the tiny, delicate tissues around the eye. Glaucoma surgery can often be combined with cataract surgery and includes:
Trabectome: simple removal of a part of the trabecular meshwork, which "widens" the opening for drainage.
iStents: a 1mm-long titanium tube (basically, a miniature version of an arterial stent) can be inserted into the eye, creating an extra path for drainage.
OMNI® Glaucoma Treatment System: A state-of-the-art method to repair the eye's natural drainage. This can be done with a single incision to the cornea, even among patients who have already had cataract surgery or retinal repairs.
At Assil Gaur Eye Institute, we know that each set of eyes is unique, and so are each patient's needs. In addition to being AGEI's top glaucoma specialist, I am a Board-Certified ophthalmologist with extensive training in LASIK, cataract, and minimally invasive glaucoma procedures (MIG). Recently, I had the great honor of being voted one of Los Angeles' Top Ophthalmologists.
Alongside our team of nurses, optometrists, and anesthesiologists, I ensure each one of my glaucoma patients received the most suitable treatment.
To set up an appointment with our office, click here or call 866-945-2745.
At Assil Gaur Eye Institute we take our patients' safety seriously. Our facility's Covid-19 patient safety procedures exceed all of the CDC's coronavirus pandemic recommendations. Masks are required in our institutes at all times.
We are conveniently located for patients throughout Southern California and the Los Angeles area at locations in or near Beverly Hills, Santa Monica, West Los Angeles, West Hollywood, Culver City, Hollywood, Venice, Marina del Rey, Malibu, Manhattan Beach, and Downtown Los Angeles.


Latest posts by Dr. Avneet Sodhi Gaur
(see all)