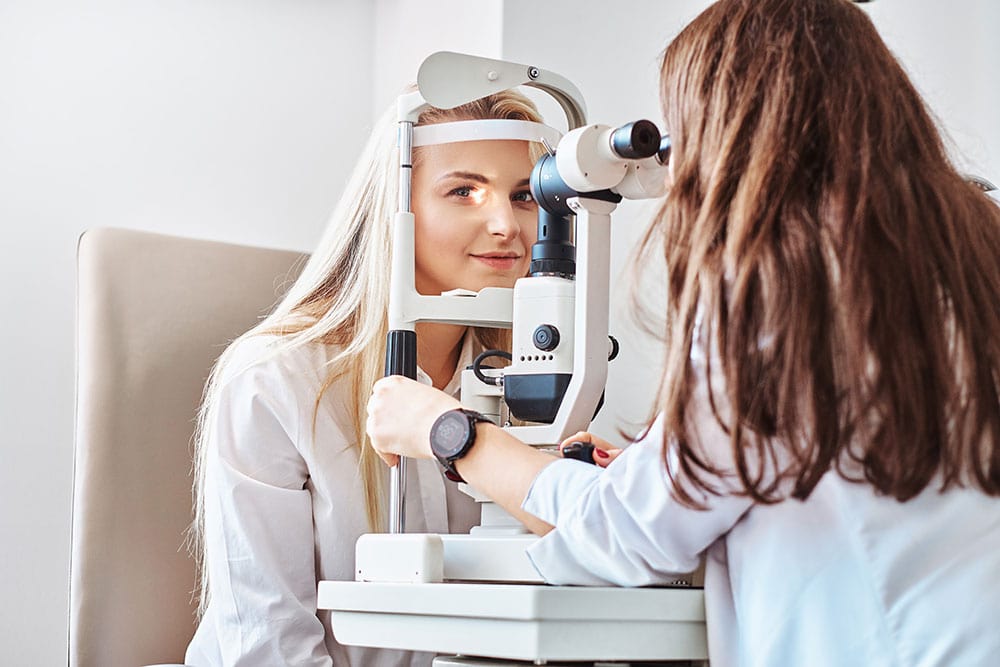 I had a professional colleague in medical school who had a quirky sense of humor and would cause many of his students' eyes to roll when he'd say "It's all fun and games until somebody loses an eye…" But, all kidding aside, your eye health is something that shouldn't be taken for granted.
While most of us are pretty good at keeping up with tests important for maintaining our overall health like PAP smears, prostate exams and colonoscopies, for some reason many of us tend to blow off getting an annual eye exam or, for that matter, seeking out an ophthalmologist when we develop concerning eye symptoms.
Not taking eye symptoms seriously can result in bad outcomes because you'd be surprised how many eye problems can progress rapidly and permanently affect your vision.
Here are 8 conditions that can be serious enough to warrant medical follow up with an ophthalmologist:
1. You see floaters
Visual floaters can take the form tiny specks, strings or cobwebs that drift into your field of vision as you move your eye. While they're often a sign of aging, eye floaters can also be a sign of an impending retinal detachment, so it's important to get a dilated eye exam to make sure that nothing serious is going on, particularly if you have a family history of retinal detachments or have recently had a hit to the eye or head. If you notice floaters that persist, you should get them checked out ASAP.
2. Your eyes are often or always red
While it's normal to wake up with red eyes occasionally, having red eyes on a regular basis is not normal and should be checked out by your doctor. If you have red eyes that don't clear up with over the counter drops, you might be suffering from Dry Eye Syndrome which stems from a tear production problem that can be easily treated by an ophthalmologist. A red eye can also result from an eye infection, broken blood vessels due to uncontrolled high blood pressure or trauma.
3. Your eyes are often or always dry
If your eyes are constantly dry and artificial tears aren't helping your symptoms, you need to follow up with an eye doctor to get to the cause of your dry eyes and come up with a more definitive solution. If a diagnosis of dry eye is confirmed, your doctor might recommend taking omega-3 fatty acid supplements, inserting tiny silicone plugs in your tear ducts to keep your eyes better lubricated, or perhaps using medicated eye drops. If your dry eye syndrome is severe enough to cause corneal ulcers or scars, you might be treated with antibiotic, antifungal or antiviral medicines.
4. You splashed your eye with a chemical
Whether you splash your eyes with household cleaners, a mascara wand poke or a harsh chemical at your work site, unless the label indicates otherwise, rinse your eyes out immediately with clear water, cover your eye with a loose gauze patch and get medical attention right away. Exposure to any foreign substance requires immediate professional attention because it can result in scarring and permanent damage.
5. You develop pain in your eye for no reason
If you develop eye pain out of the blue for no apparent reason, this can be a sign of a concerning underlying problem. The type of pain can signal different causes. For instance, a sharp pain in your eye can be a sign that a foreign particle has gotten stuck in your eye or that you have a bacterial or viral infection. A dull aching pain, however, can be a sign of inflammation, increased internal eye pressure or eye strain because you need a stronger eyeglass or contact lenses prescription. In any event, persistent eye pain needs to be promptly checked out and treated.
6. You see halos around bright lights
Seeing halos around bright lights can result from a couple of different problems. For instance, it can be a sign that your contact lens or eyeglass prescription needs changing. Another explanation for seeing halos is that you've got an ocular migraine which is a variant of a migraine headache that causes vision changes but which isn't usually associated with headache pain. Needless to say, halos are a sign of some underlying vision problem that won't resolve on its own and needs to be addressed.
7. Your eyes suddenly become sensitive to light
Sudden onset light sensitivity (known as photophobia) can be another sign of an ocular migraine. It can also be a sign of inflammation in your eye caused by any number of problems. If you suddenly develop extreme sensitivity to light and feel like you need to wear sunglasses indoors, you need to follow up with an eye doctor right away to get to the source of your problem.
8. You get a stye
If you've ever woken up with a tender red bump along your eyelash line, you're familiar with how much fun a stye can be. No fun at all! A stye is a painful infection of an oil-producing gland in your eyelid. While some styes can heal in a day or two with frequent warm compresses, if you have a stye that persists beyond two days or you find yourself getting styes often, you should follow up with an eye doctor who can prescribe medications that can knock out the infection and recommend a treatment to prevent future styes.
Because our eyes rarely bother us, we tend to take them for granted. Most of us have the sense to recognize an ocular emergency and head straight to the emergency room, but many may not be taking more subtle eye conditions seriously. Unfortunately, failing to address the above eye issues that can be early signs of more serious problems can lead to preventable vision loss.
Why Choose Assil Eye Institute for your eye care?
The doctors at Assil Eye Institute offer world-class eye care and vision correction specializing in LASIK, cataract, cornea, retina, glaucoma treatments and a lot more. At AEI, you will experience state-of-the-art medical facilities that bring together revolutionary technologies with the most experienced hands in ophthalmology. Our goal is to help you achieve your personal best vision.
For more information or to schedule a consultant, please call 866-945-2745 or visit us here to make an appointment.

Latest posts by Dr. Lindsay Harris