Alzheimer's disease (AD) is the most common subtype of dementia, affecting an estimated 5.5 million people in the United States. It is most characterized by increasing memory deficits. Mild Cognitive Impairment (MCI) is a transitional stage between normal aging and dementia and is a precursor to AD. An estimated 32% of MCI patients will progress to AD within 5 years.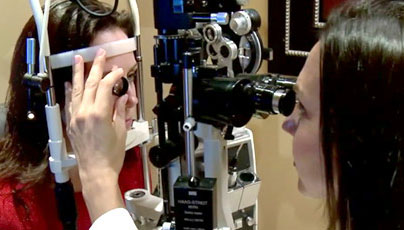 Current diagnostic methods for AD and MCI include costly brain scans and invasive spinal taps which carry some risks. What's more, AD is fairly advanced by the time behavioral changes and memory tests demonstrating cognitive decline can be used for disease screening. For years, researchers have been looking for faster, less invasive, more cost-effective diagnostic tests that can provide an early diagnosis that will allow them to treat earlier in the course of the disease. And it just might turn out that a simple eye test available at your eye doctor's office might do the trick.
Retinal tissue has similarities to brain tissue
Ground-breaking research in recent years has used the eyes as a window into the brain to detect changes that take place during the early stages of Alzheimer's disease. Researchers at the Complutense University of Madrid (UCM) have discovered that the retina, or light sensitive tissue lining the back of the eye, has many features in common with brain tissue and may represent an excellent biomarker to diagnose and monitor Alzheimer's Disease.
The researchers hypothesized that by studying retinal tissue, which can be easily accessed using non-invasive imaging techniques, they might be able to get an insight as to changes in brain nerve tissue affected by Alzheimer's disease. Their findings were published in Scientfic Reports.
By studying retinal changes in early Alzheimer's patients researchers found that the volume of brain structures involved in AD is related to retinal thickness and eyesight. The study identified neural layer thinning as a common characteristic among early stage Alzheimer's patients.
A simple quick optical CT study can detect early retinal nerve damage
Researchers from UCM combined advanced non-invasive imaging technology with customized software programs to identify and map the thickness of various layers of the retinas of Alzheimer's patients. The technology used was an advanced type of optical coherence tomography (known as OCT or OCTA) with specifically designed software that mapped and compared the thickness of ten different retinal layers in 19 patients diagnosed with mild AD and in 24 age-matched healthy people. An OCT study is a non-invasive imaging study that takes only seconds and is relatively low cost.
The investigators developed software that allowed them to analyze a huge amount of data gathered by the OCT that localized the exact size, shape and location of areas showing neurodegeneration in each retinal layer. By looking at thinning and thickening of retinal tissue, they were able to identify signs of nerve degeneration and inflammation that are characteristic of neurodegenerative disorders like dementia or Alzheimer's. It turns out that all ten retinal layers exhibited AD-related thinning over a relevant percentage of their surface, with the earliest changes occurring in the macular zone – the area that controls central vision and color perception.
Retinal nerve damage might be an important biomarker of Alzheimer's Disease
This is important because it suggests that AD-related nerve damage and deposits might be occurring in the retina before they occur in the brain, making them important biomarkers of AD. If this is true, then OCT studies of the retina could detect AD during its early stage even before symptoms appear.
Loss of retinal blood vessels might be another biomarker for Alzheimer's
Another research study performed around the same time at Duke University used OCT technology to study changes in retinal blood vessels and found that deterioration and loss of tiny blood vessels could signal Alzheimer's disease. They theorized that changes seen in the blood vessels of the retina may be mirroring what is going on in the blood vessels of the brain. Their study appeared in Ophthalmology Retina.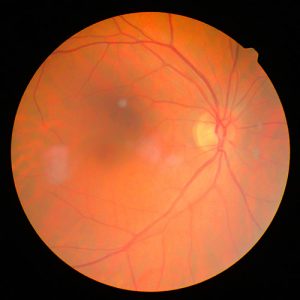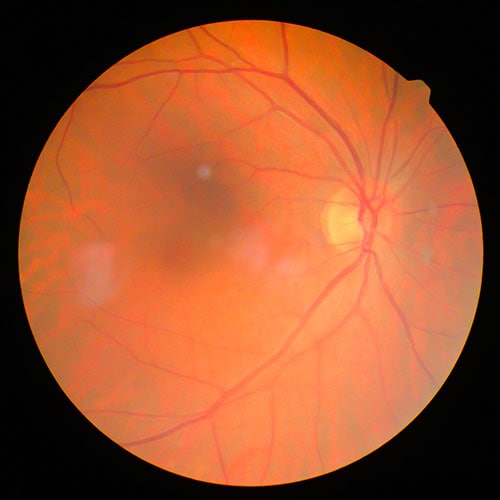 These researchers compared OCT exams of Alzheimer's patients, healthy controls and patients with mild cognitive impairment and found a significantly decreased number and density of retinal blood vessels in Alzheimer's patients as compared to the other two groups. The study excluded patients with potentially confounding factors such as diabetes, uncontrolled high blood pressure, glaucoma, macular degeneration, or other eye diseases.
Because OCT technology is unique in its ability to obtain high-resolution images of very small blood vessels, it allowed researchers to study the thickness of the vessel walls. They observed that a specific layer of retinal tissue known as the macular ganglion cell-inner plexiform (GC-IPL) was much thinner in the AD group. The macula is the area of the retina that governs central vision and color perception.
While the Duke researchers are not yet ready to say that blood vessel density measurements can be used as biomarkers to screen for AD and MCI, they hope that future testing will help them identify retinal blood vessel changes before patients start experiencing changes in cognition so that this technology can be used to detect early AD before symptoms of memory loss become apparent.
Don't schedule an OCT scan just yet…
While this new research is certainly an exciting breakthrough, scientists still have a way to go before they can identify specific retinal nerve and blood vessel lesions as biomarkers for AD. But these recent studies seem to suggest that they're getting close to finding a non-invasive, affordable, and quick tool for early detection of Alzheimer's disease. And that will be a game-changer.
Assil Eye Institute has retina specialists who are uniquely qualified to help
Dr. Svetlana Pilyugina, or "Dr. P." as she's known to her patients, is a Stanford trained ophthalmologist with fellowship training and board certification in diseases and surgery of the vitreous and retina. Dr. P has been performing retinal surgery and laser therapy for over a decade and has considerable experience in treating a wide range of retinal conditions.
If you are interested in establishing care with Dr. P., click here to schedule a consultation online or call us at 866-945-2745


Latest posts by AEI Educational Team
(see all)