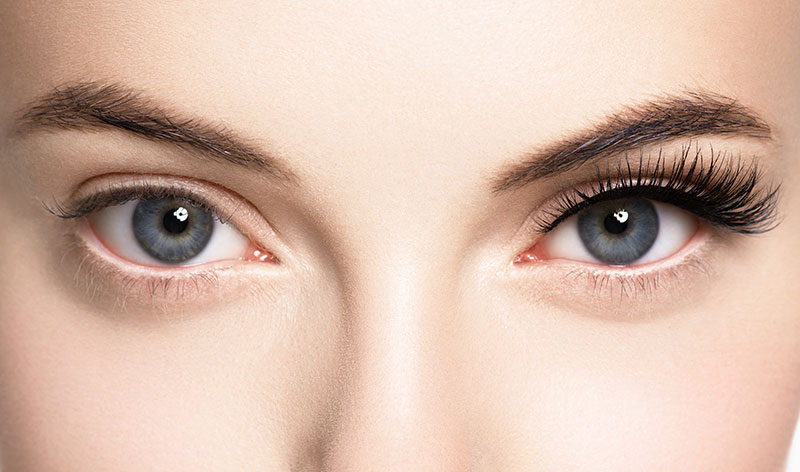 A few years ago, the talented singer and actress Kristin Chenoweth appeared on a New York City talk show veiled in dark glasses. She explained that darkness was mandatory because she was enduring the consequences of an eyelash extension misadventure.
It turns out the glue used to bond artificial lashes to Chenoweth's own natural lashes was laced with formaldehyde. As Chenoweth explained, using non-medical terminology said, "Yeah folks, they used dead people juice!"
Despite the widespread wealth of similar negative anecdotes about eyelash extensions, they remain persistently popular. The reason is clearly visible. Eyelash extensions are glam. They really can make a woman's eyes look gloriously enticing. Like a Kardashian and Beyoncé enticing. Yep, that level of enticement.
But that fluttery allure is pretty much the only plus side of eyelash extensions. Most of the other relevant data is either neutral or negative.
So as an ophthalmologist, lucky you, I'm going to review the pros and cons of eyelash extensions.
What's great about eyelash extensions?
When applied by a skilled lash artist, extensions can make your eyes look naturally glorious. They look a lot more real than ordinary false eyelashes. That's because standard false lashes come attached, all in a row, on a foundational strip, which is simply glued to the lash line.
In contrast, eyelash extensions are attached by tweezers, one at a time, to each individual natural lash. Each artificial extension is the same diameter and consistency as the natural lash to which it is bonded. The best extensions trace and enhance your own eye shape. No wonder they look so real.
You'll save time. You won't need to bother with mascara if you're wearing extensions, because they're doing mascara's job way better than mascara can. If you want, you can forgo eye makeup. And you'll never have to use an eyelash curler.
All extensions can be customized for any kind of lash look. You pick the length and degree of curl with your stylist. Extensions can last throughout an average growth cycle of natural eyelashes.
What's not so great about eyelash extensions?
That average eyelash growth cycle lasts about 6 to 8 weeks. Each synthetic lash will be lost, of course, when the natural lash to which it is attached is naturally shed.
Volume lashes require maintenance
To maintain the desired fullness, touch-ups should be accomplished every three weeks or so. "Maintenance" means that a new artificial lash is attached to each natural lash that has emerged since your last visit to a lash bar. (Yes, "lash bar". That's what they're called, despite the dark connotations.)
How much are lash extensions?
All the visits to your favorite lash bar won't be cheap. Prices for the initial installation range from about $150-$400 at the better establishments. (The maintenance visits are generally about half that.)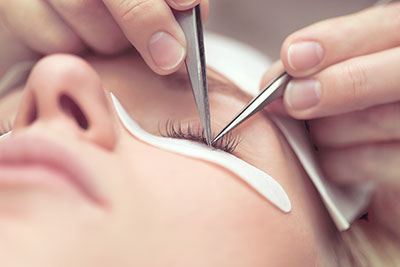 And you're going to want to frequent the better lash studios. It's worth the extra cost to get your lash extensions attached by a stylist with real expertise. Ask your friends where they got their beautiful eyelashes, and thoroughly check online references.
The process won't be quick, either. Plan on spending at least two hours reclining with at least one eye taped slightly open, staying as still as humanly possible.
Once you've selected a facility, don't hesitate to inspect the premises for cleanliness. Ask about sanitation procedures. After all, it's your eye health that's at stake.
In California, cosmetologists and aestheticians are licensed and regulated by the Board of Barbering and Cosmetology. Make sure your technician specializes in eyelash extensions and has her/his own individual license prominently displayed.
Ask about the ingredients in the lash glue
If you are uncertain about your own potential allergic reactions to any ingredients, ask for a patch test on a less vulnerable part of your anatomy. Check the expiration dates on any substance that is going to touch your face.
Perform thorough due diligence. (Unless you're going to joke about it on a talk show, there's no upside to a painful eye infection.)
If you want your extensions removed before the foundational lashes naturally fall out, it's a good idea to have a lash stylist perform the removal. It's a process that is nearly as complex as the installation.
Eyelash extension care
After you've been lashed up, you're going to need to avoid any sort of moisture, including steam, near your eyes. After the first couple of days, you can shower, but you'll need to blow dry your extensions, on the cool setting, while you caress them with a special spoolie brush. You may need to sleep on your back.
You can't rub your eyes when you have eyelash extensions, which means you have to work around the eye area when you're washing your face.
Are eyelash extensions safe?
Now we're moving from the annoying and expensive category to the downright dangerous category. Here are some things to consider:
Allergic reactions to eyelash glue can be serious. Have the extensions removed and see your eye doctor.
Eyelid inflammation (blepharitis) and pink eye (conjunctivitis) can result from poor hygiene during installation and/or lack of proper aftercare.
Increased risk of developing dry eye.
The American Academy of Ophthalmology warns of the following dangers specifically related to eyelash extensions:
Infection of the cornea.
Swelling of the eyelid.
Ptosis (drooping eyelids) caused by too heavy an application of lashes.
Temporary or permanent loss of natural eyelashes.
What is the conclusion to be drawn regarding eyelash extensions?
If you're going to do it, make sure you do it right, and maybe don't do it very often. Select a reputable, well reviewed salon and save those magnificent eyes and long lashes for special occasions. Just saying.
Why choose Assil Gaur Eye Institute for your eye care?
The doctors at Assil Gaur Eye Institute offer world-class eye care and vision correction specializing in LASIK, cataract, cornea, retina, glaucoma treatments, and a lot more. At AGEI, you will experience state-of-the-art medical facilities that bring together revolutionary technologies with the most experienced hands in ophthalmology. Our goal is to help you achieve your personal best vision.
Please call 866-945-2745 or visit us here to make an appointment online if you are experiencing any concerning symptoms to determine the best time to schedule an exam.


Latest posts by AGEI Educational Team
(see all)