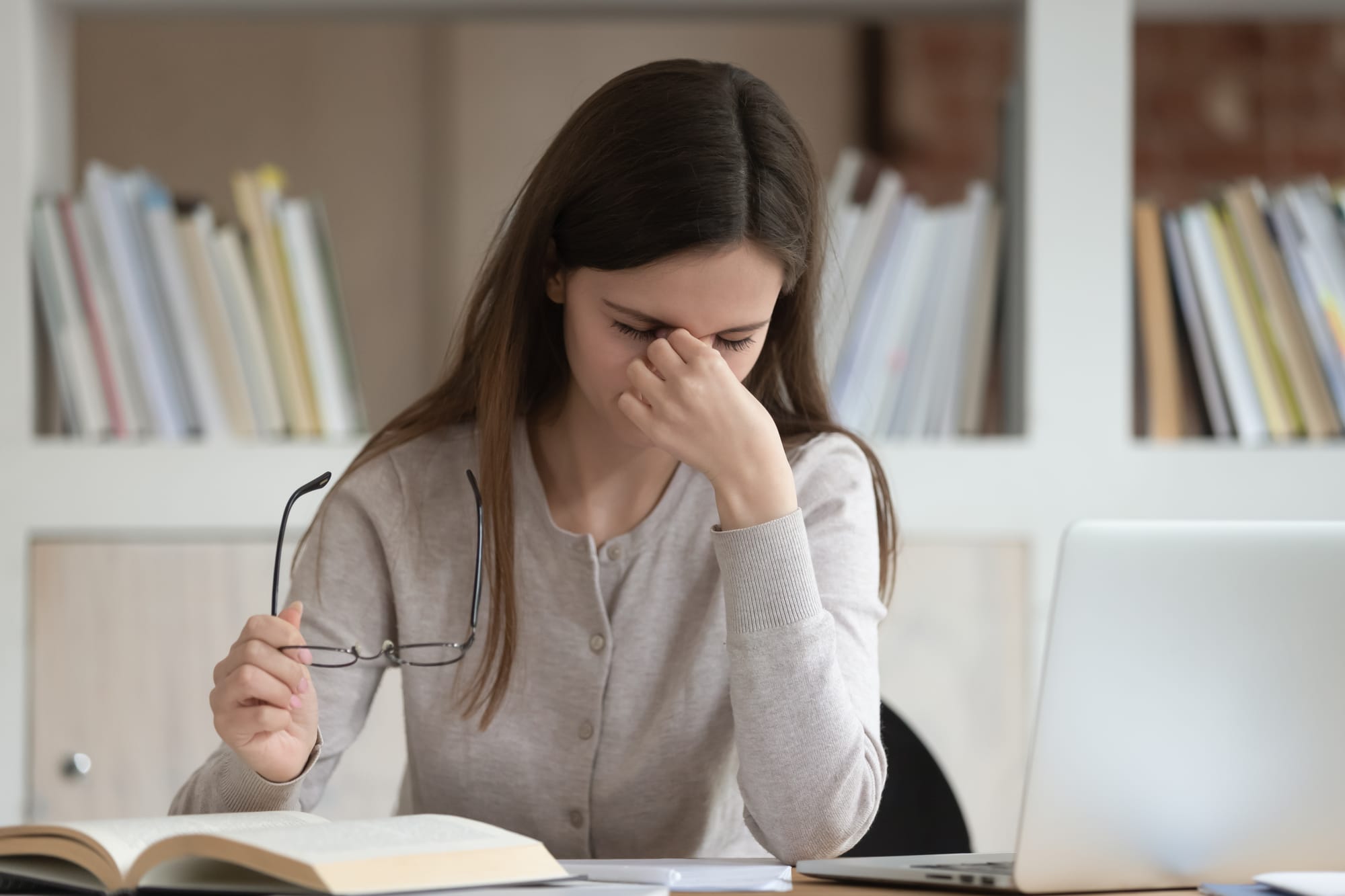 Have you been wondering "why are my eyes so dry"?
If you're like me, you've been spending a whole lot more time on social media and video apps since the coronavirus stay at home orders began. And perhaps you've noticed that your eyes have started to bother you. Maybe feeling a little dry, itchy, or perhaps uncomfortable for reasons that you might not understand or may have chalked up to seasonal allergies.
If you've been contemplating using artificial tears, you might have an eye condition known as dry eye and you should know that certain behaviors can actually make the symptoms of dry eye worse. And, during the coronavirus pandemic, it's more important than ever to avoid touching our eyes.
What is dry eye?
Let's start by describing what dry eye is. Dry eye occurs when the quality or quantity of your tears is inadequate to keep your eyes well-lubricated. Dry eye causes inflammation of the surface of your eye that leads to symptoms including a sensation of eye dryness, stinging, pain, burning, itching, and light sensitivity, among others.
Do dry eyes involve both the quantity and quality of my tears?
Yes! Every time you blink, a film of tears spreads across the surface of your eyes in order to keep them lubricated and functioning properly. Your tear film is actually made up of three layers according to the National Eye Institute (NEI).
The bottom layer contains mucous that binds with water in order to keep your eyes moist. This layer is produced by your goblet cells.
The middle layer consists of water and water-soluble proteins whose job it is to nourish your cornea (the clear "windshield" surface of your eyes) and conjunctiva (the membrane covering the whites of your eyes and eyelids). This layer is made by your lacrimal glands located under your eyebrows.
The top layer contains oil that is important for preventing your tears from evaporating too quickly. This layer is produced by Meibomian glands located within your eyelids.
The mix between each of these components has to be just right in order for your tear film to do its job properly and for your body to produce enough tears. If this balance is disturbed, you can end up with dry eye due to inadequate tear quality or quantity.
And certain behaviors can actually aggravate your dry eye symptoms. Identifying these culprits is the first step you can take toward getting some dry eye relief.
6 behaviors that mess with your tear film and worsen dry eye symptoms!
Too much screen time without a break. Whether it's on your desktop, laptop or phone, staring at screens lowers your blink rate. Blinking less often is problematic because blinking is necessary to spread your tear film across your eyeballs, so less frequent blinking means dryer, more aggravated eyes. What's more, blinking less often leads to greater tear evaporation on your eye surface.

Solution: The American Optometric Association (AOA) recommends the 20-20-20 rule: every 20 minutes, focus on an object 20 feet away for 20 seconds. This will help reset your natural blink rate. If you're like most people and will forget to remember to do this every 20 minutes, set your computer timer to remind you until it becomes a habit.


You take certain medications that cause your eyes to dry out. So many times, medications that help solve one health condition end up contributing to another because of their mechanism of action.

And, unfortunately, certain classifications of drugs can actually worsen dry eye. These include antihistamines, decongestants, some anti-depressants, and anti-anxiety medicines, some blood pressure medications, as well as birth control and hormone therapy drugs. A long list, I know 🙁

Solution: If you've recently started a new medication and are suddenly having dry eye symptoms, check with your doctor. Sometimes, alternative prescriptions might do the trick without the side effects.


You sleep wearing your contact lenses. This one is a personal pet peeve. Sleeping with contacts, even ones approved for overnight use tends to dry out your eyes because the plastic film deprives the cornea tissue underneath it of oxygen and nutrients that it needs. Think of it as sticking a suction cup on your eyeball.

Solutions: Just. don't. do. it!


You don't wear sunglasses when it's windy. If you think about it a minute, it makes sense that if you're in a windy environment, the breeze will dry out your tear film just like those forced-air hand dryers in public bathrooms.

Solution: Protect your eyes in windy environments by wearing sunglasses. And if they're the wraparound type, even better. That's what I recommend for cyclists or participants in outdoor sports where the wind is a factor.


You or your partner smokes. Without carrying on about the many reasons that smoking is bad for you, exposure to smoke or even secondhand smoke can make dry eyes worse.

Apart from being just plain irritating to your eyes, smoke can also decrease your body's production of nutrients necessary for healthy tear production. Which leads to dryer eyes. Not to mention other vision problems and medical conditions linked to smoking.

Solution: Consider cutting back, or better yet, stopping smoking. Did I really need to give you one more reason to quit? You're welcome 😉


You use eye drops to "take the red out". Some people don't like to have bloodshot or tired-looking congested eyes, so they use over-the-counter drops to take the red out.

While this is okay for occasional use, continued use of these drops can cause a rebound effect where the redness comes back even worse as the medication wears off. What's more, the preservatives in the drops can irritate the surface of the eye, aggravating your eye symptoms even more.
If you've tried some of these suggestions and your eye symptoms haven't improved much or are getting worse, it's time to give your ophthalmologist a call. There may be some other culprit at play that can be discovered by your eye doctor taking a good medical history or through a comprehensive eye exam.
We have a whole range of solutions for treating the entire spectrum of dry eye symptoms, from mild to severe, so there's no need to suffer from dry eye. In fact, untreated dry eye syndrome can sometimes harm your vision and so, shouldn't be ignored.
Why Choose Assil Gaur Eye Institute for your eye care?
The eye care professional team of ophthalmologists and optometrists at Assil Gaur Eye Institute (AGEI) offer world class eye care treating dry eye conditions, cataracts, glaucoma, LASIK and laser eye correction as well as a wide variety of cornea and retinal conditions.
At AGEI, you will experience a state-of-the-art health care facility that brings together revolutionary technologies with experienced vision care professionals. Our goal is to help you achieve your personal best vision.
Please call 866-945-2745 or visit us here to make an appointment online. If you are experiencing any concerning symptoms, contact us immediately to determine the best time to schedule an exam.
At Assil Gaur Eye Institute we take our patients' safety seriously. Our facility's Covid-19 patient safety procedures exceed all CDC recommendations. Masks are required in our institutes at all times.
We are conveniently located for patients throughout Southern California and the Los Angeles area at locations in or near Beverly Hills, Santa Monica, West Los Angeles, West Hollywood, Culver City, Hollywood, Venice, Marina del Rey, Malibu, Manhattan Beach, and Downtown Los Angeles, to name a few.


Latest posts by Dr. John May
(see all)