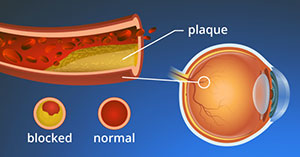 What's central retinal artery occlusion (CRAO)? 
The Central Retinal Artery is the key artery responsible for carrying oxygen rich blood to the nerve cells that make up the retina lining the back of your eye. If this artery gets blocked by a blood clot or a bit of cholesterol, it robs the retinal cells of oxygen and they begin to die off.
Without restoration of blood flow, the retina can survive only approximately 4-6 hours. Essentially, this is a "stroke of the eye." The typical symptom of a CRAO is sudden onset of painless vision loss.
Unfortunately, at this time there is no proven effective therapy for CRAO and administration of thrombolytic agents is not advised.
The most important part of the treatment is immediate stroke-protocol work up and patients are typically referred to Emergency Room for full evaluation of the heart, ultrasound of the carotid arteries in the neck as a possible emboli source, and urgent assessment of all stroke risk factors.