Is there a surgery to correct droopy upper eyelids (ptosis)?
The good news is that surgery to elevate the eyelid can correct ptosis in most people. In fact, there are three different surgical procedures for lifting the upper eyelid into its proper position. The surgical approach selected depends upon the factors causing your levator muscle weakness and the existing anatomical problems. 
It's important to know that ptosis correction surgery is considered one of the most challenging eyelid surgeries and should only be done by a highly experienced oculoplastics surgeon. There is great potential for variability in the final eyelid position after adjusting a muscle in a very thin movable structure. 
Ptosis involves a three-month recovery process where adhering to your doctor's orders and follow up schedule is critically important. What's more, there is a possibility that a second, fine-tuning procedure might be necessary to get your eyelid to the desired final position so that you don't have asymmetrical eyelids. 
In the hands of an experienced surgeon, the correction of droopy eyelids can be very successful, improving a patient's comfort, appearance, and field of vision. Ptosis repair surgery requires a lot of thought and discussion with your surgeon, so you can obtain a thorough understanding of the goals and limitations of ptosis correction surgery and set appropriate expectations. 
How is ptosis repair surgery done?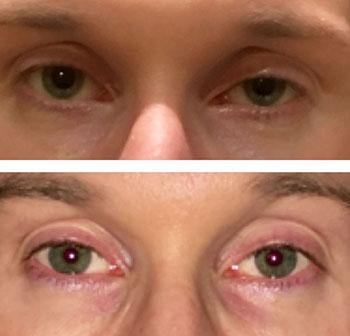 Several surgical treatment options for restoring the upper eyelid to its proper position fall into two general camps: one tightens a weak but functioning levator muscle and the other enlists the forehead muscle to do the work of elevating the eyelid (frontalis sling approach). Your eye surgeon will recommend which surgical approach may be the most effective for you based on the results of diagnostic tests measuring the strength of your levator muscle. 
If the levator tightening surgical approach is selected, this procedure usually takes less than 90 minutes and is performed using intravenous sedation to help you relax while staying awake. This is done because, during surgery, your doctor may ask you to perform different eye movements to determine how wide your eye should open. 
If the frontalis sling fixation is performed, this will usually be done under general anesthesia, because it requires the surgeon to create a link between your eyelid and the forehead muscle (frontalis) just under your eyebrow. This will let the forehead muscle stand-in for the absent or non-functioning muscle responsible for elevating the eyelid.
Depending on the surgical approach, the incision for ptosis repair is most commonly made inside the natural eye crease and sometimes even on the inside surface of the upper lid, so the scar is hidden from view. 
What to expect after an eyelid ptosis repair surgery 
No matter what surgical technique is used to correct ptosis, you will be asked to limit your activities for a week to allow the eyelid muscles and soft tissues to heal. You'll be advised to avoid rubbing or doing anything that could irritate your eyes. Bruising and swelling can last from three to four weeks. 
Since a ptosis repair involves elevating your upper eyelid and removing excess skin, after surgery your eye(s) will be more open and thus, more prone to dryness. This is particularly true if you undergo a frontalis sling fixation which may also result in the temporary inability to fully close your eye until your post-op swelling resolves. Of course, your doctor will provide you with medications to keep your eye adequately lubricated during this time. 
You will have periodic follow-ups during your recovery period so that your surgeon can check changes in your eyelid position as your post-op swelling subsides. Because there is no way to anticipate the healing response of each unique eye, it is difficult to predict whether the eyelids will heal at elevations that are identically parallel. 
If once you are fully healed, the lid position is not ideal, your surgeon can perform small adjustments or even additional surgery to reduce sagging and elevate the eyelid to the desired level. That said, nearly all of Dr. Israel's patients are extremely satisfied with their outcomes.
What are the risks of ptosis correction surgery?
Ptosis repair is challenging which makes picking the right experienced surgeon very important. Why? Because not everyone has the same eye anatomy going into surgery. For example, people born with deficient, absent, or non-functioning levator muscles will respond very differently to surgery than someone whose ptosis is due to a medical condition. 
The primary risk associated with a ptosis surgery is that the level of your open upper eyelids does not appear symmetrical, in other words, they're at different heights even though they are more elevated than before surgery.
Another complication can be dry eyes resulting from incomplete closure of the eyelids, resulting in dry eye problems. That is why it is important to do your homework and to make sure to ask any surgeon that you are considering using to tell you how many ptosis corrections he or she performs annually. Ask to see before and after photos of their patients and also ask if any of their patients are willing to talk to you about how the entire process went for them. 
Why Choose AGEI for your eyelid surgery?
Your eyes are one of the most delicate structures in your body. That's why, when you're looking for a Los Angeles area surgeon to correct the appearance or function of your eyelids and the structures surrounding your eyes, you want to seek out an oculoplastics surgeon.
In contrast to a plastic surgeon, an oculoplastics surgeon is an ophthalmologist with extensive training in microsurgical eye surgery followed by highly specialized training in ophthalmic plastic and reconstructive surgery. The health and safety of your eyes are the number one priority in all surgical planning performed by an oculoplastics surgeon.
As a trained ophthalmologist, Dr. Rafi Israel is able to thoroughly examine your eye, understand any underlying eye disease, and identify potential complications or eye problems that might impact the surgical plan -- things that a plastic surgeon is simply not trained to do.
We have extensive experience in treating functional eye problems affecting patients' vision and eye health, performing cosmetic procedures, and doing revisions of surgeries performed elsewhere that have gone bad.
Among the conditions we treat are excess eyelid skin or fat, drooping eyelids, wrinkles around the eyes, eyelid reconstruction after tumor removal, excessive tearing, revising prior unsatisfactory eyelid surgeries, abnormally turned in (entropion) or turned out (ectropion) lid margins, and traumatic eye injuries.
If you would like to schedule a consultation with Dr. Israel in our Beverly Hills office to discuss your concerns about the appearance or function of your eyelids and to learn what treatments might be right for you, please call 866-945-2745 or click here to request an appointment online.
Our ophthalmology clinics Covid-19 patient safety procedures exceed all CDC recommendations.