PRK vs. LASIK eye surgery
At AGEI, our surgeons use the same cool ultraviolet excimer laser for the corneal sculpting step in both LASEK and LASIK, so the final vision results are similar. The distinction between LASEK and LASIK centers around the surgical approach and how this affects your recovery. 

The key difference between LASEK and LASIK eye surgery has to do with the first step of the vision correction surgery - the handling of the outermost layer of the Cornea (the epithelium).
In a LASIK procedure, your surgeon begins by creating a thin flap from your cornea's outer layers (the epithelium) and a thin portion of the underlying middle layer known as the stroma. This flap is then peeled back and laser sculpting is done on the cornea's middle stromal layer. After the sculpting is complete, the flap is repositioned to cover the LASIK surgery site, and the epithelium remains intact.
In a LASEK procedure,  no flap is created. Instead, the thin epithelium layer is gently removed, either mechanically (with PRK) or chemically (with LASEK). The laser then works directly on the exposed middle (stromal) corneal layer, gently and precisely sculpting your cornea.

Because there is no flap, your surgeon puts a clear soft contact lens bandage over your freshly sculpted cornea. The contact lens helps to both accelerate epithelial layer regrowth as well as to make your eye more comfortable during the healing phase.
The bottom line, the primary difference between LASIK and LASEK is that the laser energy is applied directly on the outer surface of the cornea with LASEK, whereas the laser energy is applied to the middle corneal layer with LASIK, thus sparing the corneal surface which results in a faster recovery.
What happens during LASEK (PRK) surgery?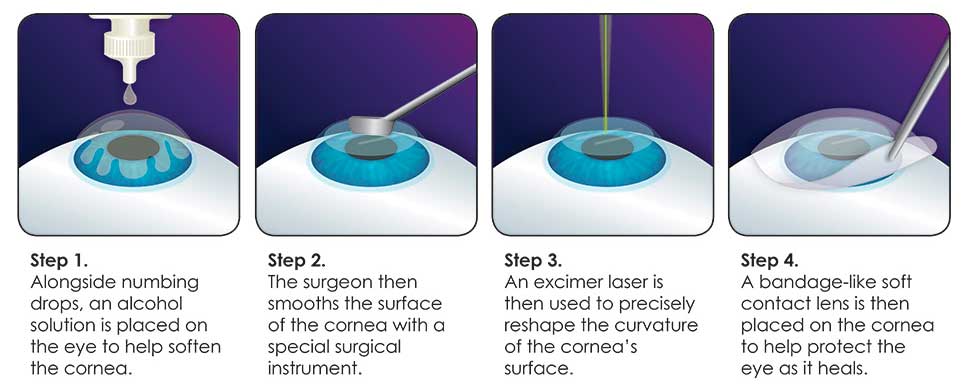 At the start of the LASEK procedure, your surgeon uses anesthetic drops to numb your eye. Next, the outer epithelial layer of your cornea is gently removed and the excimer laser reshapes your cornea. The entire process takes about 10 minutes per eye.
At the end of the procedure, a clear bandage contact lens is placed over the cornea which helps with post-op discomfort, which can be mild to moderate.
Immediately following the procedure, you may feel like there is something in your eye (the protective contact lens) and you may experience tearing, light sensitivity, a moderate amount of blurred vision, and seeing halos around bright objects. That is normal.
These symptoms can last for the first 3 days after surgery and are usually worst on the second and third days following surgery but improve greatly as the corneal surface heals by post-op day four or five.
To help decrease discomfort during the healing process, chilled lubricating and medicated drops that also help promote healing and reduce the risk of scar formation and infection. You won't be able to drive or work the day of your LASEK surgery. Some patients also feel like they need to take a couple of days from work. This recovery time should be taken into consideration when considering a LASEK procedure. 
By the time your bandage contact lens is removed (on postop day 5 to 7), your vision will be much improved, generally ranging between 20/30 and 20/50, depending on the extent of correction done. By then, you will be comfortable enough to return to your daily routine.
As your cornea's surface continues to heal and smooth out over the next 4-6 weeks, your vision will continue to improve. Patients typically achieve their best possible vision at 3 months following surgery. The correction is usually considered to be stable at one-year post-op.
If you are severely nearsighted (with a very high refractive error) a LASEK vision correction procedure might not achieve 20/20 vision. You might still require the assistance of milder eyeglasses to achieve your best vision. 
LASEK vs. LASIK: pros and cons
The benefits of LASEK:
LASEK does an excellent job of correcting high degrees of nearsightedness.
LASEK leaves a greater portion of the cornea untouched by the surgery, which is important in patients with thin corneas or who are at risk for future eye problems. 
Corneal nerves heal faster with LASEK, minimizing dry eye symptoms that can sometimes occur after surgery. 
By leaving deeper layers of the cornea untouched, LASEK may also provide an extra margin of safety in patients whose corneas have an unusual shape and don't qualify for LASIK

LASEK Involves less depth of laser treatment than with LASIK

More corneal thickness is preserved, so if additional surgery is needed in the future, it can be done

Because there's no corneal flap, the risk of corneal flap complications is eliminated
The disadvantages of LASEK
Slower recovery time than LASIK: most patients can drive from 4-6 days after surgery, but it can take from 3 months to one year after surgery until vision is completely clear and stable
Increased risk of early post-surgery eye infection, inflammation, and haze, so meticulous patient compliance with post-op eye care is essential
LASEK has more eye discomfort during early post-op recovery compared with LASIK 
Schedule your consultation now!
 PRK FAQs
How long does PRK last?
The effects of PRK are generally considered permanent, but it's important to note that as we age, our eyes can change, and vision can gradually worsen. Therefore, while PRK can provide long-lasting correction, it doesn't prevent age-related eye changes that may require glasses or contacts later in life.
How to speed up PRK recovery?
Recovery after PRK surgery can take several days to a few weeks. While the recovery period cannot be avoided entirely, some steps can be taken to help speed up the healing process.
It is crucial to follow your doctor's post-operative instructions, including using any prescribed eye drops, avoiding rubbing your eyes, and protecting them from bright light and dust.
Rest and avoid strenuous activities such as exercising, swimming, and heavy lifting.
Use lubricating eye drops as your doctor directs to keep your eyes moist and comfortable.
To protect your eyes from dust, wind, and other environmental factors, wear protective eyewear such as sunglasses or goggles outdoors.
A diet rich in antioxidants and omega-3 fatty acids can help promote healing and reduce inflammation.
Smoking and alcohol consumption can slow healing and increase the risk of complications.
How long after PRK can I watch TV?
It's important to avoid activities that could strain your eyes, including watching TV or using a computer, for the first few days after surgery.
Your doctor will provide specific instructions on when it's safe to resume normal activities, including watching TV. Most people can resume watching TV and using a computer within a few days to a week after surgery.  
Is PRK better than LASIK?
Both procedures effectively treat common vision problems such as nearsightedness, farsightedness, and astigmatism, but they differ in how the surgery is performed and the recovery process.
Ultimately, choosing between PRK and LASIK should be made in consultation with an experienced eye surgeon who can evaluate your needs and recommend the best treatment option.
How long does PRK surgery take?
The actual PRK surgery typically takes only a few minutes per eye. However, the process may take several hours, including pre-operative preparations and post-operative follow-up appointments.
Can you get PRK twice?
Technically, yes you could, though it is extremely rare at Assil Gaur Eye Institute. Sometimes a new patient comes to us after an unsuccessful initial PRK surgery elsewhere that did not fully correct the refractive error, or the patient's vision may have changed over time, thus requiring revision surgery.
It's important to note that undergoing a second PRK surgery can be more challenging than the first, as the cornea may be thinner and more fragile due to the previous surgery. Additionally, there may be an increased risk of complications such as haze and cornea clouding that can affect vision.
Does PRK hurt?
During the PRK surgery, the patient typically does not experience any pain or discomfort. This is because the surgeon will use a local anesthetic to numb the eye, and the patient may also be given a mild sedative to help them relax.
After the surgery, however, it is common to experience some discomfort or mild to moderate pain as the epithelial cells of the cornea heal and regenerate. 
The discomfort experienced after PRK can vary from person to person and typically lasts a few days to a week. Pain relievers and lubricating eye drops can help manage discomfort during this time.
Does PRK fix astigmatism?
Yes, PRK surgery can effectively treat astigmatism, a standard refractive error that causes blurred or distorted vision at all distances. It's important to note that while PRK can be an effective treatment for astigmatism, it is not a guarantee of perfect vision. Some patients may need to wear glasses or contact lenses after surgery, particularly for reading or other close-up work.
How long does blurry vision last after PRK?
Blurry vision is a common side effect after PRK, and its duration can vary depending on several factors.
Generally, blurry vision can take several days to weeks to improve after PRK. During the first few days after surgery, vision may be blurry, and performing daily activities such as driving or reading can be challenging. The blurry vision typically improves as the eye heals, but it may fluctuate for several weeks or even months after surgery.
Can you get LASIK after PRK?
Yes, it is possible to get LASIK after PRK. One factor to consider is the amount of corneal tissue removed during the PRK procedure. LASIK involves creating a flap in the cornea to access the underlying tissue. If too much tissue was removed during the PRK procedure, there might not be enough corneal tissue to create the flap for LASIK safely. Additionally, the shape of the cornea after PRK may not be suitable for LASIK, and other vision correction options may be recommended.
Another factor to consider is the time since the PRK procedure. It's typically recommended to wait at least six months to a year after PRK before undergoing LASIK to allow the cornea to heal fully and stabilize.
Can you get PRK with astigmatism?
PRK may be a good option for individuals with mild to moderate astigmatism. In some cases, other types of refractive surgeries, such as LASIK may be recommended, depending on the severity and type of astigmatism, as well as other factors such as age, prescription, and overall eye health.
Can you wear contacts after PRK?
During the initial healing period after PRK, the eyes may be more sensitive and drier, and wearing contact lenses can exacerbate these symptoms. Additionally, contact lenses can interfere with the healing process and affect the final visual outcome.
Once your surgeon determines that your eyes have healed sufficiently and it's safe to do so, they may recommend a specific type of contact lens or a contact lens, wearing a schedule appropriate for your needs.
Does PRK cause dry eyes?
PRK can cause dry eyes in some individuals, particularly during the initial healing period after surgery. This is because the procedure can temporarily affect the corneal nerves and reduce tear production, leading to dry eye symptoms.
The symptoms of dry eye after PRK are usually temporary and improve as the cornea heals. However, in some cases, dry eye symptoms may persist or worsen after surgery, and additional treatment may be necessary to manage the condition.
How long after PRK can I use a computer?
After PRK, it's generally safe to use a computer and other electronic devices once your vision has stabilized and you feel comfortable doing so. However, avoiding prolonged use of electronic devices during the initial healing period is essential, as this can put additional strain on your eyes and delay the healing process.
How long after PRK can I wear eye makeup?
After PRK, it's generally recommended to avoid wearing eye makeup for at least a week or until your surgeon gives you the green light to resume using it. This is because eye makeup can irritate the eyes and increase the risk of infection during the initial healing period.
How soon can you exercise after PRK?
After PRK, it's generally recommended to avoid strenuous exercise and other physically demanding activities for at least a week. This is because physical activity can increase blood flow and pressure in the eyes, which can interfere with the healing process and increase the risk of complications.
LASEK (PRK) or LASIK? the bottom line 
There are advantages and disadvantages to every surgical procedure. That's why it is important to meet with an eye surgeon in order to get a detailed eye exam to identify your particular vision issues and to obtain accurate information as to which type of refractive surgery would best suit your vision needs and lifestyle.