PRK vs. LASIK eye surgery
At AGEI, our surgeons use the same cool ultraviolet excimer laser for the corneal sculpting step in both LASEK and LASIK, so the final vision results are similar. The distinction between LASEK and LASIK centers around the surgical approach and how this affects your recovery. 

The key difference between LASEK and LASIK eye surgery has to do with the first step of the vision correction surgery - the handling of the outermost layer of the Cornea (the epithelium).
In a LASIK procedure, your surgeon begins by creating a thin flap from your cornea's outer layers (the epithelium) and a thin portion of the underlying middle layer known as the stroma. This flap is then peeled back and laser sculpting is done on the cornea's middle stromal layer. After the sculpting is complete, the flap is repositioned to cover the LASIK surgery site, and the epithelium remains intact.
In a LASEK procedure,  no flap is created. Instead, the thin epithelium layer is gently removed, either mechanically (with PRK) or chemically (with LASEK). The laser then works directly on the exposed middle (stromal) corneal layer, gently and precisely sculpting your cornea.

Because there is no flap, your surgeon puts a clear soft contact lens bandage over your freshly sculpted cornea. The contact lens helps to both accelerate epithelial layer regrowth as well as to make your eye more comfortable during the healing phase.
The bottom line, the primary difference between LASIK and LASEK is that the laser energy is applied directly on the outer surface of the cornea with LASEK, whereas the laser energy is applied to the middle corneal layer with LASIK, thus sparing the corneal surface which results in a faster recovery.
What happens during LASEK (PRK) surgery?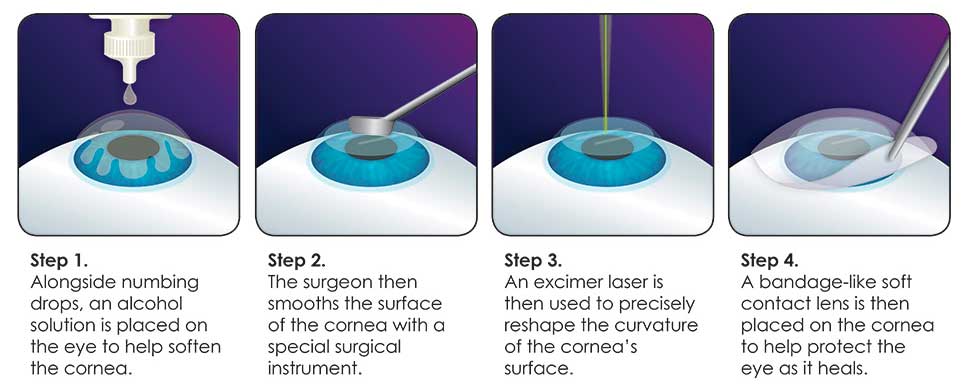 At the start of the LASEK procedure, your surgeon uses anesthetic drops to numb your eye. Next, the outer epithelial layer of your cornea is gently removed and the excimer laser reshapes your cornea. The entire process takes about 10 minutes per eye.
At the end of the procedure, a clear bandage contact lens is placed over the cornea which helps with post-op discomfort, which can be mild to moderate.
Immediately following the procedure, you may feel like there is something in your eye (the protective contact lens) and you may experience tearing, light sensitivity, a moderate amount of blurred vision, and seeing halos around bright objects. That is normal.
These symptoms can last for the first 3 days after surgery and are usually worst on the second and third days following surgery but improve greatly as the corneal surface heals by post-op day four or five.
To help decrease discomfort during the healing process, chilled lubricating and medicated drops that also help promote healing and reduce the risk of scar formation and infection. You won't be able to drive or work the day of your LASEK surgery. Some patients also feel like they need to take a couple of days from work. This recovery time should be taken into consideration when considering a LASEK procedure. 
By the time your bandage contact lens is removed (on postop day 5 to 7), your vision will be much improved, generally ranging between 20/30 and 20/50, depending on the extent of correction done. By then, you will be comfortable enough to return to your daily routine.
As your cornea's surface continues to heal and smooth out over the next 4-6 weeks, your vision will continue to improve. Patients typically achieve their best possible vision at 3 months following surgery. The correction is usually considered to be stable at one-year post-op.
If you are severely nearsighted (with a very high refractive error) a LASEK vision correction procedure might not achieve 20/20 vision. You might still require the assistance of milder eyeglasses to achieve your best vision. 
LASEK vs. LASIK: pros and cons
The benefits of LASEK:
LASEK does an excellent job of correcting high degrees of nearsightedness.
LASEK leaves a greater portion of the cornea untouched by the surgery, which is important in patients with thin corneas or who are at risk for future eye problems. 
Corneal nerves heal faster with LASEK, minimizing dry eye symptoms that can sometimes occur after surgery. 
By leaving deeper layers of the cornea untouched, LASEK may also provide an extra margin of safety in patients whose corneas have an unusual shape and don't qualify for LASIK

LASEK Involves less depth of laser treatment than with LASIK

More corneal thickness is preserved, so if additional surgery is needed in the future, it can be done

Because there's no corneal flap, the risk of corneal flap complications is eliminated
The disadvantages of LASEK
Slower recovery time than LASIK: most patients can drive from 4-6 days after surgery, but it can take from 3 months to one year after surgery until vision is completely clear and stable
Increased risk of early post-surgery eye infection, inflammation, and haze, so meticulous patient compliance with post-op eye care is essential
LASEK has more eye discomfort during early post-op recovery compared with LASIK 
LASEK (PRK) or LASIK? the bottom line 
There are advantages and disadvantages to every surgical procedure. That's why it is important to meet with an eye surgeon in order to get a detailed eye exam to identify your particular vision issues and to obtain accurate information as to which type of refractive surgery would best suit your vision needs and lifestyle.