Snowboarding with impaired vision is not a great combination
Miller always suffered from nearsightedness and wore reading glasses for vision correction while in elementary school in Truckee, CA. Later, he developed some astigmatism and always wore glasses when driving.
But whirling up and down a half-pipe course against the best snowboarders in the world is entirely different from driving a car.
Snowboarders enter the upper end of the pipe at high speed from either the left or right side, carrying that speed and flying high as the opposite wall slingshots them into the air. While airborne, they perform spins, flips, and board-grabbing tricks before landing back in the pipe.
"Dude, to say it helps to see perfectly when soaring more than 20 feet above the 22-foot lip of the pipe at up to 40 miles per hour is an understatement," says a chuckling Miller.
How Toby Miller found LASIK for vision correction
 Around 2017, Miller noticed it was becoming increasingly difficult to navigate the subtleties of the half-pipe course at high speed. "My vision had gotten progressively worse," he says. "It was really insane during 'flat light,' when the snow, light, and clouds appear the same color and there's no depth perception."
He tried glasses and contact lenses but never felt comfortable in either. "I couldn't do my sport wearing glasses, and contacts weren't the solution," says Miller, who finished in the Top 10 three times at the X Games. "Plus, my vision seemed worse in the evening, which really sucked because competitions are often held at night under artificial light."
There must be a better way (Hint: it's LASIK at AGEI)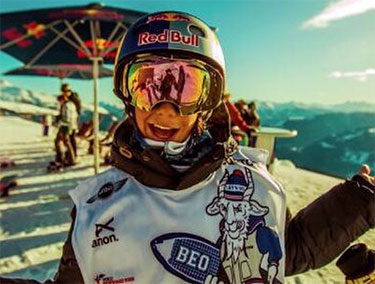 So, Miller began searching the internet for the best solutions for vision correction in California, emphasizing finding the best LASIK surgeon. He found many ophthalmologists who performed laser vision correction, but Assil Gaur Eye Institute stood out above the rest. 
By reading reviews, he learned about their pioneering advances in ophthalmology, like their state-of-the-art EagleVision LASIK surgery, compassionate patient-centric care, and dedication to supporting the health and well-being of their patients.
"Being a pro athlete myself," Miller said, "I was impressed with other sports pros who trusted their eyesight to Dr. Assil. If NBA stars LeBron James, Anthony Davis, Chris Paul, and Dwayne Wade trusted him with their careers, I felt a lot better about doing the same thing."
Miller decided to see Dr. Kerry Assil, one of the world's foremost laser eye surgery experts. In his career, Assil has performed more than 70,000 eye surgeries (including LASIK and PRK vision correction) and authored more than 100 articles and textbook chapters on refractive and cataract surgery.
Miller felt in safe hands with Dr. Assil after meeting him and being thoroughly evaluated. After his eye exam, Miller was given hope and told that AGEI's revolutionary EagleVision LASIK surgery could correct his nearsightedness and astigmatism while withstanding the physical rigors of his sport.
"Equally important to me," states Miller, "was that EagleVision LASIK could easily survive the extreme bumps and bruises of my sport, letting me compete at the highest level and not worry about the stability of my vision."
Let the LASIK procedure begin!
On the day of his vision correction, Miller was pretty wound up as he entered AGEI's LASIK center. 
"I was definitely nervous," says Miller, who will train with the U.S. Olympic team in Switzerland this summer. "But I certainly knew what to expect, which was awesome eyesight."
The outpatient refractive surgery uses gentle laser energy to reshape the cornea to focus more precisely on light.
After being given mild sedation, Dr. Assil numbed Miller's eyes with drops. He then used an eyelid blink protector to help the eyes remain open and steady.
The doctor then used a laser to make a paper-thin flap in the cornea tissue, and the flap was folded back to give the laser access to the cornea.
Then, Miller stared at a light target while Dr. Assil reshaped his cornea.
The procedure uses a laser with customized algorithms developed by Dr. Assil; the laser had been pre-programmed with exact measurements of Miller's eyes.
After reshaping the cornea (about 30 seconds per eye) Dr. Assil folded the flap back down where it sealed into position.
Toby sees immediate results
"First off, my nerves melted away like butter. It was so easy and fast," Miller says. "It was over before I knew it, in, like, 10 minutes. Then I got to give my eyes a try and my vision was better immediately… I was shocked!"
How much better is Toby's vision? "It's not just a little bit better, it's beyond perfect at 20/15," says Miller. "I've got the same vision that fighter pilots have! I cannot believe they over-delivered on their promises, plus the entire staff at AGEI was incredibly kind to me."
The Olympics are within reach
After training in Switzerland this summer, the Olympic team returns to Colorado for competition in December to see who will represent the United States at the 2022 Olympic Winter Games in February in China.
"My number one goal is to compete for Team USA," says Miller. "My new great eyesight will help me make that dream come true."
The importance of choosing Assil Gaur Eye Institute for EagleVision LASIK
At AGEI, you will experience state-of-the-art ophthalmology that brings revolutionary technologies together with experienced, board-certified vision care professionals. Our eye doctors are highly trained in handling all eye conditions. Our goal is to help you achieve your best possible vision with our eye care. 
Please call 866-945-2745 or visit us here to make an appointment online. If you are experiencing any concerning symptoms or require immediate eye care, contact us to determine the best time to schedule an exam.
We are conveniently located for patients throughout Southern California and the Los Angeles area at locations in or near Beverly Hills, Santa Monica, West Los Angeles, West Hollywood, Culver City, Hollywood, Venice, Marina del Rey, Malibu, Manhattan Beach, and Downtown Los Angeles.