The journey to AEGI
Now a resident of Santiago in the Dominican Republic, which shares an island with the country of Haiti in the Caribbean, Larry couldn't find anyone who could remove his eye freckle. So, he expanded his search and decided to look for the finest ophthalmologist in the United States for his eye freckle removal. So began his exhaustive web search.
"I first began looking on the web to understand how the procedure is done," says Larry, who owns and operates a hardware store in the Dominican Republic. "I quickly identified AGEI as the most competent after reading some glowing testimonials. There were also videos of professional athletes and celebrities who had surgery on their eyes. I said, why not give it a shot?"
After contacting the office, Larry sent them photos of his eyes. In turn, Dr. Assil and his team sent Larry photos of how the nexus removal surgery was performed. The rest was easy: hop on a plane to Los Angeles and have the procedure.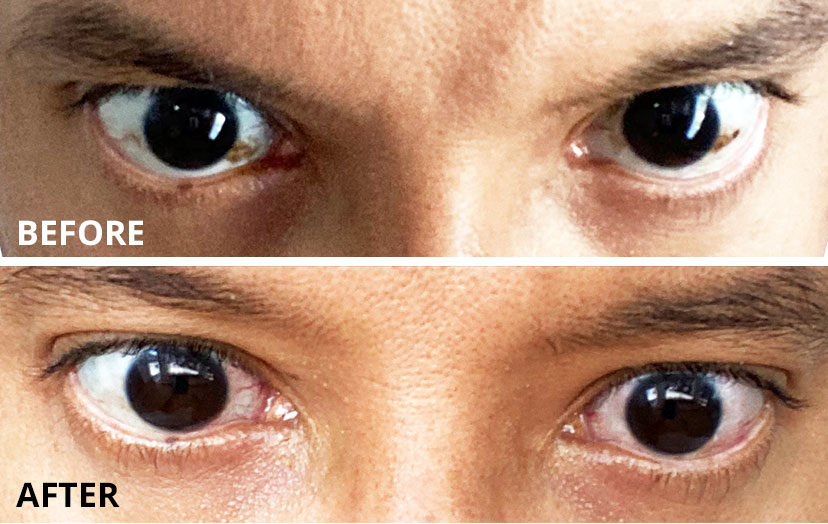 What's the eye nevus removal procedure like? 
Removing a cosmetic nevus is a straightforward procedure where experience makes a difference. Dr. Assil uses a mild thermal brushing technique to extract the pigment from the surface of the conjunctiva¸ a thin, transparent membrane that protects the eye 
"I was very comfortable during the entire process, which took about eight minutes," says Larry. "There was no sedation, just some numbing drops. No pain at all, just a little swollen afterward for a short time. Dr. Assil was very professional."
Recovery was quick and painless, with no trace of the nevus in either eye. "I could not be happier," states Larry.
A freckle-less future
These days, when not making music and taking in the beautiful sights of the Dominican Republic, Larry is quite happy not to have to explain his eyes anymore. "It's a feeling of relief knowing they can't question me," he says. "My confidence is at an all-time high."
Indeed, his self-confidence is soaring. "I now can look people in the face and talk to them comfortably, knowing that my eyes look normal."
Larry has sage words for those considering a nevus removal at AGEI. "I would recommend them to anyone who suffers from freckles and does not like their eyes," he says. "Don't hesitate to have the procedure. It's easy, painless, and well worth it."
Why trust AGEI with your Conjunctival nevus removal? 
Under Dr. Assil's leadership, the Assil Gaur Eye Institute has assembled a team of top ophthalmology specialists from around the country who continue AGEI's tradition of offering patients the highest quality of specialist eye care in the United States. In keeping with the founding principles of AGEI, our doctors have managed to keep their clinics comfortable and familiar, much like how family-run medical practices used to be.
Today, AGEI is nationally recognized for its compassionate, patient-centric care, commitment to pioneering advances in ophthalmology, and dedication to supporting its patients' and community's health and well-being.
Our life-long commitment to advancing the field of ophthalmology is evident in our work developing new surgical techniques and advances in laser surgery. We lecture internationally and have taught state-of-the-art surgical skills to over 10,000 thousand ophthalmologists worldwide. In addition, we have participated in dozens of FDA clinical trials, either as the lead investigators or as a member of a multi-center team, testing new ophthalmological devices and surgical techniques.
Los Angeles' leading LASIK, cataract, glaucoma and retinal surgeons are available to you all in one practice. State-of-the-art treatments for all eye conditions, including glaucoma, macular disease, eye nevus birthmark removal, dry eye, and diabetic eye conditions.
We remain laser-focused on our founding mission of providing exceptional health care in a compassionate and caring environment. We continue to be driven to advance the field of ophthalmology and give back to our community.
Please call (866) 945-2745 or make an appointment online.
We are conveniently located for patients throughout Southern California and the Los Angeles area in or near Beverly Hills, Santa Monica, West Los Angeles, West Hollywood, Culver City, Hollywood, Venice, Marina del Rey, Malibu, Manhattan Beach, and Downtown Los Angeles.