How worried should I be about an eye freckle?
TV host and fitness/travel influencer Emile Ennis chronicle his journey through conjunctival nevus removal surgery.
A nevus is rarely cancerous, and people are often born with harmless eye nevi. A nevus that develops later in life is typically also harmless but, like a skin mole, it could possibly develop into cancer of the eye (called ocular melanoma) and so should be monitored with periodic eye exams.
Even though the odds are less than one percent that a freckle in the eye will turn into an eye melanoma, it is possible that a conjunctival nevus can change into melanoma as you age, so you should have regularly scheduled follow-up exams with your ophthalmologist.
Your eye doctor can take a picture of the nevus and compare pictures over time to see if there are any changes in its size or shape. Your doctor may ask you to have the nevus re-checked in six months. If the nevus does not change over a year or two, it is not likely to be malignant melanoma. If there has been no change over two years, then the nevus may either be left alone or removed due to personal preference for cosmetic reasons (see below).
Are some people at greater risk of having an eye freckle?
Yes, they're most commonly found in Caucasians (in fact, five percent have them) because light eyes, fair skin, and burning easily when exposed to the sun are also risk factors. Large-scale studies have found a link between chronic sun exposure and the incidence of conjunctival nevi. A family history of nevi does not play a role in determining your likelihood of developing conjunctival pigmentation.
Are all eye spots the same?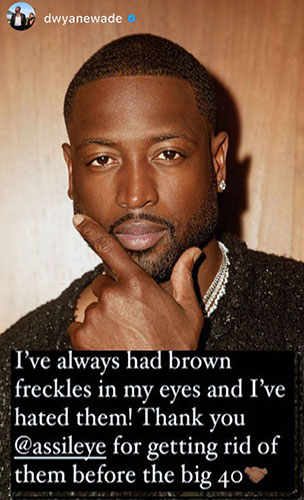 Actually, no. There are two types of conjunctival pigmented lesions prevalent among darker-skinned individuals that are also characterized by altered coloration in the eye:
Ocular Melanocytosis

occurs in one out of every 2500 persons of black, Hispanic, or Asian heritage. It is a conjunctival lesion involving only one eye that is usually accompanied by a slate grey-colored patch in the skin near the affected eye.

Benign Melanosis

, also called racial

melanosis

, typically involves both eyes and looks like patchy areas of increased pigmentation in the white part of the eye. It is common among middle-aged people with dark complexions, affecting nearly 93% of blacks, 36% of Asians, and 28% of Hispanics.
What causes eye freckles?
While the precise cause of nevi is not well understood, studies have found that prolonged sun exposure increases your chance of developing eye freckles. Indeed, nevi are more often found in older persons with a history of sunburns. Even though nevi are most common among Caucasians, all races can have eye freckles.
Symptoms of conjunctival nevus
Just as with freckles anywhere on your body, conjunctival nevi aren't associated with any pain or discomfort whatsoever. Because nevi are asymptomatic, most people just notice new nevi when looking in the mirror.
Treatment for conjunctival nevus
Because nevi are painless and don't affect your vision, they don't necessarily require any treatment other than periodic observation to monitor for changes in your nevus over time. Although nevi tend to remain stable, it is possible for them to grow due to inflammation or hormonal changes. Your eye doctor will do a detailed examination of the front and inside structures of your eye such as the retina, the macula, and optic nerve. This involves using special magnifying equipment to view the front of your eye, known as a slit lamp. A slit-lamp examination is part of the regular eye care protocol performed at AGEI.
Just as with skin cancer, during your eye examination, your doctor will look for the ABCDE clinical features of moles that warrant close monitoring:
Asymmetrical shape
Borders that are irregular
Color changes or several colors present
Diameter that has advanced
Evolution of the nevi´s appearance over time
Your eye doctor will take a picture of the nevus and will compare pictures over time to see if there are any changes in its size or shape. You may be asked to return to have the nevus re-checked in six months.
If the nevus does not change over a year or two, it is not likely to be melanoma. Because a nevus can change to melanoma as you age, you should have it checked regularly and follow the exam schedule your ophthalmologist recommends.
Eye freckle removal surgery
Plus-size model Ingrid Medeiros traveled from New York to have Dr. Assil do her surgery. Hear her story and see her results. 
Can I get my eye freckle removed? Yes, you can. At AGEI, we remove Conjunctival Nevi for 2 common reasons: a suspicious appearance, or if they appear cosmetically undesirable to the patient.
If melanoma is suspected, your eye doctor will recommend an excisional biopsy, in other words removing the pigmented lesion surgically. The resulting hole in the conjunctiva is closed with dissolvable sutures, surgical "glue", or laser cautery, depending on its size and location. The removed tissue would then be sent to a pathology lab to assess for the presence of cancer cells.
The removal of a cosmetic nevus is a much simpler and gentler procedure that involves using a very mild thermal brushing technique to extract the pigment from the surface of the conjunctiva. Recovery is typically quick and painless, with no trace of the prior nevus and, in our experience, resulting in great patient satisfaction. Because this treatment is considered cosmetic, it is not typically covered by insurance.
When to see your eye doctor about an eye freckle (nevus)
If you notice something that looks like a freckle in your eye that wasn't there before, you should get it checked by an ophthalmologist. Although it's very likely to be harmless, your ophthalmologist will want to examine it closely and continue checking it over time to make sure that it doesn't change.
Other reasons to see your eye doctor for a freckle include:
If you notice that your eye freckle has grown or changed in shape or color
If you are unhappy with the appearance of the conjunctival freckle and wish to know more about having it removed.
Schedule your consultation today with the internationally recognized conjunctival nevus specialists at Assil Gaur Eye Institute
We are conveniently located for patients throughout Southern California and the Los Angeles area at locations in or near Los Angeles, Beverly Hills, Santa Monica, and Culver City.