What does microneedling do? 
A micro needling facial treatment helps to reverse the early signs of aging and improves your overall skin tone and texture. The tiny facial injuries caused by microneedling trigger your body's natural wound-healing process — which includes the production of elastin and collagen. 
Elastin and collagen are naturally-produced proteins that keep your skin smooth and youthful. As we age, our collagen production naturally slows and our skin loses elasticity. The micro-injuries caused by microneedling alert your body to produce new collagen and elastin to enhance the appearance of the skin.
What is PRP microneedling? 
PRP stands for platelet-rich plasma, a serum that contains the patient's own blood to improve the healing response. Also known as a "vampire facial," microneedling with PRP combines microneedling with the healing boost of platelet-rich plasma to doubly enhance your body's collagen production. 
Platelet-rich plasma is created from components of your own blood. Blood is drawn and then separated in a centrifuge; plasma from the blood is concentrated and full of growth factors. This enriched plasma is applied to the face after microneedling to boost healing.
Microneedling with PRP facial can improve the appearance of acne scarring, reduce hyperpigmentation, and trigger facial rejuvenation.
PRP for facial rejuvenation is best done in multiple separate treatments. While you will see notable results after the first microneedling with PRP treatment, most patients will undergo at least three more procedures — each a month apart — for better results. 
Schedule your consultation
Does microneedling work? 
Microneedling does work when carefully and professionally done by a licensed and experienced dermatologist or medical professional. Facial microneedling treatment can enhance your skin's texture and appearance and the general wellness of your skin.
However, it's not like Botox or hyaluronic acid fillers — cosmetic procedures that create a more youthful appearance by injecting product under the skin. Instead, the skin micro-punctures trigger your body's natural healing process.
Unlike a chemical peel or exfoliating — procedures that remove the top layer of the skin — microneedling works in the middle layers of the skin. While new, visible skin can improve your face's appearance, increased collagen production in the dermis can also improve the smoothness and fullness of the face.
Does microneedling hurt? 
While microneedling does not hurt, it can cause discomfort, especially if you do not like needles or the sensation they produce applied to your skin. Because it is a slightly invasive medical treatment, the doctor will apply a numbing cream to reduce the discomfort you feel during surgery. 
What is microneedling good for? 
Microneedling is best suited for correcting the following medical and skin conditions:
acne scarring
burns
large pores
hyperpigmentation
scars
sun damage and sunspots
stretch marks
wrinkles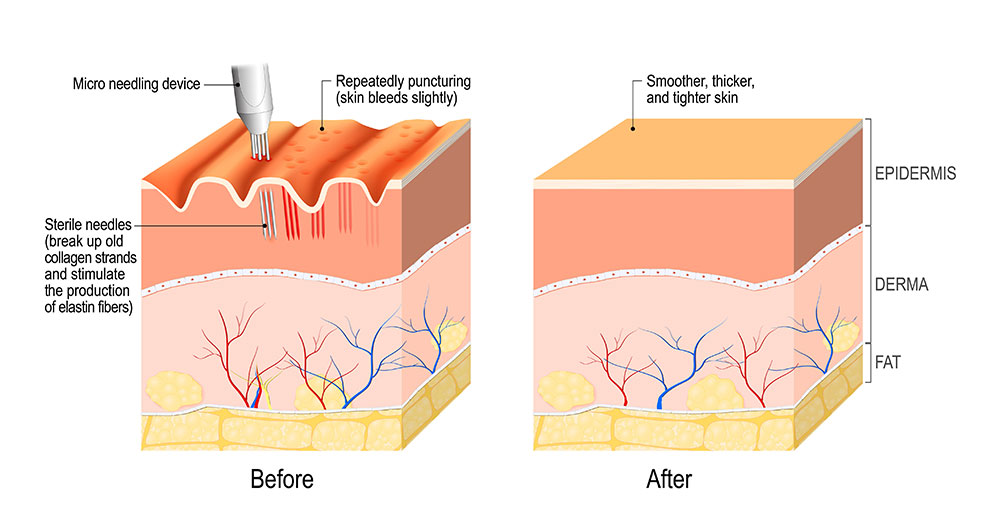 What are microneedling benefits? 
There are many microneedling benefits, depending on your specific treatment needs. One of the most highly touted benefits is that microneedling can lessen the wrinkles and fine lines on your face to make you look younger. If you are feeling self-conscious about the signs of aging on your skin, microneedling can correct the aging signs to restore your youthful looks. 
If you have general scars on your skin, microneedling can correct and remove them over time. The only scars that microneedling cannot heal are keloid scars.
Your skin pores decrease gradually with microneedling treatments. Some skin types have increased sebum production in their bodies and usually have larger pores, which can make some people feel unattractive. 
Maybe you have bad acne or rosacea flare-ups, impacting your self-consciousness. Don't fear! Microneedling treatments correct these skin conditions as well. When you apply topical cream, cleanser, moisturizer, or other skin care products after a microneedling treatment, they will be more effective in treating these conditions. 
Microneedling is a less invasive and more beneficial treatment than laser resurfacing. In addition, while laser treatments have a downtime of up to 10 days, microneedling needs only a few days for the aftercare and at-home post-treatment process. 
Microneedling for acne scars brings collagen to the scar tissue to take them away naturally. The more collagen that your face has, the more flexible and youthful looking it will be. Hence, microneedling can also correct wrinkles and fine lines for a stellar anti-aging effect as you continue regular treatments. 
What are microneedling side effects
Depending on your skin's response to the procedure, there can be side effects from receiving microneedling with PRP treatment.
 flaking skin as a result of collagen production, which is a sign of the skin's natural healing process
redness in the treated areas
swelling of the skin for a few days after the procedure
Patients experiencing a current acne outbreak on their face should not receive microneedling until the condition has naturally healed. Undergoing the medical procedure without healing from the active outbreak can worsen the current condition. 
Schedule your consultation
Who should not get microneedling treatments? 
You have already learned the specific skin and medical conditions microneedling treats. However, if you are someone with these conditions, you should not undergo microneedling treatments. 
 Anyone with blood or clotting disorder. Conditions that weaken the immune system.
Diabetic patients.
Eczema patients.  
Why choose an ophthalmologist for micro needling? 
The Assil Gaur Eye Institute of Los Angeles offers the highest-quality aesthetic cosmetic services — including microneedling, EMFACE, Botox, skin tag removal, and more — at its state-of-the-art facility. When you get aesthetic services from a trained ophthalmologist (rather than a med spa), you benefit from the doctor's intimate knowledge of the delicate structures surrounding the eyes and face.
You shouldn't trust just anyone to apply needles to your face; that's why AGEI is proud to offer the highest-quality, professional, medically aesthetic procedures.
To learn more, book an appointment online or call (866) 945-2745.
We are conveniently located for patients throughout Southern California and the Los Angeles area in or near Beverly Hills, Santa Monica, West Los Angeles, West Hollywood, Culver City, Hollywood, Venice, Marina del Rey, Malibu, Manhattan Beach, and Downtown Los Angeles.