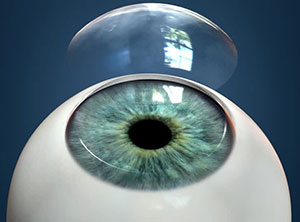 What is a Cornea? 
The cornea is your eye's clear protective outer layer (like a windshield) that serves two important functions:  a barrier protecting your eye against dirt, germs, UV rays, and more. Interestingly, its the only transparent tissue in the body and filters light rays entering your eye.
The cornea's surface shape determines how light rays are bent (or refracted) as they enter your eye. If the shape is too steep, too flat, or not completely round, it can cause problems such as nearsightedness, farsightedness, or astigmatism. 
Physical injuries and certain eye conditions can result in scarring, thinning, or permanent corneal damage leading to vision loss. In fact, corneal conditions are the fourth leading cause of blindness after glaucoma, cataracts, and macular degeneration.