How Botox treatments work for facial features
 "Short of having a facelift, cosmetic Botox and dermal fillers is the most effective skincare option to reduce the signs of aging," says Dr. Gaur. "It eliminates fine lines, creases, crow's feet, frown lines, eyebrow lines, and bags under the eyes."
Approved in 2002, cosmetic Botox blocks the nerve pulses that make the muscles contract. When muscle contractions beneath are minimized, there is muscle weakness and wrinkles are temporarily eliminated.
Botox and dermal fillers are marketed under various brand names such as Defyne, Lyft, Perlane, Juvederm, Juvederm Ultra, Voluma, and Dysport.
Dr. Gaur's extensive understanding of the face and eyes makes her an expert in safely giving patients the best facial rejuvenation results possible.
Is Cosmetic Botox different than Botox Therapeutic?
Botox Therapeutic (botulinum toxin) and Cosmetic Botox use the same ingredients, it is just the uses that differ between the two.
Therapeutic Botox is used for serious health conditions such as migraine headaches, muscle spasticity (such as in Parkinson patients), and chronic neck pain, to name a few.
Both Botox Therapeutic and Cosmetic Botox are applied the same way, through injection to various areas of the face.
Results from the anti-aging treatment are not long-lasting, and most patients return to Dr. Gaur within six months for new injections. There are some indications that over time, the muscles that Botox relaxes will require less product to achieve the same effect.
When will I see results from Cosmetic Botox? 
Most patients see results from the injections within 2 to 10 days.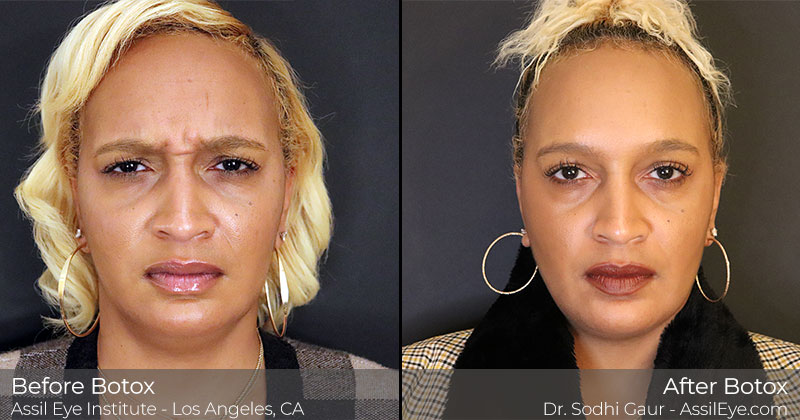 What are dermal fillers?
Part of the aging process includes the loss of subcutaneous fat. What this does is bring the facial muscles closer to the skin's surface. That's when we begin to notice smile lines, a double chin, and crow's feet.
Common brand names for dermal fillers include Radiesse, Sculptra, Restylane, and Kybella. 
Dr. Gaur also uses hyaluronic acid to stimulate collagen production within the skin. Collagen is the protein in your body that stimulates skin elasticity. 
Other factors that can alter facial skin include heredity, lifestyle, and exposure to the sun.
Injectable fillers are a minimally invasive treatment used by Dr. Gaur to reduce facial lines and re-establish volume and fullness in the face.
Though Dr. Gaur often augments cosmetic Botox injections with dermal fillers, some patients use the approach to ward off undergoing a complete facelift. Dermal fillers should not be considered a permanent solution for facial concerns. Patients taking this approach must have ongoing treatments.
Dr. Gaur may use fillers to decrease shadows in the lower eyelids, soften facial creases and wrinkles, cheek augmentation, fill in shallow contours, plump up thin lips, and improve the appearance of recessed scars.
How do injectable dermal fillers work?
Sometimes, depending on the needs of her patients, Dr. Gaur augments Botox injections with dermal fillers. Dermal Fillers are a soft, gel-like substance that creates a smoother, fuller appearance in deeper wrinkles. The FDA has approved fillers for use in the face, lips, and hands. It is also effective for lines that run from the corners of your nose to your mouth (nasolabial folds).
Dermal fillers can also be used for patients who should not receive Botox injections. These include women who are pregnant, breastfeeding, drooping of facial soft tissues, or wrinkles that Dr. Gaur believes will not respond well to Botox.
"I apply injectable dermal fillers to reduce or eliminate deep smile lines on each side of the nose and add volume to lips and jawlines," says Dr. Gaur. "These injectable treatments also fill in areas that have suffered facial volume loss."
Is Cosmetic Botox safe?
Botox is considered safe, apart from minor issues such as swelling at the injection site, pinpoint bleeding, infections, and drooping eyelids, which typically heal within two weeks.
WARNING: Be sure and tell Dr. Gaur if you have had allergic reactions to any other botulinum toxin product or skin infection at the injection site.
"In the rare occurrence of any side effects or complications, I can promptly and effectively treat them myself, rather than the patient waiting being referred to another doctor," says the doctor. "The risk of any side effects is greatly reduced.
What are the potential side effects of dermal filler?
Normal occurrences after injections of facial fillers include temporary redness at the injection site and a little temporary soreness and swelling.


Serious complications after cosmetic facial injections are exceedingly rare, but when they do happen, they can be devastating.
"Most people who have facial enhancement or contouring with injections may be unaware of the potentially permanent complication of facial injections: blindness," explains Dr. Gaur.
Why does this happen? There are so many small blood vessels, specifically arteries, around the forehead and eyes that supply blood to the area. Improper use of dermal fillers in the forehead can lead to blockage of a blood vessel that supplies blood to the eye. When the blockage prevents blood from reaching the eye, blindness is the result.
Dr. Gaur and AGEI: A wise choice for cosmetic facial treatments
Dr. Gaur's experience and knowledge of the eye and facial structures are unparalleled, and her clinics are state-of-the-art medical facilities. Her goal is to give you medical advice to help you achieve your personal best, be it with your look or vision, in the hands of a master surgeon.
With extensive training in all aspects of a person's eyes and face, Dr. Gaur deeply understands the workings of every facial muscle, artery, and bone.
Please call 866-945-2745 or visit us here to make an appointment online for a consultation.
At Assil Eve Institute we take our patients' safety seriously. Our facility's Covid-19 patient safety procedures exceed all CDC recommendations. Masks are always required in our institutes.
We are conveniently located for those throughout the Los Angeles area. Our ophthalmologists are available at locations in or near Santa Monica and Wilshire Blvd. in Beverly Hills. We are conveniently located near West Los Angeles, Culver City, West Hollywood, Downtown Los Angeles, Marina del Rey, Pacific Palisades, Malibu, Manhattan Beach, Sherman Oaks, and Encino.