What can a blepharoplasty treat?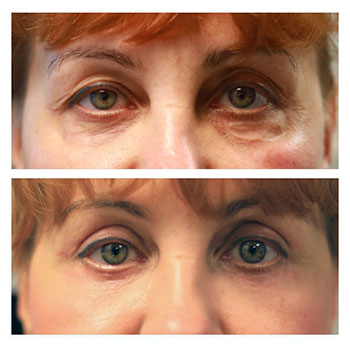 Blepharoplasties can be performed for a variety of reasons. The most common one we hear is that a patient is unhappy with looking tired due to puffy, heavy appearing eyelids, and bags under their eyes. Some patients might be unhappy due to having asymmetrically shaped eyelids. And others might have partial visual obstruction due to sagging upper eyelids.
Blepharoplasties can be performed on the upper or lower eyelids to remove excess skin, muscle, and fat and restore a sharper, more youthful appearance to the natural contour of the eye. Sometimes blepharoplasties can restore peripheral vision that has been obstructed by puffy upper eyelids caused by sagging skin or fat deposits. What's more, blepharoplasties can also address droopy eyelids that fail to open sufficiently, obstructing vision, which is a condition called ptosis.
How popular are blepharoplasties? 
Blepharoplasties are very popular. According to the American Society for Aesthetic Plastic Surgery, blepharoplasties were one of the top five cosmetic procedures performed on men and women in the United States during 2018, with more than 115,000 procedures done. 
Blepharoplasties are generally safe and effective when done by an experienced surgeon. It will help erase one of the most noticeable signs of aging on your face, yielding a significant improvement in your appearance. 
Most adults with excess eye tissue are considered good candidates for a blepharoplasty procedure. Perhaps that is why more blepharoplasties are performed than facelifts every year. Blepharoplasties can be performed on the upper lid, the lower lid or both eyelids.
How is a blepharoplasty performed? 
In the hands of an experienced surgeon, a blepharoplasty takes less than three hours for both eyes. This procedure is typically performed using local anesthesia with intravenous sedation to make you feel more relaxed. Patients undergoing both upper and lower blepharoplasties might elect to receive general anesthesia.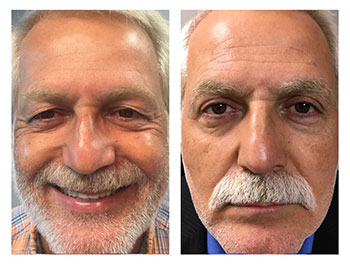 Before surgery begins, your surgeon will examine you sitting up to see how gravity affects your eyelid skin. Your eyelids will be marked with a surgical pen where incisions will be made. 
An Upper Blepharoplasty focuses on the area between your eyelashes and eyebrow. It involves eliminating excess skin and fat through an incision that's made in the natural crease of your eye socket so as to make the incision barely visible. If there is pre-existing upper eyelid hollowness, muscle and fat can be repositioned to achieve a more youthful appearance to the eye. Depending on your circumstances, your surgeon may opt to close the skin using dissolvable stitches (sutures), removable sutures, or special skin glue. 
A Lower Blepharoplasty works on the area between the lower lash line and the cheek. It is performed to address lower lid droop or to trim excess loose skin, muscle, or fat existing under the eyelids. Lower eyelid surgery is a bit more involved. The incision can be made under the eyelash line, extending past the outer corner of the eye (into the area where crow's feet tend to be located) or on the inside surface of the lower eyelid so that no incision is visible on the outside. 
What to expect after eyelid surgery?
When you awaken following surgery, you will notice that your vision is blurred. This is because a thick antibiotic ointment is applied to your eyes to prevent them from drying out during surgery. You'll be instructed to apply the ointment four times per day inside the eye and on your incisions. Artificial tears will also be prescribed to avoid eye dryness during your recovery period.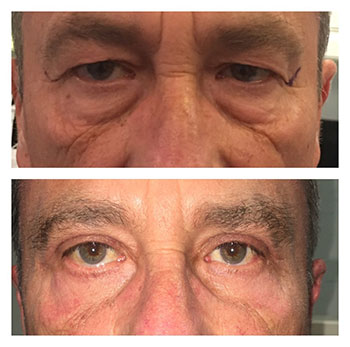 If you get an upper blepharoplasty, you might go home with very tiny stitches on your eyelid crease which will be removed by your surgeon in seven to 10 days, if the stitches needed aren't the dissolving kind. Should you have your lower lids done, depending on the technique used, it's possible that you won't require any stitches at all.
You will need to bring someone with you to drive you home from surgery. At the very least, try to set up your home to have everything you need at hand because, during the first couple of days after surgery, you will be most comfortable keeping your eyes closed. You can typically get up and walk around the evening of surgery or the following morning.
You're likely to have moderate swelling and bruising of the delicate skin around your eyes. The extent of this varies from patient to patient but should subside within 2 weeks for upper eyelid surgery and up to four weeks following an upper and lower blepharoplasty. That said, there's wide variability in post-op swelling and a small number of patients may be swollen for longer than this. 
Your doctor will instruct you to gently apply cold compresses for a few minutes, three to four times daily, during your first post-op week to help reduce swelling. You'll be encouraged to sleep in a "sitting up" posture with several pillows under your head in order to prevent swelling due to fluid accumulation. 
You may be prescribed ointments or eye drops to prevent infections while recovering from eyelid surgery. You will be advised to avoid strenuous exercise for at least one week, although walking at a gentle pace is encouraged. Your doctor will also advise you to wear dark-tinted glasses to protect your eyes as you heal. Makeup use will be permitted after post-op day 14.
You can expect to experience post-op puffiness and bruising that should resolve in two to three weeks. After two weeks, most patients feel comfortable enough to go out in public wearing makeup to cover any bruising. Final surgical results will become apparent after a few months. 
Are there any risks or complications from an eyelid lift?
While all surgery involves some risk, serious complications arising from blepharoplasty are quite unlikely. Temporary bruising and puffiness is expected due to the delicate nature of eyelid tissue and this resolves within a couple of weeks. Watery or dry eyes and blurred vision can also be expected during the first few weeks of the recovery period.
Your surgeon will review all possible risks and complications of your surgical procedure in detail during your pre-operative consultation. You will also receive this information in writing so that you can review it as part of the consent process.
Will my eyelift surgery results be permanent?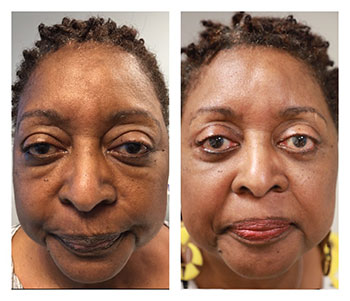 It's important to remember that getting an eyelift won't stop the aging process. Over time, as your body ages, it's possible that your eyelid skin can start to sag or appear wrinkled. No one has a crystal ball to know how long your eye lift results will last because individual results depend on variables such as the condition of your eyelids going into surgery, the quality of your skin, your age when you have the surgery, and how well you care for your skin over time. 
We have found that most of our patients continue to be happy with the results of their blepharoplasty 10 to 15 years after their surgery. It's important to have a thorough discussion with your surgeon and to set realistic expectations with a clear understanding of what the procedure can and cannot achieve. 
Why Choose AGEI for your eyelid surgery?
Your eyes are one of the most delicate structures in your body. That's why, when you're looking for a Los Angeles area surgeon to correct the appearance or function of your eyelids and the structures surrounding your eyes, you want to seek out an oculoplastic surgeon.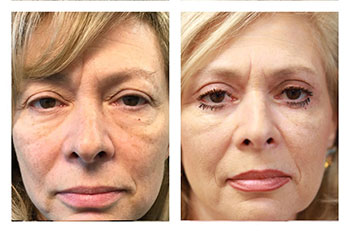 In contrast to a plastic surgeon, an oculoplastic surgeon is an ophthalmologist with extensive training in microsurgical eye surgery followed by highly specialized training in plastic and reconstructive surgery of the eye. The health and safety of your eyes are the number one priority in all surgical planning performed by an oculoplastic surgeon.
As a trained ophthalmologist, Dr. Rafi Israel is able to thoroughly examine your eye, understand any underlying eye disease, and identify potential complications or eye problems that might impact the surgical plan -- things that a plastic surgeon is simply not trained to do.
We have extensive experience in treating functional eye problems affecting patients' vision and eye health, performing cosmetic procedures, and doing revisions of surgeries performed elsewhere that have gone bad.
Among the conditions that we treat are excess eyelid skin or fat, drooping eyelids, wrinkles around the eyes, eyelid reconstruction after tumor removal, excessive tearing, revising prior unsatisfactory eye lifts, abnormally turned in (entropion) or turned out (ectropion) lid margins, and traumatic eye injuries.
If you would like to schedule a consultation with us in our Beverly Hills office to discuss your concerns about the appearance or function of your eyelids and to learn what treatments might be right for you, please call 866-945-2745 or click here to request an appointment online.
Our ophthalmology clinics Covid-19 patient safety procedures exceed all CDC recommendations.