All LASIK procedures involve two important steps
An incision in the outermost corneal layer. Usually, this is called "a flap: which is hinged on one side so that it can be folded back to allow access to the underlying tissue where the sculpting takes place.
Then laser energy sculpts the exposed corneal tissue according to improve its light-refracting ability. 
Your LASIK experience at AEI begins with a comprehensive eye exam to gather precise technical information about your eyes that will be used to guide your surgery. For this step, we use iDesign, a system that takes measurements that are 25 times more precise than any other vision measuring system available today. 
The iDesign measures your refraction error (your vision prescription) and corneal topography (the shape of your cornea's surface) at 1240 unique zones. These measurements are combined to create a detailed 3-D map of your eye's focusing capability. This data is then used to create a custom program that guides the laser used during surgery to sculpt your cornea and correct your vision.
Learn more about the different types of modern LASIK surgery
What happens during a LASIK procedure?
The LASIK laser sculpting time is generally less than 60 seconds per eye and our patients are typically in the laser suite for less than 20 minutes. The process takes place in one of our two specially designed LASIK suites using state-of-the-art equipment.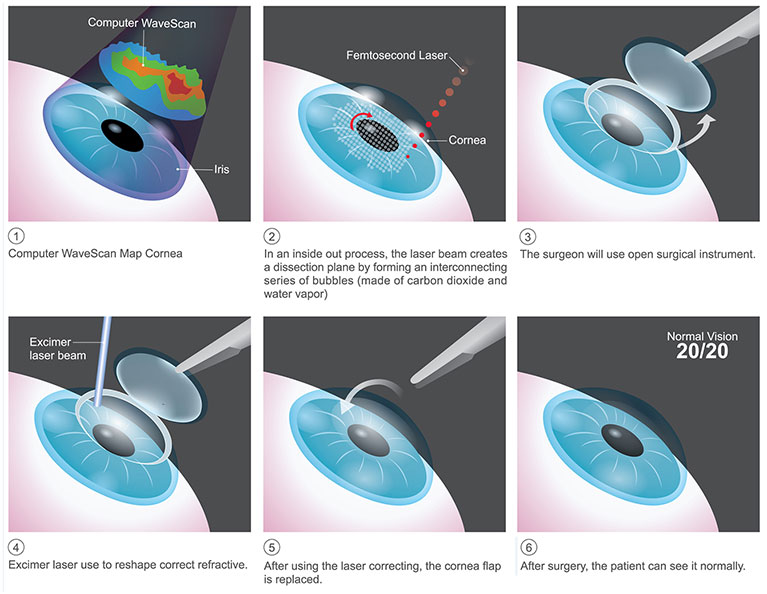 Next, you are asked to focus on a light source as your surgeon uses the Intralase iFS Femtosecond laser to send cool laser pulses just under your cornea's surface to create an oval flap the thickness of a strand of hair.
The flap is then gently peeled back and gentle laser pulses sculpt the exposed corneal tissue to correct your refractive error according to your customized surgery program. 
The vision correction process takes between thirty and fifty seconds per eye and all that you will feel during this process is a slight pressure on your eye. Once the corneal re-shaping is complete, the flap is gently settled back into place over the treatment area where it serves as a natural bandage, allowing your eye to heal quickly. 


What's the recovery from a LASIK procedure like? 
Once your anesthesia wears off in 30 minutes or so, you may feel mild eye irritation, burning, itching, tearing, and light sensitivity that can last for a couple of hours following surgery. Most patients are typically comfortable enough to return to work the next day. 
IT IS VERY IMPORTANT THAT YOU DO NOT RUB YOUR EYES. This is because you can disrupt your corneal flap before it's fully healed one week after your surgery. You will be given antibiotic eye drops, steroid eye drops, and lubricating eye drops. These can be cooled in the refrigerator before applying to make you more comfortable. It's important to take your medications as instructed throughout your recovery. 
In most cases, you'll begin to see more clearly right away. Some patients may experience a moderate amount of blurred vision as if they are looking underwater. This will usually clear up within a day or two. You will be asked to return to our clinic on the day after your surgery so that your surgeon can check up on your early healing progress.
Learn more about LASIK surgery recovery
What to expect in the first few months after LASIK surgery
During your LASIK recovery time, it is normal to experience some side effects as your eyes heal. These side effects are generally short-term during the 3-6 month healing period and will typically not affect your daily routine. 
The most common side effects can include dryness of the eyes, glare or halos at night, and temporary episodes of slightly blurred vision. It's important to use your lubricating eye drops to keep your eyes moist because dryness can cause fluctuations in your vision.
Your eyes will continue to heal for at least 3 months after LASIK, which means your vision will also continue to improve. And patients with more severe prescriptions can continue to heal for up to 6 months. Because everyone heals differently, it is not possible to know exactly how your eyes will heal. 
In very few cases (3-5%) a patient will require an enhancement procedure after their LASIK recovery time has passed and their eyes are stable. You will have periodic checkups during your recovery and, if your doctor thinks that you might benefit from an enhancement procedure, this will be offered at no additional expense to you.
Schedule your consultation today with our internationally recognized LASIK vision correction experts