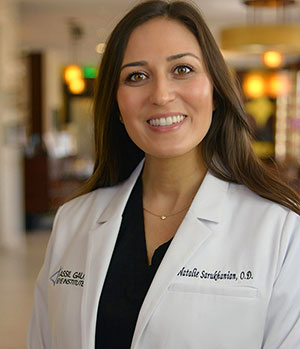 Dr. Natalie Sarukhanian received her undergraduate degree with cum laude honors in Psychobiology from UCLA, then a doctorate of Optometry with magna cum laude honors from the Southern California College of Optometry at Marshall B. Ketchum University.
While still in college, she was the Community Relations Director of Bruins in Focus — an organization at UCLA committed to providing vision screenings to individuals without access to proper eye care. She also volunteered at the Jules Stein Eye Institute.
Dr. Natalie completed clinical rotations at the West Los Angeles VA Medical Center, Hu Hu Kam Memorial Hospital in Arizona, and a private practice. Thereafter, she completed her residency at the VA Los Angeles Ambulatory Care Center in Ocular Disease and Low Vision Rehabilitation before coming to AGEI.
Her training specialized in diagnosis and management of ocular diseases, management of patients with varying degrees of vision loss, and fitting of medically necessary contact lenses.